PRINCETON, NJ -- A clear aim of Barack Obama's overseas trip was to demonstrate to Americans who questioned his foreign policy credentials that he is up to the job of commander in chief of the military and can handle key matters of foreign policy. However, at least in the short term, the trip does not appear to have accomplished that goal -- just 52% say Obama can handle the job of commander in chief of the military, compared with a 55% reading before the trip.
Additionally, Americans are no more likely now than before Obama visited Europe, Afghanistan, and Iraq and other Middle Eastern countries to believe he would do a good job of handling the terrorism and Iraq war issues as president.
These findings are based on the July 25-27 USA Today/Gallup poll, conducted just as Obama was wrapping up his trip abroad.
Given the lack of positive momentum in perceptions that Obama can handle the military or key international issues, Republican presidential candidate John McCain still retains a wide advantage over Obama in terms of being commander in chief and dealing with terrorism. This is not unexpected, based on the extensive foreign policy and military experience McCain has accrued while serving in Congress for more than two decades and in the U.S. Navy for most of the rest of his adult life. Obama did not serve in the U.S. military and has been in the U.S. Senate for only four years, though he does hold a position on the prestigious Senate Foreign Relations Committee.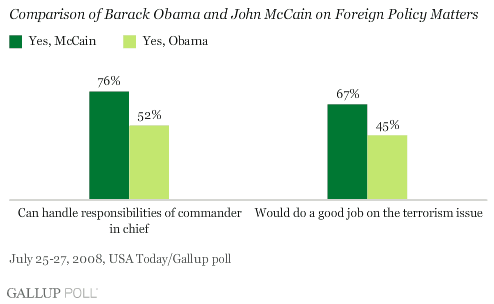 The two candidates are more evenly matched on the Iraq war issue, even as McCain continues to criticize Obama for not backing the surge of U.S. troops to Iraq, which by most accounts appears to have worked. At least on this issue, Obama is able to offset McCain's experience in foreign policy matters because of Obama's long-held opposition to the war, which appeals to the majority of Americans who consider the war "a mistake."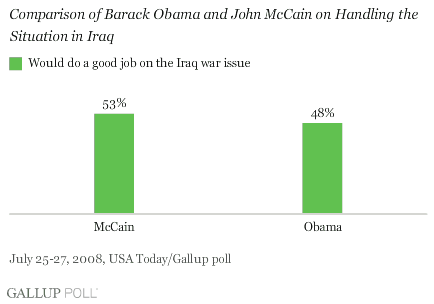 One area of international relations in which Obama appears to have an advantage over McCain is diplomacy. When asked to rate how each candidate would handle "relations with other countries," a total of 62% say Obama would do a good job while 55% say McCain would. But when respondents are asked to choose which of the two would do a better job in this area, Obama wins by a comfortable 52% to 37% margin. This particular item was not asked prior to the Obama trip, so it is unclear whether his standing is any better or worse than it was before his overseas tour. Many of the images of Obama's trip showed him meeting with foreign leaders, so it would not be surprising if the trip did help him somewhat in this regard.
In addition to assessing the candidates' perceived performance on foreign policy matters, the poll asked for Americans' judgments about the candidates' ability to handle two major domestic issues -- the economy and energy. On both of these domestic issues, more Americans say Obama would do a good job than say McCain would.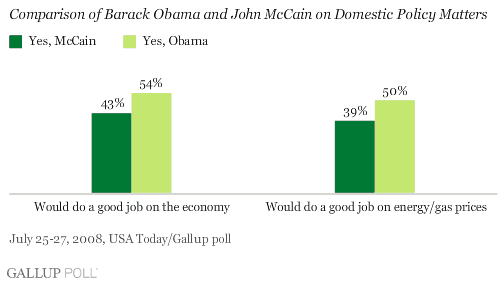 Implications
Clearly, Obama still has some work to do to convince Americans he can handle some of the international responsibilities of the presidency. While he already is viewed as being better than McCain at handling "relations with other countries," McCain has wide advantages over Obama in perceptions that he would be able to handle the job of commander in chief and to do a good job of handling the terrorism issue.
Even though fewer Americans say Obama is able to handle the role of commander in chief than say this about McCain, it is important to note that a majority of Americans think the Illinois senator is up to the task. In some ways, it may not be as important for Obama to close this perceptual gap with McCain as it is to keep his own percentage above the majority level. That may especially be true in an election year when Americans rate domestic issues like the economy and energy as the top issues that will affect their vote. Thus, Obama could in theory win the election on the basis of his perceived strengths on domestic issues, so long as Americans don't disqualify him for perceived weaknesses on military and defense issues.
Survey Methods
Results are based on telephone interviews with 1,007 national adults, aged 18 and older, conducted July 25-27, 2008. For results based on the total sample of national adults, one can say with 95% confidence that the maximum margin of sampling error is ±3 percentage points.
Interviews are conducted with respondents on land-line telephones (for respondents with a land-line telephone) and cellular phones (for respondents who are cell-phone only).
In addition to sampling error, question wording and practical difficulties in conducting surveys can introduce error or bias into the findings of public opinion polls.
To provide feedback or suggestions about how to improve Gallup.com, please e-mail feedback@gallup.com.