PRINCETON, NJ -- Gallup Poll Daily tracking from Aug. 10-12 gives Barack Obama a six percentage point lead over John McCain in the race for president, 48% to 42% among national registered voters.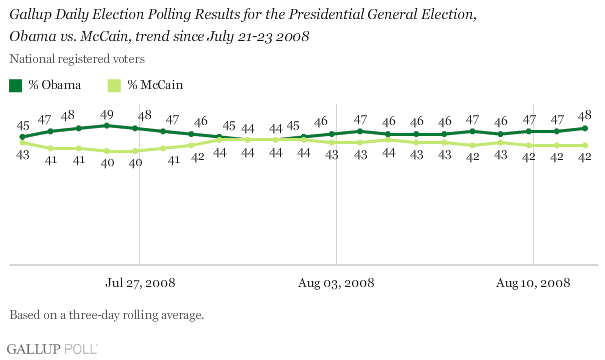 This is similar to Obama's 5-point leads in the Gallup Poll Daily tracking reports from Monday and Tuesday, but is slightly better for Obama than his average 3-point lead for the months of June and July. (To view the complete trend since March 7, 2008, click here.)
Still, in a historical sense, the race remains fairly close and is similar to other open presidential races. In some of these cases (1960, 1988, 2000, and 2004) the lead switched between the two major party candidates over the convention period. Strong front-runners of past elections who ultimately won by big margins (presidential incumbents Bill Clinton in 1996, Ronald Reagan in 1984, Richard Nixon in 1972, and Lyndon Johnson in 1964) all led their opponents by more than 15 points in the pre-convention phase during those election years. -- Lydia Saad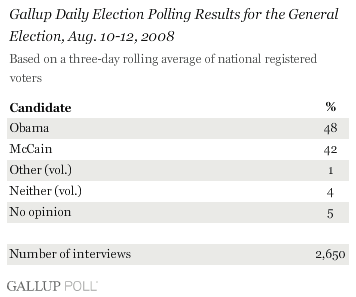 Survey Methods
For the Gallup Poll Daily tracking survey, Gallup is interviewing no fewer than 1,000 U.S. adults nationwide each day during 2008.
The general-election results are based on combined data from Aug. 10-12, 2008. For results based on this sample of 2,650 registered voters, the maximum margin of sampling error is ±2 percentage points.
Interviews are conducted with respondents on land-line telephones (for respondents with a land-line telephone) and cellular phones (for respondents who are cell-phone only).
In addition to sampling error, question wording and practical difficulties in conducting surveys can introduce error or bias into the findings of public opinion polls.
To provide feedback or suggestions about how to improve Gallup.com, please e-mail feedback@gallup.com.