PRINCETON, NJ -- If the election were held today, registered voters would be equally likely to vote for John McCain (44%) or Barack Obama (44%), according to the latest Gallup Poll Daily tracking update.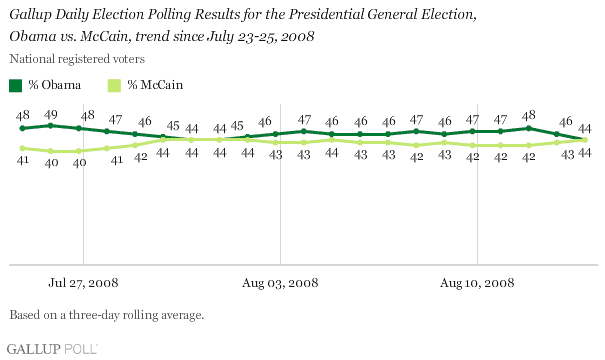 The Aug. 12-14 polling shows a slight dip in Obama's support, which had ranged between 46% and 48% (averaging 47%) in August. McCain has averaged 43% support among registered voters so far in August. Thus, the closer margin seen in today's results is due more to movement away from Obama than toward McCain. Twelve percent of registered voters now say they are undecided or supporting another candidate, which is on the high end of what Gallup has measured this year.
Voter preferences have been closely divided between Obama and McCain in each of the last three individual nights of polling, underscoring the notion that the race has tightened for the moment. This could to some degree reflect Obama's absence from the campaign trail while he vacations in Hawaii. He will return to the spotlight over the next few weeks upon naming his vice presidential running mate and accepting his party's nomination for president at the Democratic national convention, and both events have typically been associated with a bounce in support for a presidential candidate.
On Thursday, the Obama and Hillary Clinton campaigns announced an agreement to put her name into nomination for president at the convention. Given that the race has been tight for the past few days, it is unlikely this announcement is related to any change in Obama's support.
Since early June when Obama clinched the nomination, he has averaged a three percentage point advantage over McCain in Gallup Poll Daily tracking. (To view the complete trend since March 7, 2008, click here.) -- Jeff Jones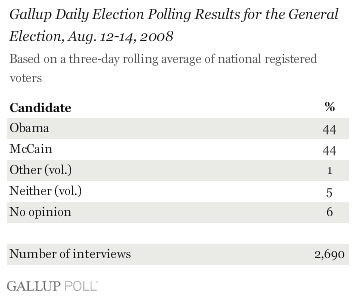 Survey Methods
For the Gallup Poll Daily tracking survey, Gallup is interviewing no fewer than 1,000 U.S. adults nationwide each day during 2008.
The general-election results are based on combined data from Aug. 12-14, 2008. For results based on this sample of 2,690 registered voters, the maximum margin of sampling error is ±2 percentage points.
Interviews are conducted with respondents on land-line telephones (for respondents with a land-line telephone) and cellular phones (for respondents who are cell-phone only).
In addition to sampling error, question wording and practical difficulties in conducting surveys can introduce error or bias into the findings of public opinion polls.
To provide feedback or suggestions about how to improve Gallup.com, please e-mail
feedback@gallup.com
.