PRINCETON, NJ -- The national presidential preferences of U.S. voters remain closely divided between Barack Obama and John McCain, 45% to 43% in favor of Obama. This is according to Aug. 17-19 Gallup Poll Daily tracking.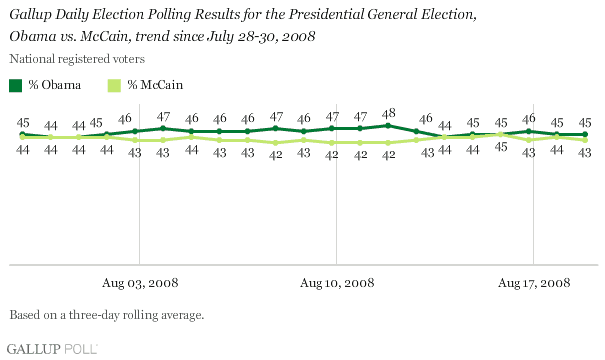 At the same time, the Democratic Party holds a nine percentage point lead over the Republican Party in the political party identification of U.S. adults, 34% to 25%. When independents who lean toward either party are included, the Democrats' advantage expands to 12 points, 49% to 37%, leaving 15% with no party preference.
McCain and Obama have been nearly tied in Gallup Poll Daily tracking for a full week. This sets the stage for a potential shift in the structure of the race resulting from next week's Democratic National Convention. Even an average "convention bounce" for Obama (a 5-point increase in his support) would give him a significant lead over McCain. (To view the complete trend since March 7, 2008, click here.)
Obama's support has not gone above 49% in any Gallup Poll Daily report since Gallup began tracking the Obama-McCain race in early March. However, given the Democratic advantage in national party identification, 50% or better support for Obama would seem to be within reach. Of course, the Republican convention starts four days after the close of the Democratic convention and could make any Democratic convention bounce for Obama short-lived. -- Lydia Saad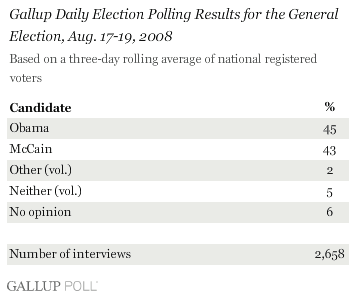 Click here to see how the race currently breaks down by demographic subgroup.
Survey Methods
For the Gallup Poll Daily tracking survey, Gallup is interviewing no fewer than 1,000 U.S. adults nationwide each day during 2008.
The general-election results are based on combined data from Aug. 17-19, 2008. For results based on this sample of 2,658 registered voters, the maximum margin of sampling error is ±2 percentage points.
Interviews are conducted with respondents on land-line telephones (for respondents with a land-line telephone) and cellular phones (for respondents who are cell-phone only).
In addition to sampling error, question wording and practical difficulties in conducting surveys can introduce error or bias into the findings of public opinion polls.
To provide feedback or suggestions about how to improve Gallup.com, please e-mail feedback@gallup.com.