PRINCETON, NJ -- Barack Obama's selection of U.S. Sen. and former presidential candidate Joe Biden as his running mate is not generating a momentous immediate reaction from the nation's voters. Just 14% of registered voters interviewed in a new USA Today/Gallup poll say Biden makes them more likely to vote for Obama in November and 7% say less likely while 72% say he will not have much effect on their vote.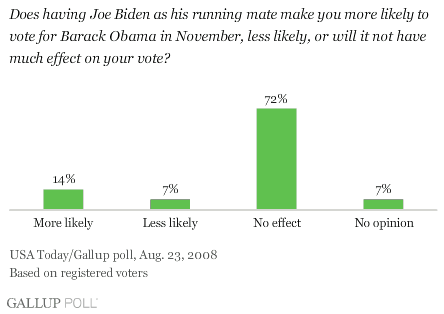 This results in Biden potentially having a net positive impact on voter support for the Democratic ticket of +7 percentage points -- small by comparison with other recent vice presidential selections.
A net 17% of nationwide registered voters said they were more likely to vote for John Kerry in 2004 on the basis of his selection of John Edwards as his running mate (24% more likely and 7% less likely).

A net 12% of voters reported being more likely to vote for Al Gore in 2000 on account of his choosing Joe Lieberman (16% more likely and 4% less likely).

A net 18% of voters indicated they were more likely to vote for Bob Dole in 1996 on the basis of his choice of Jack Kemp to complete the ticket (26% more likely and 8% less likely).

A net 25% of voters were more likely to vote for Bill Clinton in 1992 on account of Al Gore (33% more likely and 8% less likely).
The only recent vice presidential choices to spark less voter reaction than Biden were Dick Cheney in 2000 (net 4%, with 14% more likely and 10% less likely) and Dan Quayle in 1988 (net score of 0, with 10% more likely and 10% less likely).
It should be noted that all of these poll figures represent initial public reaction to new vice presidential selections. Voters' reactions to Biden could well change as the campaign progresses.
The only vice presidential nominee who appeared to be an actual drag on a presidential ticket around convention time was Quayle in August 1992 (then the sitting vice president), when 6% of voters said they were more likely to vote for Bush because of Quayle and 25% were less likely -- a 19-point negative differential.
Biden Not Widely Known
One possible reason for Biden's minimal impact on voter support for Obama today is that more than half of U.S. voters have no views of the veteran U.S. senator from Delaware, either not knowing enough about him to express an opinion or saying they have never heard of him. On this basis, Biden looks very much like Lieberman in 2000.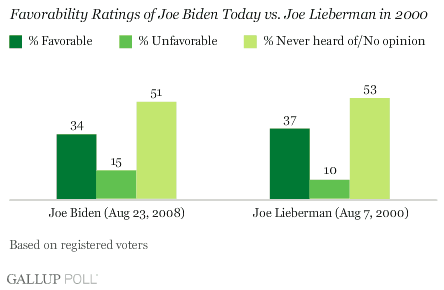 Biden Is Seen as "Qualified"
Biden does pass a basic public opinion hurdle in terms of being seen as qualified to serve as president. His 57% "qualified" score is similar to the vice presidential choices from the last three elections, and clearly separates him from the dreaded category occupied by Dan Quayle, the only recent vice presidential selection whom a majority of Americans said was "not qualified."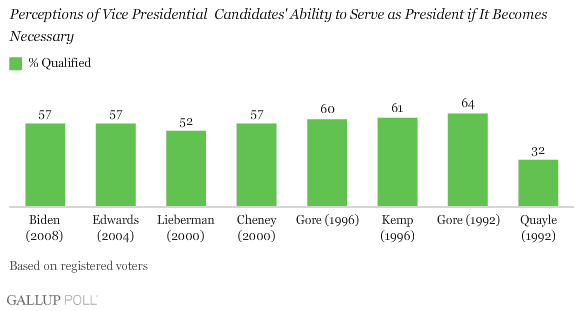 More generally, 16% of voters consider Biden an "excellent" choice for vice president, 31% a "pretty good" choice, 21% "only fair," and 12% "poor." The total of 47% viewing him as excellent or pretty good is lower than the immediate post-vice-presidential-announcement ratings of Edwards in 2004, and Lieberman and Cheney in 2000 -- in part because of the high percentage (20%) with no opinion of the Biden choice.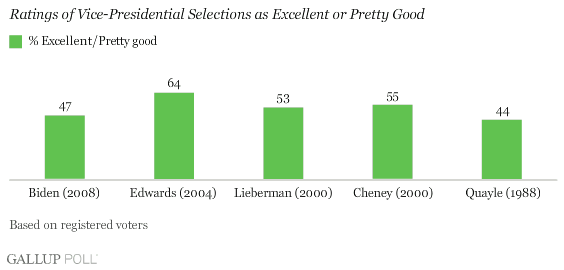 With Obama consistently getting a lower share of support from Democrats than John McCain gets from Republicans, Biden's contribution to the ticket might be most important in terms of his ability to bring in more of the traditional Democratic base.
Democrats' initial reaction to Biden is positive, but not extraordinarily so. Half of Democrats say they have a favorable view of Biden (with nearly half having no opinion), 64% think he is an excellent or pretty good choice for vice president, and 70% think he is qualified to be president. Perhaps most importantly, 21% say they are more likely to vote for Obama as a result of Biden's presence on the ticket, and only 2% say less likely. Is that enough to elevate Obama's numbers within the party? It's unclear, but it compares with a net 34% of Democrats more likely to vote for Kerry on the basis of Edwards' being selected in 2004, and a net 23% of Democrats more likely to vote for Gore because of Lieberman.
Bottom Line
One approach to picking a vice president is to "do no harm." Perhaps with Quayle's and his father's unsuccessful 1992 re-election campaign in mind, George W. Bush was quoted in 2000 as saying, "You want … somebody who's not going to hurt you."
Obama's own campaign manager recently echoed this sentiment, saying, "Whether someone helps win you an election, I think, is kind of a side benefit. You certainly want to pick someone who doesn't hurt you."
The initial evidence is that Biden won't hurt Obama in the election, but with only 14% of voters saying they are more likely to vote for the ticket with Biden on it, and 7% less likely, he is not positioned at this point to help Obama much either.
Survey Methods
Results are based on telephone interviews with 876 registered voters, aged 18 and older, conducted Aug. 23, 2008. For results based on the total sample of national adults, one can say with 95% confidence that the maximum margin of sampling error is ±4 percentage points.
Interviews are conducted with respondents on land-line telephones (for respondents with a land-line telephone) and cellular phones (for respondents who are cell-phone only).
Polls conducted entirely in one day, such as this one, are subject to additional error or bias not found in polls conducted over several days.
In addition to sampling error, question wording and practical difficulties in conducting surveys can introduce error or bias into the findings of public opinion polls.
To provide feedback or suggestions about how to improve Gallup.com, please e-mail feedback@gallup.com.