PRINCETON, NJ -- The last Gallup Poll Daily tracking polling conducted before the beginning of the Democratic National Convention shows Barack Obama and John McCain tied at 45%.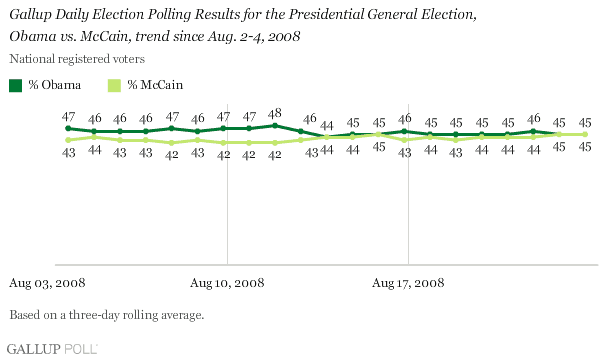 The latest update includes two days of interviewing following Obama's selection of Sen. Joe Biden as his vice presidential running mate, and neither day showed an improved performance for Obama. Thus, Obama does not appear to have gotten the same type of immediate "vice presidential bounce" as have presidential candidates in recent years. That could reflect a somewhat muted national response to the Biden selection, or competition for the nation's attention with the Olympics. (The candidates who got vice presidential bounces in 1996, 2000, and 2004 announced their choices before or after the Olympics took place in those years.)
In fact, today's results, using Aug. 22-24 interviews, show both candidates getting precisely the same number of votes when more than 2,600 national registered voters were asked who they would vote for "if the presidential election were held today."
The race has clearly tightened over the past two weeks, after Obama held a modest advantage (averaging three percentage points) from the time he clinched the Democratic presidential nomination in early June through mid-August. (To view the complete trend since March 7, 2008, click here.)
The Democratic convention, scheduled in late August to avoid a conflict with the Olympics, gets underway today. Michelle Obama serves as the keynote speaker this evening. -- Jeff Jones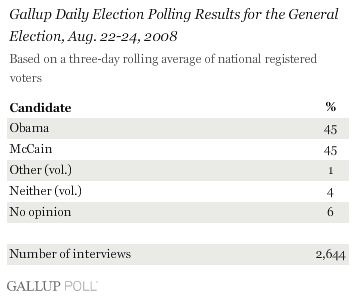 Survey Methods
For the Gallup Poll Daily tracking survey, Gallup is interviewing no fewer than 1,000 U.S. adults nationwide each day during 2008.
The general-election results are based on combined data from Aug. 22-24, 2008. For results based on this sample of 2,644 registered voters, the maximum margin of sampling error is ±2 percentage points.
Interviews are conducted with respondents on land-line telephones (for respondents with a land-line telephone) and cellular phones (for respondents who are cell-phone only).
In addition to sampling error, question wording and practical difficulties in conducting surveys can introduce error or bias into the findings of public opinion polls.
To provide feedback or suggestions about how to improve Gallup.com, please e-mail feedback@gallup.com.