PRINCETON, NJ -- Gallup Poll Daily tracking from Aug. 28-30, including two days of interviewing since the close of the Democratic National Convention, finds Barack Obama with a six percentage point lead over John McCain in the presidential contest, 48% to 42%.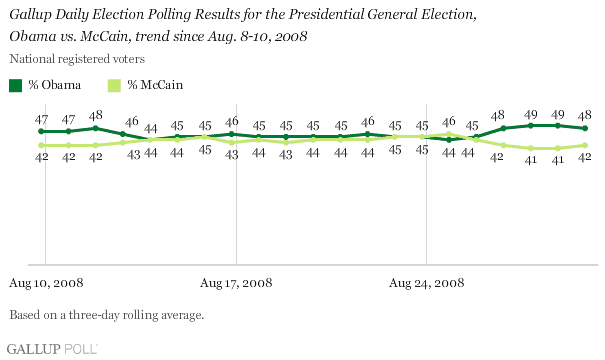 Though down slightly from the eight-point lead Obama held mid-convention, this represents a clear improvement for the Democratic candidate's positioning in the campaign compared to a week ago when the race was about tied. The last Gallup update conducted entirely before Obama's convention and vice presidential announcement was based on interviews conducted Aug. 20-22, and showed Obama up by two points, 46% to 44%. (To view the complete trend since March 7, 2008 click here.)
As the recent trend shows, Obama did not gain any additional support in the poll since his generally well-reviewed acceptance speech on Thursday night. However, the Aug. 28-30 field period also includes two days of interviewing since the Friday morning announcement by McCain that he has chosen Alaska Gov. Sarah Palin to join him on the Republican ticket. Thus, it is unclear whether the full positive impact on national voters of the Democratic convention or Obama's speech would have been greater if not for the Palin announcement.
As Gallup has noted in recent weeks, both the vice presidential selections and the national conventions have historically produced small bumps in support for the presidential candidates associated with those events (on the order of about five percentage points for each). However, this year, Obama's announcement of Joe Biden as his running mate produced no immediate increase in support for Obama in a one-night USA Today/Gallup reaction poll.
Given that the immediate reaction by national voters to Palin was very similar to their first reaction to Biden -- mildly positive but also with a high degree of uncertainty about each -- it may not be surprising if the publicity surrounding her announcement also does not produce an immediate bounce in support for McCain.
The mounting news coverage over the past 48 hours of the impending landfall of Hurricane Gustav on the Gulf Coast introduces still another variable into the mix of factors possibly affecting voter reaction to the recent campaign events.
Monday's Gallup Poll Daily tracking report will be the first three-day rolling average based entirely on interviews conducted after the Democratic National Convention, as well as after the announcement of Palin as McCain's choice for vice president. -- Lydia Saad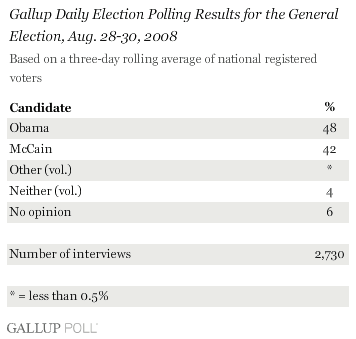 Survey Methods
For the Gallup Poll Daily tracking survey, Gallup is interviewing no fewer than 1,000 U.S. adults nationwide each day during 2008.
The general-election results are based on combined data from Aug. 28-30, 2008. For results based on this sample of 2,730 registered voters, the maximum margin of sampling error is ±2 percentage points.
Interviews are conducted with respondents on land-line telephones (for respondents with a land-line telephone) and cellular phones (for respondents who are cell-phone only).
In addition to sampling error, question wording and practical difficulties in conducting surveys can introduce error or bias into the findings of public opinion polls.
To provide feedback or suggestions about how to improve Gallup.com, please e-mail feedback@gallup.com.