PRINCETON, NJ -- Fifty-two percent of Americans -- and 83% of those who tuned in -- give Hillary Clinton's Tuesday night speech at the Democratic National Convention a positive review.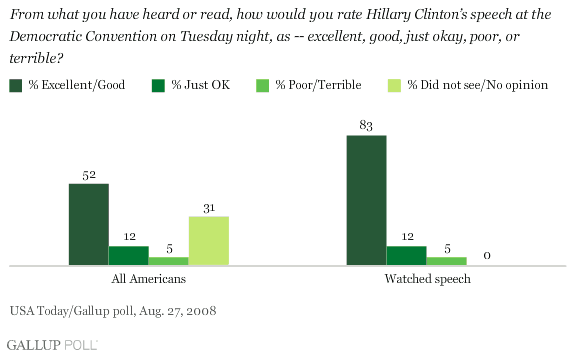 These results are based on a USA Today/Gallup poll conducted Wednesday, Aug. 27, the day after Clinton's prime-time speech.
The speech was one of many attempts by the Clinton and Obama campaigns to unite the Democratic Party behind Obama's presidential candidacy after the long and sometimes acrimonious nomination campaign between the junior senators from Illinois and New York.
Hillary Clinton's speech scored better than the speech Bill Clinton gave at the 2000 Democratic National Convention several months before he would complete his presidential term. Forty-four percent of Americans rated that speech either excellent or good. The former president spoke again Wednesday night at this year's Democratic Convention, too late to be evaluated in interviewing conducted the same night.
As would be expected, Democrats were especially positive about Hillary Clinton's Tuesday night address, with 69% rating it positively. But close to half of Republicans, 45%, also rated it positively.
The high 83% positive rating of the speech among those who watched it is in part due to the partisan nature of the audience. The poll estimates that 49% of those who watched the Clinton speech were Democrats, 22% were Republicans, and the remaining 28% were independents. Ninety-four percent of Democrats who watched the speech rated it positively, as did solid majorities of the Republicans and independents who tuned in.
Survey Methods
Results are based on telephone interviews with 1,023 national adults, aged 18 and older, conducted Aug. 27, 2008. For results based on the total sample of national adults, one can say with 95% confidence that the maximum margin of sampling error is ±3 percentage points.
Interviews are conducted with respondents on land-line telephones (for respondents with a land-line telephone) and cellular phones (for respondents who are cell-phone only).
In addition to sampling error, question wording and practical difficulties in conducting surveys can introduce error or bias into the findings of public opinion polls.
Polls conducted entirely in one day, such as this one, are subject to additional error or bias not found in polls conducted over several days.
To provide feedback or suggestions about how to improve Gallup.com, please e-mail feedback@gallup.com.