PRINCETON, NJ -- John McCain's 6 percentage-point bounce in voter support spanning the Republican National Convention is largely explained by political independents shifting to him in fairly big numbers, from 40% pre-convention to 52% post-convention in Gallup Poll Daily tracking.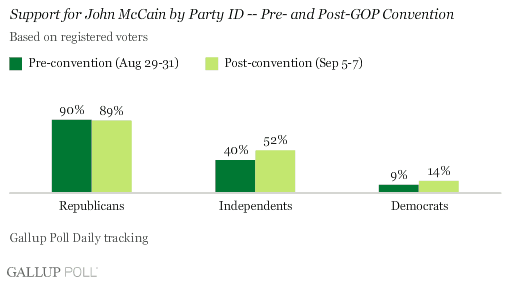 By contrast, Democrats' support for McCain rose 5 percentage points over the GOP convention period, from 9% to 14%, while Republicans' already-high support stayed about the same.
The surge in political independents who favor McCain for president marks the first time since Gallup began tracking voters' general-election preferences in March that a majority of independents have sided with either of the two major-party candidates. Prior to now, McCain had received no better than 48% of the independent vote and Obama no better than 46%, making the race for the political middle highly competitive.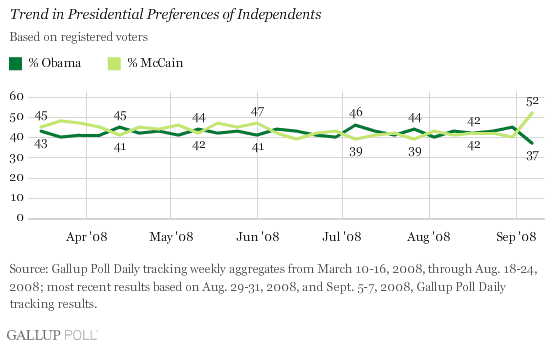 Layering voters' political ideology over their party identification provides the additional finding that the slim group of "pure independents" -- those with no political leanings to either major party -- grew more favorable to McCain by an even larger amount over the past week or so. McCain was preferred over Obama by 20% of pure independents in Gallup Poll Daily tracking from Aug. 29-31. In the latest three-day rolling average, from Sept. 5-7, he is favored by 39% of non-leaning independents, a 19-point increase. (Nearly 40% of pure independents remain undecided.)
The more modest expansion of McCain's support among Democrats has come mainly from the right wing of that party, with 25% of conservative Democrats now favoring him over Obama, compared with 15% just before the Republican gathering. Moderate and liberal Democrats show only slightly more support for McCain than they did prior to the GOP convention.
There has been no change in the presidential preferences of either conservative Republicans or moderate-to-liberal Republicans.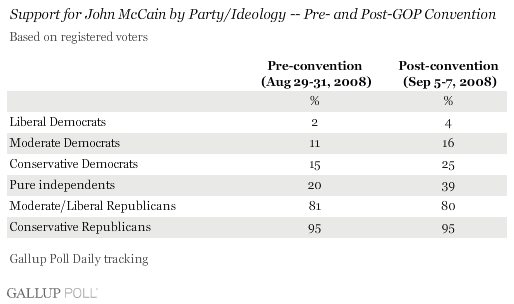 In contrast to the differential shifts in support for McCain by party and ideology, Gallup Poll Daily tracking finds a uniform rise in support for McCain since late August among men and women. The percentage of men supporting McCain over Obama pre- and post-Republican convention rose from 46% to 52%, while the percentage of women rose from 41% to 46%.
Voters 30 and older are more likely to be supporting McCain than they were just prior to the Republican convention, but not young voters. In contrast to the 7-point jumps in support seen among those aged 50 to 64, and 65 and older, there has been a 1-point decline in support among 18- to 29-year-olds.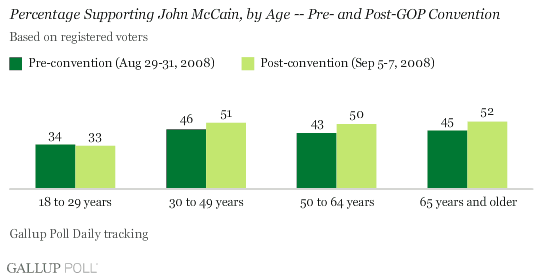 Regionally, Gallup finds solid gains for McCain in all areas of the country except the West, where his already fairly high support has held steady. However, the 9-point increase for McCain in the South on top of his previous 49% support level in that region makes the South now overwhelmingly pro-McCain, 58% to 36%.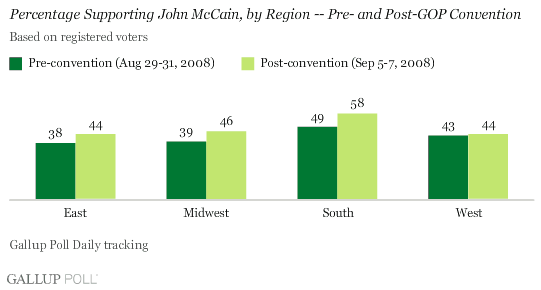 Final Points
The events on the Republican stage in St. Paul, Minn., from Sept. 2-4 appear to have provided two important boosts to the McCain-Palin ticket.
First, according to the latest USA Today/Gallup poll, conducted Sept. 5-7, McCain has energized his Republican base and, as a result, has potentially strengthened his positioning on Election Day with "likely voters." Second, as the Gallup Poll Daily trends discussed here show, voter movement toward McCain since the Republican convention occurred mainly with independents, thus broadening McCain's appeal beyond the party.
Republicans had already lined up for McCain before the convention started. Now, they are excited, and are joined by more independents than at any other time in the campaign. Those gains may not last -- "bounces" rarely do -- but they enable McCain to launch the next phase of the campaign with the knowledge of what his winning coalition might look like.
Survey Methods
Gallup Poll Daily tracking results from Sept. 5-7, 2008, and Aug. 29-31, 2008, are each based on interviews with 2,733 registered voters. For results based on these samples, the maximum margin of sampling error is ±2 percentage points.
Weekly averages of Gallup Poll Daily tracking from March 10-16, 2008, through Aug. 18-24, 2008, are generally based on interviews with more than 6,000 registered voters. For results based on this samples of this size, the maximum margin of sampling error is ±1 percentage points.
Results based on various subgroups of voters are associated with larger margins of sampling error.
Interviews are conducted with respondents on land-line telephones (for respondents with a land-line telephone) and cellular phones (for respondents who are cell-phone only).
In addition to sampling error, question wording and practical difficulties in conducting surveys can introduce error or bias into the findings of public opinion polls.
To provide feedback or suggestions about how to improve Gallup.com, please e-mail feedback@gallup.com.