PRINCETON, NJ -- The latest Gallup Poll Daily tracking results for Sept. 10-12 show the race now statistically tied, with John McCain at 47% and Barack Obama at 45% among registered voters.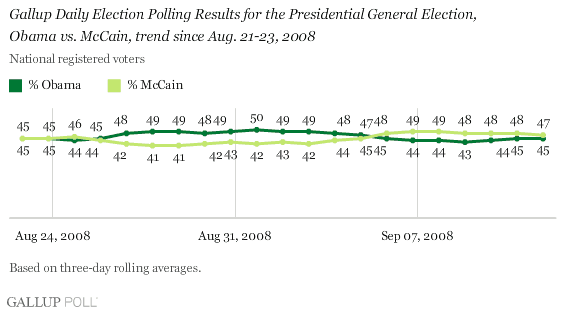 These results, based on interviewing conducted Wednesday through Friday, indicate that the presidential contest is -- for now, at any rate -- settling back into the close race that it was before the two weeks that marked both candidates' selections of their vice presidential running mates and the two conventions. In the weekend before the Democratic convention, the race was tied 45% to 45%. Now, as the "convention dust" is settling, the race is at 47% McCain, 45% Obama, only slightly different.
During the time period of the conventions, of course, the race underwent predictable "bounces" -- first for Obama, who at one point had moved out to an eight percentange point lead, and then for McCain, who moved out to a five-point lead. Now, it appears that the structure of the race -- after all the sturm und drang of the convention period -- ends up not all that different than when the conventions began.
Recent days have seen intense media focus on Republican vice presidential candidate Sarah Palin's widely publicized television interviews with Charles Gibson of ABC News, hard-hitting television ads, and the usual campaign back and forth. The next major planned event involving both candidates will be the first presidential debate on Sept. 26. (To view the complete trend since March 7, 2008, click here.) -- Frank Newport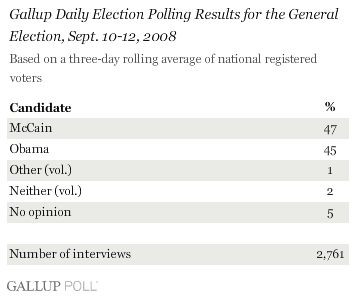 (Click here to see how the race currently breaks down by demographic subgroup.)
Survey Methods
For the Gallup Poll Daily tracking survey, Gallup is interviewing no fewer than 1,000 U.S. adults nationwide each day during 2008.
The general-election results are based on combined data from Sept. 10-12, 2008. For results based on this sample of 2,761 registered voters, the maximum margin of sampling error is ±2 percentage points.
Interviews are conducted with respondents on land-line telephones (for respondents with a land-line telephone) and cellular phones (for respondents who are cell-phone only).
In addition to sampling error, question wording and practical difficulties in conducting surveys can introduce error or bias into the findings of public opinion polls.
To provide feedback or suggestions about how to improve Gallup.com, please e-mail
feedback@gallup.com
.