WASHINGTON, D.C. -- A record-high 43% of Americans say they follow news about national politics very closely, up from 30% at this time last year and 36% during the last presidential election.
In the Sept. 8-11 Gallup Poll, an additional 44% say they follow political news "somewhat closely," meaning nearly 9 in 10 Americans (87%) are tuned in to the national political dialogue. This significantly exceeds anything Gallup has measured since it began asking this question in 1995. While it is common for attention to political news to increase in presidential election years, this month's 43% easily surpasses the 36% who in September 2004 said they were very closely following news about national politics.
The unprecedented upswing in interest in political news comes during a presidential election that, still more than six weeks from Election Day, is already historic many times over. Not only did election primaries and caucuses start earlier than ever, triggering a record early interest in the election, but they stayed competitive longer than they ever have, because of the extended Democratic primary battle between Hillary Clinton and Barack Obama. Add in the back-and-forth nature of the horse race between Obama and Republican nominee John McCain, the historical firsts for Obama (as an African-American) and vice presidential nominee Sarah Palin (as a Republican woman) and the promise that one of them will further make history by being elected, and Americans have more than enough reasons to pay attention.
Americans' hyper-vigilance also comes at a time when they have more news sources than ever to choose from. In particular, the Internet and blogs have become a major source of election news -- so much so that a study released earlier this month by Northwestern University's Media Management Center found young adults to be "overwhelmed" by the amount of election news available online. Nonetheless, voters aged 18 to 29 are more interested than they have been in the past, with 31% saying they are following national political news very closely, up from 18% at this time during the last presidential election. Yet, because other age groups are paying about the same or more attention, younger voters remain the least engaged overall.
Skeptical Audience
In an interesting paradox, Americans' record-high interest in political news coincides with their continued distrust in the news media, specifically newspapers, television, and radio. A record-low 43% of Americans say they place a great deal or fair amount of trust in such media outlets to report the news "fully, accurately, and fairly," down from 47% last year and similar to the 44% who said this during the last presidential election.
The distrust expressed in the 2004 and 2008 election seasons likely reflects the perception that the media have become increasingly partisan. In fact, Gallup finds Republicans particularly critical of the mass media and of its 2008 presidential election coverage. But interestingly, concern about media bias has been fairly constant over the years. This year, 47% perceive the news media to be too liberal and 13% perceive them to be too conservative, with only 36% seeing media coverage as "about right."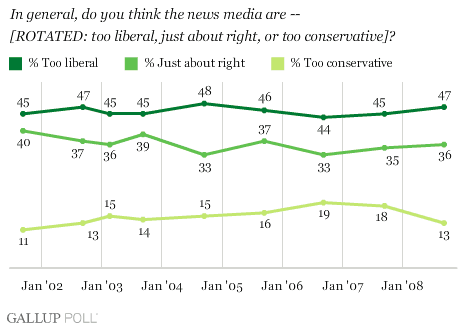 Bottom Line
This historic presidential campaign has inspired a level of interest in national politics unseen in recent years. Nearly 9 in 10 Americans (87%) are following national political news at least somewhat closely, with a record-high 43% following it very closely. While Americans place increasingly less trust and confidence in the mass media in general, their views about partisan bias have remained fairly steady over the past decade. Taken together, it might be fair to conclude that it's the content of the news -- not the sources that provide it -- that has Americans captivated.
Survey Methods
Results are based on telephone interviews with 1,007 national adults, aged 18 and older, conducted Sept. 8-11, 2008. For results based on the total sample of national adults, one can say with 95% confidence that the maximum margin of sampling error is ±3 percentage points.
Interviews are conducted with respondents on land-line telephones (for respondents with a land-line telephone) and cellular phones (for respondents who are cell-phone only).
In addition to sampling error, question wording and practical difficulties in conducting surveys can introduce error or bias into the findings of public opinion polls.
To provide feedback or suggestions about how to improve Gallup.com, please e-mail feedback@gallup.com.