PRINCETON, NJ -- Between 63% and 67% of Americans have said they are confident in Barack Obama's ability to be a good president in the weeks since his election on Nov. 4, a sentiment that doesn't yet appear to be have been affected, positively or negatively, by news coverage of the president-elect's staff and Cabinet appointments, or by reports of his economic and other policy plans.
Gallup Poll Daily tracking has included the basic question, "Are you confident or not confident in Barack Obama's ability to be a good president?" every day since Nov. 5. The results have been remarkably consistent, as seen in the accompanying graph. Almost two-thirds of Americans have said they are confident in his ability to be president, with only minor day-to-day fluctuations, since Nov. 5.
The days since Obama's election have been filled with news reports of projected and actual staff choices, Cabinet member appointments, and his planned economic stimulus proposal, as well as his weekly radio addresses. Some of the news reports, including the probability that he will appoint former rival Hillary Clinton as secretary of state, have the potential to be controversial. Still, nothing Obama has done so far appears to have changed the basic -- and generally positive -- structure of American public opinion about his coming presidency.
Notably, the percentage of Americans who are confident in his ability to be a good president substantially exceeds his share of the vote (53%) in the November election.
As would be expected, there are highly significant differences in views on Obama's abilities among Republicans, independents, and Democrats.
Across seven days of interviewing last week (Nov. 17-23), 89% of Democrats said they were confident in Obama's ability to be a good president, along with 64% of independents and a much smaller 28% of Republicans. Given that an estimated 7% of Republicans and 51% of independents voted for Obama in the election, these numbers suggest that at least for the moment, a number of Americans who did not vote for Obama have given him the benefit of the doubt.
While partisan differences are by far the most important factor in predicting confidence in Obama, there are significant differences by age even while controlling for party. Americans between 18 and 34 express the most widespread confidence in Obama within the ranks of both Republicans and independents. There are only slight differences by age among Democrats.
The data show little variation in views of Obama according to gender or whether respondents have a college education.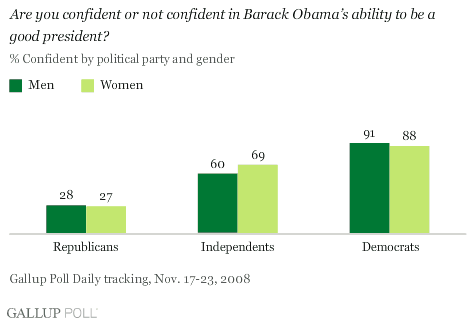 Implications
Obama has apparently been given a honeymoon of sorts after his election, with a substantial majority of Americans (significantly higher than the percentage who voted for him) saying they are confident in his ability to be a good president. This positive sentiment has persisted to date even as reports of possible and actual Obama appointments have dominated news coverage of the nascent Obama administration.
Obama's challenge will be to continue this good will for the roughly two months left before his inauguration, and then to translate it into public support as he begins his duties as chief executive next Jan. 20. Gallup will continue to track and report Americans' views of their newly elected president between now and then.
Survey Methods
Gallup is interviewing no fewer than 1,000 U.S. adults nationwide each day during 2008. The trend results reported here are based on data collected between Nov. 5 and Nov. 23, and the analysis within subgroups based on combined weekly data from 3,559 interviews, conducted Nov. 17-23, 2008. For results based on the tracking samples, the maximum margin of sampling error is ±3 percentage point, while the results for the weekly aggregate have a maximum margin of sampling error of ±2 percentage points.
Interviews are conducted with respondents on land-line telephones (for respondents with a land-line telephone) and cellular phones (for respondents who are cell-phone only).
In addition to sampling error, question wording and practical difficulties in conducting surveys can introduce error or bias into the findings of public opinion polls.