PRINCETON, NJ -- A remarkable 32% of Americans choose Barack Obama as the man they most admire living anywhere in the world today, putting him in the No. 1 position on Gallup's annual Most Admired Man list. Hillary Clinton earns the top spot for Most Admired Woman, named by 20%.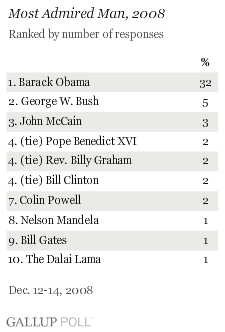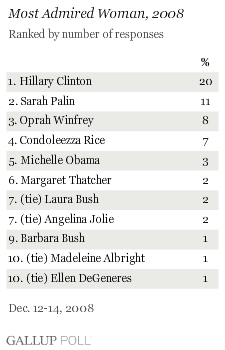 No one comes close to matching Obama in percentage mentions on this year's list of most admired men, based on a Dec. 12-14 USA Today/Gallup poll. By contrast, Alaska Gov. Sarah Palin makes a strong showing in second place for Most Admired Woman, garnering 11% of all mentions.
Obama
The 32% of Americans naming Obama as the man they most admire is extraordinarily high, nearly matching the 39% of Americans who named George W. Bush in the immediate wake of the 9/11 attacks. At that time, Bush's presidential job approval rating was a soaring 86%. It is also higher than former presidents Bill Clinton and George H. W. Bush received in any of their appearances on Gallup's Most Admired Man list.
Obama is the first president-elect since Dwight Eisenhower in 1952 to top the list. And he has done it with a runaway high figure. For comparison, as president-elect in December 2000, George W. Bush was mentioned by just 5% of Americans, ranking him fourth. In December 1992, president-elect Bill Clinton ranked second behind outgoing president George H.W. Bush, with 15%. And in 1988, then president-elect Bush achieved third place, with 9%.
Most Admired Men
After Obama, President George W. Bush comes in second place on Gallup's Most Admired Man list, but is named by just 5% of Americans. The percentage naming Bush on this measure has steadily declined since 2003, consistent with his sinking job approval ratings. But 2008 marks the first year of his presidency that he did not earn the Most Admired Man distinction.
There have only been a few other instances in Gallup's history of asking this question since 1948 that the sitting president was not named Most Admired Man, and few when a sitting president received this low percentage of mentions. Those include Lyndon Johnson in 1967 and 1968 (when Eisenhower was chosen, instead), Jimmy Carter in 1980 (when Pope John Paul II was chosen), and Richard Nixon followed by Gerald Ford from 1973 through 1975 (when Henry Kissinger topped the list).
John McCain ranks third in this year's list with 3%, while Pope Benedict XVI, Rev. Billy Graham, Bill Clinton, and Colin Powell are each mentioned by 2% of Americans. Nelson Mandela, Bill Gates, and the Dalai Lama round out the top ten, each named by 1%.
Most Admired Women
This is the seventh consecutive year that Hillary Clinton has secured top billing as Americans' Most Admired Woman -- and the 13th year she has made the top ten since her first appearance on the list in 1993. The 20% naming Clinton this year is comparable to what she received in 2007 (18%), but falls short of the 28% naming her in 1998.
Palin, McCain's 2008 vice presidential pick and the first woman ever to run on a Republican presidential ticket, makes a strong second place debut, named by 11% of Americans. Her entrance on the list crowds Oprah Winfrey out of second place, a position she held each year from 2002 through 2007. Winfrey now ranks third, mentioned by 8% of Americans (down from 16%) a year ago.
Secretary of State Condoleezza Rice ranks fourth, with 7%, followed by a variety of other political figures and entertainment stars.
First lady Laura Bush has topped the list only once since her husband took office in 2001. First ladies are much less likely than presidents to win a top spot on Most Admired Woman, although Clinton did it six times in Bill Clinton's two terms as president, Nancy Reagan three times in Ronald Reagan's two terms, and Barbara Bush twice in her husband's one term. Even Rosalyn Carter, whose husband suffered from low approval ratings for much of his last two years in office, achieved the top spot three out of her four years in the White House.
Political Gaps
Gallup finds little gender differences in Americans' choices for the men and women they most admire. However, there are strong partisan differences.
Democrats overwhelming name Barack Obama as the man they most admire, with Bill Clinton ranking second. Obama also ranks first among independents, although not with nearly as many mentions as among Democrats. Among Republicans, George W. Bush ranks first, named by 15%, followed closely by John McCain, with 9%.
Hillary Clinton is the first choice for Most Admired Women among Democrats and Independents. Palin is the first choice among Republicans and the second choice among independents.
Survey Methods
Results are based on telephone interviews with 1,008 national adults, aged 18 and older, conducted Dec. 12-14, 2008. For results based on the total sample of national adults, one can say with 95% confidence that the maximum margin of sampling error is ±3 percentage points.
Interviews are conducted with respondents on land-line telephones (for respondents with a land-line telephone) and cellular phones (for respondents who are cell-phone only).
In addition to sampling error, question wording and practical difficulties in conducting surveys can introduce error or bias into the findings of public opinion polls.