PRINCETON, NJ -- Both the Republicans and the Democrats in Congress are more popular now than they were last December. While still quite low at 36%, the approval rating for Republicans is up significantly from December. There has been a similar increase in the rating of Democrats over this time.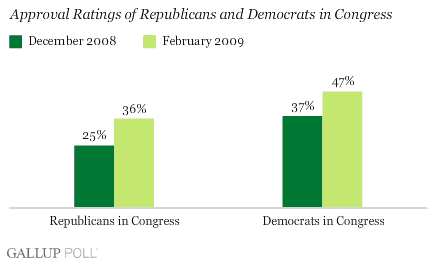 These results are based on a USA Today/Gallup poll conducted Feb. 20-22. Gallup recently reported a similar rise in Congress' overall approval rating. These increases suggest that both parties have benefited perceptually from the change in government from the Bush administration to the Obama administration. And even though Republicans have largely opposed the popular new president's proposals since he took office Jan. 20, they still are viewed significantly more positively now than they were at the end of last year.
In fact, the current approval rating is the best Gallup has measured for the Republicans in Congress since October 2005, when 38% approved. The high since 1999, when Gallup began asking about approval for the parties in Congress, was 59% in April 2002. That reading came as government institutions continued to receive enhanced public support in the wake of the 9/11 terrorist attacks.
Interestingly, Americans of all political affiliations show similar increases of about 10 percentage points in their ratings of the Republicans in Congress compared with last December. But only Republicans have an overall positive view of the Republicans in Congress, at 61% approval.
Meanwhile, the Democrats in Congress are also enjoying a boost in their popularity, with their 47% approval rating their best since November 2003 and also significantly better than the current rating for Republicans.
But the changes in congressional Democrats' ratings are not as broad-based as those observed for the Republicans in Congress. There have been 20- and 12-point increases in the ratings of the Democrats in Congress among Democrats and independents, respectively, but a 5-point decrease among Republicans.
Implications
While Congress is usually the least popular of the three major branches of the federal government, it has enjoyed a boost in popularity in recent weeks, which is evident not only in the way Americans view the institution overall but also in how they view both of the congressional parties.
But both parties' ratings are up from historical lows or near-lows, so the recent gains still leave them -- especially the lower-rated Republicans -- with a lot of room for improvement.
Survey Methods
Results are based on telephone interviews with 1,013 national adults, aged 18 and older, conducted Feb. 20-22, 2009. For results based on the total sample of national adults, one can say with 95% confidence that the maximum margin of sampling error is ±3 percentage points.
Interviews are conducted with respondents on land-line telephones (for respondents with a land-line telephone) and cellular phones (for respondents who are cell-phone only).
In addition to sampling error, question wording and practical difficulties in conducting surveys can introduce error or bias into the findings of public opinion polls.