PRINCETON, NJ -- President Barack Obama -- currently on his first multi-stop trip abroad since he took office -- is enjoying a 61% job approval rating at home for handling foreign affairs, up seven points since February. His job approval rating for handling the economy -- 56% -- is down by the slight margin of three points, but is higher than his rating for handling the federal budget deficit.
Obama's major focus in his first months in office has been the economy. Still, he has found time to make significant announcements regarding troop levels in Iraq and Afghanistan, and his administration has been dealing with tense situations involving China's interception of U.S. naval vessels in the Pacific and a pending rocket launch by North Korea. Obama's secretary of state, Hillary Clinton, has made several diplomatic trips overseas, and Obama himself has now embarked on a high-profile trip to Great Britain, France, Germany, the Czech Republic, and Turkey.
Throughout all this, as more Americans have formed an opinion of Obama's handling of foreign policy, his approval and disapproval ratings on this dimension have each increased. Contrasted with a Feb. 9-12 Gallup Poll, the current March 27-29 USA Today/Gallup poll shows that Obama's approval on foreign affairs has gone from 54% to 61%, while his disapproval has risen from 22% to 28%.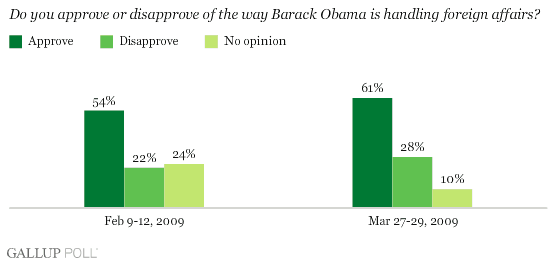 The shift in Obama's job approval rating on handling the economy has been more negative than positive. His economic approval rating has slipped slightly, from 59% in February to 56% today, while his disapproval rating has jumped from 30% to 39% over that time.
The current poll also includes the first measurement of Obama's handling of the federal budget deficit, an issue on which Obama has received some criticism given that his multi-trillion-dollar budget proposal relies to a significant degree on borrowing to pay for it. Therefore, this is perhaps predictably the most negative of the three dimensions tested in the poll -- although, by a slight margin, Americans are still more positive than negative about Obama's handling of the issue (49% approve and 44% disapprove).
Democrats give Obama high marks on all three measures. Independents are significantly more positive than negative on the economy and foreign affairs, but essentially break even on their rating of how Obama is handling the deficit. Finally, Republicans are quite negative on his handling of the economy and the deficit, but somewhat less so when it comes to foreign affairs.
Survey Methods
Results are based on telephone interviews with 1,007 national adults, aged 18 and older, conducted March 27-29, 2009. For results based on the total sample of national adults, one can say with 95% confidence that the maximum margin of sampling error is ±3 percentage points.
Interviews are conducted with respondents on landline telephones (for respondents with a landline telephone) and cellular phones (for respondents who are cell phone only).
In addition to sampling error, question wording and practical difficulties in conducting surveys can introduce error or bias into the findings of public opinion polls.