PRINCETON, NJ -- With Earth Day approaching, Americans still on balance believe the quality of the environment in the U.S. is getting worse rather than better; however, their outlook is significantly brighter now than a year ago.
These results are based on Gallup's annual Environment poll, conducted March 5-8. This year's poll marks a new high in the percentage of Americans saying the environment is getting better, one percentage point above the 40% recorded in 2002.
The increased optimism about the quality of the environment is likely an outgrowth of the change in presidential administrations from George W. Bush's to Barack Obama's. Obama has promised to increase U.S. efforts to protect the environment, and as recently as last week (but after the poll was conducted), the Environmental Protection Agency ruled that greenhouse gases endanger public health. This ruling allows the EPA to increase regulations to limit greenhouse gas emissions. Congress is also considering major environmental legislation.
Both Democrats and independents have shown significant increases since last year in the percentage who believe the environment is getting better. There has been only a slight improvement in Republicans' outlook.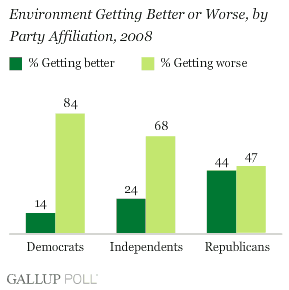 At the same time that Americans' optimism about the future of environmental quality is improving, their views of present conditions are little changed from recent years. If anything, they are slightly worse, as 16% now describe conditions as poor, up from 11% last year and the highest in the nine-year history of the Environment poll. The 39% who say conditions are excellent or good is essentially the same as what Gallup has found the last five years.
Consistent with prior years' surveys, Republicans and Democrats have diverging views of the overall health of the environment -- 55% of Republicans say it is excellent or good, more than twice the number of Democrats (26%) who say the same. Independents' views are almost precisely midway between the other two party groups' views.
Implications
Americans show increased optimism about the future quality of the environment, but it will take more than just the election of an environmentally friendly president for the public to begin to perceive that the current condition of the environment is actually improving. The government is likely to take significant steps toward protecting the environment in the coming months, and in future years, Americans will judge whether those efforts have had their intended effect on environmental quality.
Survey Methods
Results are based on telephone interviews with 1,012 national adults, aged 18 and older, conducted March 5-8, 2009. For results based on the total sample of national adults, one can say with 95% confidence that the maximum margin of sampling error is ±3 percentage points.
Interviews are conducted with respondents on land-line telephones (for respondents with a land-line telephone) and cellular phones (for respondents who are cell-phone only).
In addition to sampling error, question wording and practical difficulties in conducting surveys can introduce error or bias into the findings of public opinion polls.