PRINCETON, NJ -- Americans who approve of the job President Barack Obama is doing largely cite his leadership in attempting to solve the nation's problems as the reason for conferring their approval. This accounts for 54% of his supporters. By contrast, nearly two-thirds of those who disapprove of Obama's job performance mention policy areas where they disagree with the president.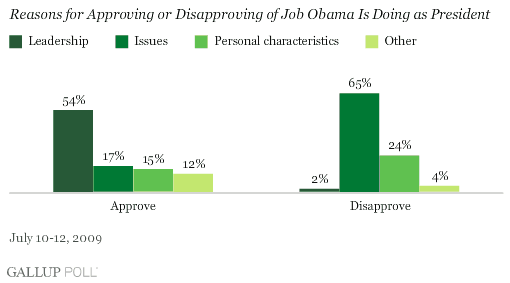 Reasons for Approval
In the Gallup Poll conducted this past weekend, July 10-12, 58% of Americans said they approve of the overall job Obama is doing, while 36% disapprove.
Thirty-one percent of Obama's approvers say they approve because he is doing a good job or "the best he can under difficult circumstances"; 15% say he is trying new things; and 8% credit him for taking on numerous issues. Thus, a combined 54% cite some aspect of the president's leadership in solving the nation's problems.
Beyond those giving the new president an A for effort, 17% credit him on specific issues. Seven percent of Obama's approvers cite improvements to the economy as the reason they applaud him, 6% say they agree with Obama's policy stances and programs, and 4% cite Obama's diplomacy and success in changing views of the United States around the world.
Most of the remaining praise Obama receives from his backers has to do with his personal characteristics or style: 5% say he is straightforward with people, 5% call him intelligent or smart, 3% say he keeps his promises, and 2% consider him honest. Another 5% are satisfied merely by their perception that Obama is "better than George W. Bush."
Reasons for Disapproval
Members of the smaller group of Americans who disapprove of Obama's job performance are most likely to attribute their views to the president's policies. Just over half of the combined 65% mentions in this category involve government spending: 24% say they disapprove because Obama is spending too much government money, 10% say it's because the economic stimulus plan is not working or wasteful and 4% say it's because Obama is borrowing too much.
Another major policy criticism of Obama -- mentioned by 15% of those who disapprove of his job performance -- is that the recent government bailouts and takeovers of private industry that Obama has sponsored are leading the nation toward socialism.
There are two significant knocks on Obama on a personal level. One, expressed by 14% of those disapproving of his job performance, is that he is inexperienced or "doesn't know what he is doing." Additionally, 10% say something along the lines that he is "all talk and no action," or "doesn't keep his promises." Only 2% of his detractors say he is doing too much.
Bottom Line
Praise for the job Obama is doing centers on his attentiveness to the country's problems, and includes a dose of admiration for his personal characteristics and style. Although positive, these assessments are relatively soft in contrast with the mainly policy-related criticisms of Obama from his detractors, largely centered on government spending and power.
Only six months into the job, it is natural that the president has little in the way of specific accomplishments driving his approval rating. Thus, at this early juncture, his supporters appear satisfied that Obama is on task. At the same time, the dramatic early steps Obama has taken to address the fragile economy -- perhaps combined with the fact that these have yet to spark an economic recovery -- have given his detractors a clear rallying point against him. The imbalance may be tenable for now, but a year from now, Obama may need more tangible economic or legislative achievements to sustain his majority approval ratings.
Survey Methods
Results are based on telephone interviews with 1,018 national adults, aged 18 and older, conducted July 10-12, 2009. For results based on the total sample of national adults, one can say with 95% confidence that the maximum margin of sampling error is ±3 percentage points.
Interviews are conducted with respondents on land-line telephones (for respondents with a land-line telephone) and cellular phones (for respondents who are cell-phone only).
In addition to sampling error, question wording and practical difficulties in conducting surveys can introduce error or bias into the findings of public opinion polls.