PRINCETON, NJ -- Gallup polling conducted in the first few days of Congress' August recess -- a time when many members of Congress were preparing to meet their constituents in town hall meetings back in their districts -- finds public approval of Congress on par with the lowest reading since February, a month after the 111th Congress convened. Thirty-one percent of Americans in Gallup's Aug. 6-9 survey approve of the job Congress is doing while 62% disapprove.
Congress' latest job approval score is similar to where the reading stood in February, when 31% approved and 61% disapproved. The percentage approving climbed to 39% in March and remained within a few points of that number through May, but has since fallen back to the low 30s.
On a longer-term basis, the current rating of Congress is only slightly worse than the average rating Gallup has recorded over the prior two decades. From 1988 through 2008, approval of Congress averaged 36% and disapproval 55%. The average approval rating of Congress thus far in 2009 (32%) is somewhat better than those seen in the early '90s and is similar to those measured in the first few years of the Republican majority in Congress in 1995 and 1996. It is substantially worse than those recorded from 1998 through 2004, when (even before the 9/11 attacks in 2001) approval was consistently greater than 40%.
Partisan Breach
Sharp partisan differences are evident in Americans' ratings of Congress. A majority of Democrats approve of the job Congress is doing, but much larger majorities of Republicans and independents disapprove.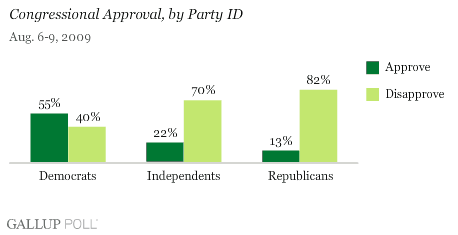 In Gallup polling each month since March, at least half of Democrats have approved of the job the Democratic-led Congress is doing, including 55% in the latest survey. Approval among independents has typically been closer to 30%, although it dropped to 24% in July and to 22% in August. Positive evaluations of Congress by Republicans have been sparse, exceeding 20% only once; but the current 13% is the lowest yet.
Such partisan differences may seem normal, but they are actually a sharp departure from 2007-2008 when, despite the presence of a Democratic majority in both the U.S. House and Senate, Democrats were not much more positive than Republicans about the job Congress was doing. This may have reflected Democratic frustration with the lack of congressional action on the Iraq war as well as on immigration and other issues of concern to Democrats.
By contrast, during most of the Republican-led Congress from 2000 to 2006, Republicans' approval of Congress was substantially higher than Democrats'.
Bottom Line
The 111th Congress, led by Speaker of the House Nancy Pelosi and Senate Majority Leader Harry Reid, appears to be meeting the expectations of most rank-and-file Democrats, earning a 55% job approval rating from Democrats nationwide in early August. In turn, Democratic support has kept Congress' overall rating above 30% thus far in 2009 -- a respectable level in the history of congressional approval ratings. No doubt the transition from a Republican presidential administration to a Democratic one has helped improve Democratic satisfaction with the job Congress is doing.
At the same time, the 22% approval rating of Congress from independents is little improved over last year, and not much better than the meager 13% rating from Republicans. And the descent in approval among independents and Republicans since March suggests that the same legislative activity in recent months that is satisfying to the Democratic base (including healthcare reform) may be draining support for Congress elsewhere.
Survey Methods
Results are based on telephone interviews with 1,010 national adults, aged 18 and older, conducted Aug. 6-9, 2009. For results based on the total sample of national adults, one can say with 95% confidence that the maximum margin of sampling error is ±4 percentage points.
Interviews are conducted with respondents on land-line telephones (for respondents with a land-line telephone) and cellular phones (for respondents who are cell-phone only).
In addition to sampling error, question wording and practical difficulties in conducting surveys.