PRINCETON, NJ -- After peaking at 59% last November, Vice President Joe Biden's favorable rating continues to decline and now stands at 42%. That barely exceeds his 40% unfavorable rating, and is easily his worst evaluation since last year's Democratic National Convention.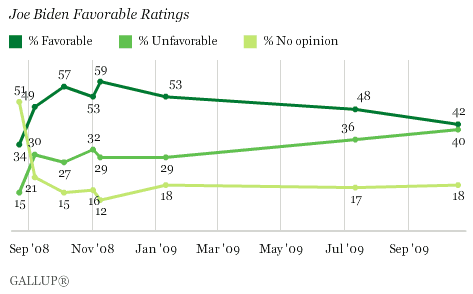 "Biden's sagging popularity is not unique in the Obama administration. President Obama's favorable rating has declined as well, though it has taken a slightly different trajectory than Biden's."
These data are based on the latest USA Today/Gallup poll, conducted Oct. 16-19. Biden's favorable rating has dropped by five or six points each of the last three times Gallup has updated it -- in January, before Barack Obama's inauguration; in July; and in the most recent poll.
The source of the decline -- by party affiliation -- has varied over time. During the post-election to pre-inauguration phase, Biden's favorable rating dropped significantly among Democrats, but it has been fairly steady since, and remains strong at 73%.
Republicans had relatively low opinions of Biden even at the peak of his popularity, with 33% holding a favorable opinion of him. Those views did not change appreciably until after he took office, but Republicans' views of Biden have declined in both post-inauguration readings, and now stand at 18% favorable.
Independents' opinions of Biden have declined more steadily since the post-election high mark, and now 32% of independents view the vice president favorably.
Biden's sagging popularity is not unique in the Obama administration. President Obama's favorable rating has declined as well, though it has taken a slightly different trajectory than Biden's. Obama's popularity soared to a pre-inauguration high of 78%, and has declined to 55% in the current poll, with about half of that decline occurring between January and March, and the other half between July and October.
Even first lady Michelle Obama's favorability rating has gone down, from 72% in March to 61% now.
Historical Comparison Not Kind to Biden
Gallup has measured public opinion of government leaders using the favorable/unfavorable question format since 1992, so it has comparable data only on Vice Presidents Al Gore and Dick Cheney.
Both Gore (63% in January 1993) and Cheney (61% in January 2001) had higher favorable ratings immediately before taking office than did Biden (53% in January 2009).
Though Gallup did not measure the vice presidents' favorable ratings often during the first year of each administration, the available data show both Gore (55% based on five measurements) and Cheney (65% based on three measurements) having higher average favorable ratings in their first year than Biden does (45% based on two measurements) thus far.
Biden also departs from his immediate predecessors in being significantly less popular than his boss. Gore's and Cheney's first-year averages were similar to Bill Clinton's and George W. Bush's, respectively.
This may simply be a carryover from the presidential campaign. In the 1992 and 2000 elections, both members of the winning ticket were rated similarly just after the election and through much of their first year in office. The 2008 election was different in that Obama, one of the most popular presidential candidates in recent memory, chose a fairly well-established Washington senator who had run unsuccessfully for the top job, and Biden was never viewed as positively as his future boss. That gap in popularity persists, even as Obama's and Biden's favorable ratings have declined this year.
Republicans view Obama (17% favorable) and Biden (18%) about equally poorly, but Democrats (by 87% to 73%) and especially independents (by 55% to 32%) have significantly more positive opinions of Obama than of Biden.
Survey Methods
Results are based on telephone interviews with 1,521 national adults, aged 18 and older, conducted Oct. 16-19, 2009, including an oversample of 408 blacks, consisting of 102 interviews done as part of the random national sample and 306 interviews with blacks who had previously participated in national Gallup polls and agreed to be re-interviewed at a later date. The data from the national sample and re-interviews are combined and weighted to be demographically representative of the national adult population in the United States and to reflect the proper proportion of blacks in the overall population.
For results based on the total sample of national adults, one can say with 95% confidence that the maximum margin of sampling error is ±3 percentage points.
Interviews are conducted with respondents on land-line telephones (for respondents with a land-line telephone) and cellular phones (for respondents who are cell-phone only).
In addition to sampling error, question wording and practical difficulties in conducting surveys can introduce error or bias into the findings of public opinion polls.