In a previous report, we examined the diversity of views in Europe toward religious institutions (see "Trust in Religious Institutions Varies Across EU Map" in Related Items). This article looks at religious service attendance in the EU.
With a few exceptions, trust in religious institutions is extremely low in most European Union (EU) countries. But data collected by Gallup for the European Commission's Eurobarometer survey* and the European Social Survey reveal that even in countries whose populations express high levels of trust in religious institutions, that trust doesn't necessarily translate into regular attendance at religious services.
"Old" Member European Union Countries
According to the European Social Survey** (which includes the most recent data on the 15 "old" EU countries that joined before May 2004), many of the countries with the highest levels of trust in religious institutions are actually among those with the lowest levels of weekly religious service attendance. Denmark has the highest level of confidence in religious institutions at 74%, yet a meager 3% of Danes attend church at least once a week. Just 5% of Swedes and 5% of Finns attend church weekly. Swedish citizens express the lowest level of trust in religious institutions at 21%, while Finland's population, like Denmark's, expresses one of the highest levels of trust at 71%. The conclusion is clear: Active participation in faith-based organizations is not largely a function of a society's level of trust in them.
Among the other old EU countries, weekly attendance at religious services is below 10% in France and Germany, while in Belgium, the Netherlands, Luxembourg, and the United Kingdom between 10% and 15% of citizens are regular churchgoers.
Among the Catholic old member countries, Austria is closest to the more secularized Protestant countries in weekly church attendance, with 18% attending at least weekly. Twenty-one percent of Spaniards attend at least weekly, and just under a third of Portuguese (29%) and Italians (31%) do so. Only in Roman Catholic Ireland do a majority of residents (54%) still go to church weekly.
The only Orthodox country among the old members -- Greece -- has a weekly church participation rate of 27%.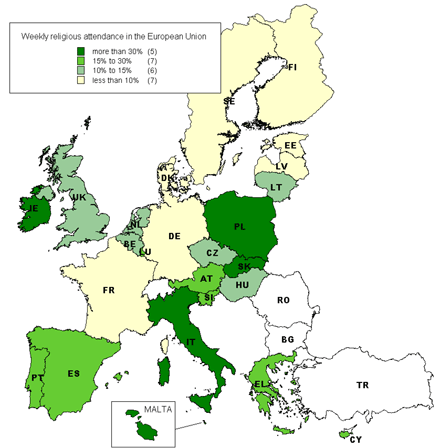 "New" Member European Union Countries
Like the old member countries, there is great variation in the rates of weekly church attendance among the 10 new member countries, which were added to the EU in the spring of this year.
According to the spring 2004 Eurobarometer survey, Malta and Poland have the highest percentages of weekly churchgoers in Europe with 75% and 63%, respectively. Estonia and Latvia, the two Baltic countries with Protestant traditions, are among the most secularized in Europe with only 4% and 7% of residents attending services once a week. The Czechs (11%), Hungarians (12%), and Lithuanians (14%) are also in the more secular camp. Eighteen percent of people in Catholic Slovenia attend church weekly, while Orthodox Cyprus (25%) and the dominantly Catholic Slovakia (33%) still have sizable active religious minorities.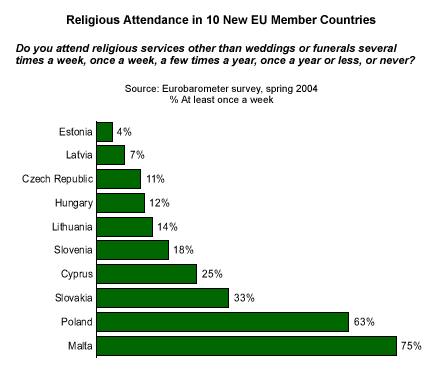 Bottom Line
Out of the 25 member countries of the European Union, in only nine do at least a fifth of adults participate once a week in institutionalized religious activities, according to these self-reported data. Religiosity inevitably colors international relations, so those engaged in diplomacy should be well aware that secularization has become widespread in Europe, differentiating the European perspective from those in other parts of the world, particularly the Middle East and the United States.
*The standard Eurobarometer was established in 1970 as a tool to track the evolution of the citizen opinion of the European integration. Each survey consists of approximately 1,000 face-to-face interviews per Member State (except Germany: 2,000, Luxembourg: 600, United Kingdom 1,300 including 300 in Northern Ireland). Conducted between 2 and 5 times per year, with reports published twice yearly. The fieldwork is coordinated by EORG. First wave of Candidate Countries Eurobarometer was carried out in October 2001 in all the 13 countries applying for membership. One thousand face-to-face interviews are conducted in each country, except for Cyprus and Malta, where the number of interviews conducted are 500 each. The fieldwork is coordinated by Gallup Hungary, and the reports and analysis are written by Gallup based on a contract with the European Commission. The fieldwork for the last wave reported here was conducted in March-April of 2004 and the detailed reports can be found at the European Commission's Web site.
**The European Social Survey (ESS) is a new multi-country survey covering over 20 nations. Its twin aims are -- firstly -- to monitor and interpret changing public attitudes and values within Europe and to investigate how they interact with Europe's changing institutions, and -- secondly -- to advance and consolidate improved methods of cross-national survey measurement in Europe and beyond. The project is funded jointly by the European Commission's 5th Framework Programme, the European Science Foundation and academic funding bodies in each participating country, and is designed and carried out to exceptionally high standards. It involves strict random probability sampling, a minimum target response rate of 70% and rigorous translation protocols. The hour-long face-to-face interview includes (amongst others) questions on immigration, citizenship and socio-political issues.