PRINCETON, NJ -- President Barack Obama is viewed favorably by 54% of Americans and unfavorably by 43%, similar to the favorability ratings he received last fall. Gallup polling in March -- barely a week after the passage of healthcare reform in Congress -- showed Obama's unfavorable score rise to 48%, but that has since reverted to the low 40s.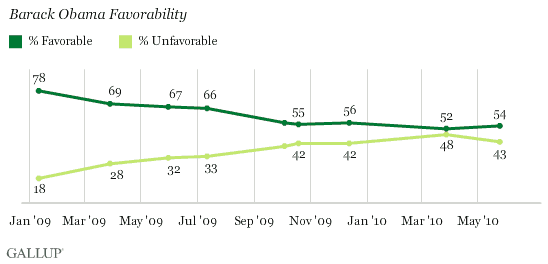 Throughout his presidency, Obama's favorable rating has mostly tracked five to seven percentage points above his job approval rating, and that continues today. The finding is on the basis of eight Gallup surveys since March 2009 in which the two measures were asked at the same time. In the latest USA Today/Gallup poll, conducted May 24-25, 48% of Americans approved of the job he is doing as president, six points below his favorable rating. That is the same average as Gallup Daily tracking for the week ending May 23.
Gallup finds all three party groups giving Obama a higher favorable rating than job approval score. Among Democrats his favorable rating is 89% and his approval rating 82%. Among independents the difference is 51% vs. 44%, respectively, and among Republicans it is 20% vs. 15%.
A Familiar Pattern
The average six-point gap between Obama's favorable and job approval ratings, thus far, is very close to the ratings gap seen for former president George W. Bush during his two terms in office. From 2001 through January 2009 Bush's favorable rating was consistently higher than his approval rating, by an average of five percentage points.
The picture is a bit different for former president Bill Clinton. For the first five years of his presidency, his favorability rating averaged six points higher than his approval score. Then, subsequent to revelations in January 1998 about his affair with White House intern Monica Lewinsky, his favorable rating dipped below his approval score and remained an average of eight points lower for the duration of his presidency.
Gallup started measuring presidential favorability in the current format in 1992, the last year of George H.W. Bush's presidency. However, in that time frame (when Bush generally suffered weak job approval), the elder Bush's favorable rating averaged nine points higher than his approval rating.
Bottom Line
Obama's favorable scores to date are generally in line with the expectations established by Gallup's ratings for the previous three presidents. Favorability for a sitting president typically runs a few points higher than overall job approval, with the average gap for recent presidents ranging from five to nine points. Only a year into Bill Clinton's second term, when his personal image was tainted by scandal, did Gallup find favorability lagging approval for a sustained period.
Survey Methods
Results are based on telephone interviews conducted May 24-25, 2010, with a random sample of 1,049 adults, aged 18 and older, living in the continental U.S., selected using a random-digit-dial sampling technique.
For results based on the total sample of national adults, one can say with 95% confidence that the margin of error is ±4 percentage points.
Interviews are conducted with respondents on landline telephones (for respondents with a landline telephone) and cellular phones (for respondents who are cell phone only). Each sample includes a minimum quota of 150 cell phone only respondents and 850 landline respondents, with additional minimum quotas among landline respondents for gender within region. Landline respondents are chosen at random within each household on the basis of which member had the most recent birthday.
Samples are weighted on the basis of gender, age, race, education, region and phone lines. Demographic weighting targets are based on the March 2009 Current Population Survey figures for the aged 18 and older non-institutionalized population living in continental U.S. telephone households. All reported margins of sampling error include the computed design effects for weighting and sample design.
In addition to sampling error, question wording and practical difficulties in conducting surveys can introduce error or bias into the findings of public opinion polls.