PRINCETON, NJ -- More Americans disapprove than approve of President Barack Obama's recent comments concerning the planned construction of a mosque near where the Sept. 11 terror attacks occurred in New York City, but 4 in 10 do not have an opinion on the matter. The vast majority of those with an opinion hold it strongly.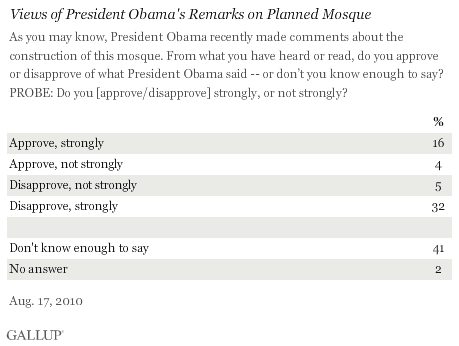 The results are based on a one-night Gallup reaction poll conducted Tuesday, Aug. 17. Four days earlier, President Obama, at a White House dinner celebrating the beginning of the Ramadan holiday, remarked that those planning to build a Muslim center and mosque two blocks from the site of the 9/11 terror attacks in New York City had a legal right to do so. Obama later attempted to clarify that those comments were meant to endorse only the legality of building the mosque at that location, not the wisdom of doing so. Opponents of the project believe placing an Islamic center or mosque close to ground zero is insensitive to the victims of the terror attacks and their families.
Two in three Americans say they are paying a great deal (34%) or fair amount (32%) of attention to the issue, suggesting Obama's remarks may be playing a part in the recent dip in his approval rating. The latest Gallup Daily three-day rolling average, based on Aug. 15-17 polling, shows Obama with a 41% approval rating, the lowest of his presidency.
Republicans (44%) are more likely than Democrats (31%) or independents (29%) to be paying a great deal of attention to the story about the planned ground zero mosque. Republicans overwhelmingly disapprove of Obama's remarks on the matter, including 63% who do so strongly. Democrats generally approve of Obama's remarks, while independents tilt toward disapproval, but close to half of each group does not have an opinion (compared with 26% of Republicans).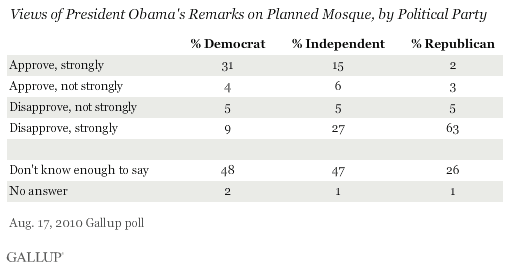 Together, the data show that those who generally support Obama or are perhaps more neutral toward him are not highly engaged in the controversy over his remarks about the planned New York City mosque. At the same time, his opponents are engaged, leading to the more negative than positive evaluation of his statements.
Survey Methods
Results for this Gallup poll are based on telephone interviews conducted Aug. 17, 2010, on the Gallup Daily tracking survey, with a random sample of 1,009 adults, aged 18 and older, living in all 50 U.S. states and the District of Columbia, selected using random-digit-dial sampling.
For results based on the total sample of national adults, one can say with 95% confidence that the maximum margin of sampling error is ±4 percentage points.
Interviews are conducted with respondents on landline telephones and cellular phones, with interviews conducted in Spanish for respondents who are primarily Spanish-speaking. Each daily sample includes a minimum quota of 150 cell phone respondents and 850 landline respondents, with additional minimum quotas among landline respondents for gender within region. Landline respondents are chosen at random within each household on the basis of which member had the most recent birthday.
Samples are weighted by gender, age, race, Hispanic ethnicity, education, region, adults in the household, cell phone-only status, cell phone-mostly status, and phone lines. Demographic weighting targets are based on the March 2009 Current Population Survey figures for the aged 18 and older non-institutionalized population living in U.S. telephone households. All reported margins of sampling error include the computed design effects for weighting and sample design.
In addition to sampling error, question wording and practical difficulties in conducting surveys can introduce error or bias into the findings of public opinion polls.
Polls conducted entirely in one day, such as this one, are subject to additional error or biase not found in polls conducted over several days.
View methodology, full question results, and trend data.
For more details on Gallup's polling methodology, visit https://www.gallup.com/.