PRINCETON, NJ -- Forty-three percent of U.S. adults want the federal government to be more involved in education than it is currently and 20% want it to keep the same level of involvement, while 35% want it less involved. Parents of school-aged children are particularly supportive of expanding the government's role in education, with 56% favoring more involvement.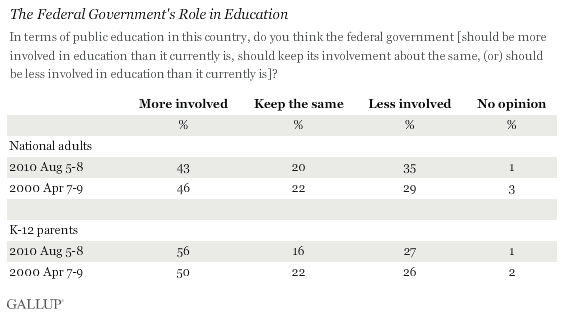 Ten years ago, Americans were slightly more likely to favor greater government involvement in education over less involvement, 46% to 29%. The next year (in 2001), President George W. Bush and Sen. Ted Kennedy succeeded in passing the landmark No Child Left Behind education initiative through Congress. Among other things, this compelled states to meet extensive new testing and achievement standards in order to receive Title I federal education funding.
The new findings, from Gallup's Aug. 5-8 Work and Education poll, do not speak directly to public support for No Child Left Behind; however, they do suggest that Americans are, at a minimum, content with the current level of federal involvement in education. Still, views on this are highly partisan. Sixty percent of Republicans favor less federal involvement in education while 63% of Democrats want to see more. By 44% to 33%, independents tend to favor more involvement over less.
Support for expanded federal government involvement in education is also higher among younger Americans than among older Americans.
The same poll finds 54% of Americans dissatisfied with the quality of K-12 education in the United States today, the highest Gallup has recorded since August 2000.
By contrast, American parents have remained largely satisfied with the quality of education their own children are receiving. The 80% currently saying they are either completely (35%) or somewhat (45%) satisfied is the most positive assessment Gallup has measured since the question was first asked in 1999.
Bottom Line
President Obama has promised to rework federal education law in a way that gives more responsibility for meeting educational standards and improving outcomes back to state and local governments. However, the public may not immediately support this. A combined 63% of Americans want the federal government's role in education either maintained at its current level or increased. The figure is 72% among parents of K-12 schoolchildren. The fact that a majority of Americans are dissatisfied with the status of education today may give added support to an expanded federal role.
Survey Methods
Results for this Gallup poll are based on telephone interviews conducted Aug 5-8, 2010, with a random sample of 1,013 [adults/ aged 18 and older, living in the continental U.S., selected using random-digit-dial sampling.
For results based on the total sample of national adults, one can say with 95% confidence that the maximum margin of sampling error is ±4 percentage points.
For results based on the total sample of 218 parents with children in Kindergarten through Grade 12, one can say with 95% confidence that the maximum margin of sampling error is ±8 percentage points.
Interviews are conducted with respondents on landline telephones (for respondents with a landline telephone) and cellular phones (for respondents who are cell phone-only). Each sample includes a minimum quota of 150 cell phone-only respondents and 850 landline respondents, with additional minimum quotas among landline respondents for gender within region. Landline respondents are chosen at random within each household on the basis of which member had the most recent birthday.
Samples are weighted by gender, age, race, education, region, and phone lines. Demographic weighting targets are based on the March 2009 Current Population Survey figures for the aged 18 and older non-institutionalized population living in continental U.S. telephone households. All reported margins of sampling error include the computed design effects for weighting and sample design.
In addition to sampling error, question wording and practical difficulties in conducting surveys can introduce error or bias into the findings of public opinion polls.
View methodology, full question results, and trend data.
For more details on Gallup's polling methodology, visit https://www.gallup.com/.