PRINCETON, NJ -- Of the nine U.S. presidents who have served in the past 50 years, John F. Kennedy continues to earn the highest retrospective job approval rating from Americans, now 85%. Ronald Reagan ranks second, with 74%. While these presidents' ratings are largely unchanged from 2006, Bill Clinton's rating has improved, putting him in third place, while Jimmy Carter, at 52%, has dropped from third to sixth. Richard Nixon remains the lowest rated.
The Nov. 19-21 Gallup poll asked Americans to say, based on what they know or remember about the nine most recent former presidents, whether they approve or disapprove of how each handled his job in office.
Kennedy has consistently ranked No. 1 in this Gallup measure initiated in 1990. Nixon has almost always come in last, although Lyndon Johnson had the lowest retrospective approval in 1993 and tied with Nixon in 1992. However, given that many Americans have no opinion of Johnson, his disapproval runs much lower than Nixon's. The most notable changes in this year's update are a nine-point drop in Carter's approval rating and eight-point increases in those for Clinton, George H.W. Bush, and Johnson.
This is Gallup's first retrospective approval measure of George W. Bush since he left office in 2009. His 47% approval and 51% disapproval rating puts him in Nixon's company as the only two presidents whose retrospective disapproval exceeds their approval, although the balance is much more negative for Nixon: 29% approve and 65% disapprove. For Bush -- whose job approval ratings as president descended into the 20s in his final year -- a 47% retrospective approval is actually relatively positive, as his approval rating as president last reached that level in 2005.
Jimmy Carter Loses More Ground
Carter's retrospective approval rating peaked at 69% in 1999, dropped to 61% in 2006, and is now 52%. While he has maintained fairly high approval from Democrats (80% in 2006 vs. 77% today), he has lost support among Republicans (from 42% to 34%) and independents (from 57% to 47%). These changes may reflect Carter's outspoken criticism of then-President George W. Bush over the Iraq war, at one time calling Bush's presidency "the worst in history" on international matters. Whatever the reason for the decline, Carter remains better regarded today, overall, than he was in the early '90s.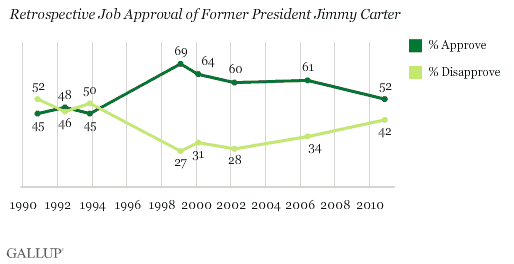 Perceptions of Clinton and George H.W. Bush Advance
Former president Clinton's retrospective job approval rating has steadily increased in the decade since he left office, from 51% in 2002 to 69% today. By contrast, the man he beat for the job, George H.W. Bush, enjoyed a surge of approval between 1993 and 1999, followed by a slide during his son's presidency. However, with George W. Bush now out of office, approval of the elder Bush has rebounded somewhat.
Retrospective Approval vs. Approval While in Office
Public attitudes about former presidents apparently tend to soften with time, but this is by no means assured.
Six of the nine presidents are now more highly regarded than they were at the end of their presidencies. These include Kennedy, Reagan, George H.W. Bush, Gerald Ford, Carter, and George W. Bush. On the other hand, Clinton, Johnson, and Nixon are each currently rated on par with their final job approval rating before leaving office.
An alternate way to evaluate how presidents have fared since they left office is to compare their retrospective approval ratings to their average job approval rating during their presidencies. Kennedy, Reagan, Ford, Carter, and Clinton all have a higher retrospective approval rating today than their average presidential approval ratings. The retrospective ratings for the two Bushes are about the same as their average presidential approval ratings, while those of Johnson and Nixon are lower.
Bottom Line
Nearly 50 years after Kennedy's assassination, the vast majority of Americans see his presidency in a positive light, much improved from how he was viewed in his final days. The 27-point difference between his final job approval rating and his latest retrospective approval rating far exceeds that of any subsequent president. However, Reagan, Ford, Carter, and George H.W. Bush have enjoyed substantial increases in public approval since leaving office, particularly when they have stayed out of partisan politics. George W. Bush also seems to be benefiting from this tendency in his initial retrospective approval reading, which is up 13 points from his last reading in office. By contrast, Johnson, Nixon, and Clinton are rated similarly to how they were viewed at the end of their terms.
Survey Methods
Results for this Gallup poll are based on telephone interviews conducted Nov. 19-21, 2010, with a random sample of 1,037 adults, aged 18 and older, living in the continental U.S., selected using random-digit-dial sampling.
For results based on the total sample of national adults, one can say with 95% confidence that the maximum margin of sampling error is ±4 percentage points.
Interviews are conducted with respondents on landline telephones (for respondents with a landline telephone) and cellular phones (for respondents who are cell phone-only). Each sample includes a minimum quota of 150 cell phone-only respondents and 850 landline respondents, with additional minimum quotas among landline respondents for gender within region. Landline respondents are chosen at random within each household on the basis of which member had the most recent birthday.
Samples are weighted by gender, age, race, education, region, and phone lines. Demographic weighting targets are based on the March 2009 Current Population Survey figures for the aged 18 and older non-institutionalized population living in continental U.S. telephone households. All reported margins of sampling error include the computed design effects for weighting and sample design.
In addition to sampling error, question wording and practical difficulties in conducting surveys can introduce error or bias into the findings of public opinion polls.
View methodology, full question results, and trend data.

For more details on Gallup's polling methodology, visit www.gallup.com.