WASHINGTON, D.C. -- Gallup finds 19% of Americans satisfied with the way things are going in the United States at this time -- essentially on par with the lowest level of the past 12 months, 17%, registered in December.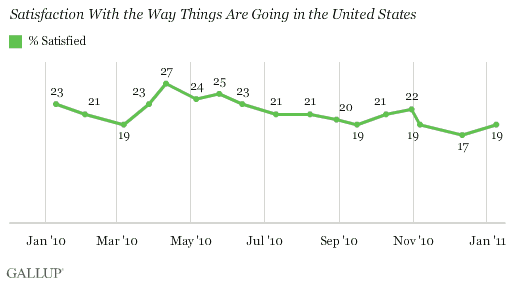 While satisfaction with the direction of the country remains stagnant, the same Jan. 7-9 poll found that Americans' approval of Congress increased to 20% from a record low of 13% in December, during the lame-duck session. This slight disconnect may reveal that Americans are hopeful about what the new Congress can accomplish, but still perceive significant problems in the United States in general.
The current low level of satisfaction is likely tied primarily to the economy. When U.S. satisfaction reached an all-time high of 71% in February 1999, 6% of Americans named the economy as the most important problem facing the country. When satisfaction fell to an all-time low of 7% in October 2008 -- amid the escalating financial crisis -- 47% said the economy was the most important problem. In the Jan. 7-9 poll, 26% choose the economy as the nation's No. 1 problem, and another 29% mention unemployment.
Despite GOP House Takeover, Republicans' Satisfaction Lower Than Democrats'
Although the poll was conducted after the new Republican-controlled House came to power last week, 13% of Republicans say they are satisfied with the way things are going in the United States, far fewer than the 27% of Democrats who say the same. Sixteen percent of independents are satisfied.
Similarly, conservatives are less than half as likely as liberals to be satisfied with the direction of the nation -- 12% vs. 27%.
Although their party now controls one house of Congress, as long as Democrats remain in control of the White House, Republicans' satisfaction is likely to remain lower than Democrats'. When President Obama took office in late January 2009, Democrats' satisfaction increased, and has remained higher than Republicans' since. Historical Gallup trends document a similar rise in satisfaction among the new president's party when George W. Bush, Bill Clinton, and Ronald Reagan took office, and this pattern of elevated satisfaction persisted throughout their presidencies.
Given that U.S. satisfaction is directly related to perceptions of the economy, improvements in the economic situation in the country in general would likely increase satisfaction across party and ideological lines. Thus, it is highly unlikely that even with an economic upturn, Republicans' satisfaction would eclipse Democrats' in the near term.
Survey Methods
Results for this Gallup poll are based on telephone interviews conducted Jan. 7-9, 2011, with a random sample of 1,018 adults, aged 18 and older, living in the continental U.S., selected using random-digit-dial sampling.
For results based on the total sample of national adults, one can say with 95% confidence that the maximum margin of sampling error is ±4 percentage points.
Interviews are conducted with respondents on landline telephones (for respondents with a landline telephone) and cellular phones (for respondents who are cell phone-only). Each sample includes a minimum quota of 150 cell phone-only respondents and 850 landline respondents, with additional minimum quotas among landline respondents for gender within region. Landline respondents are chosen at random within each household on the basis of which member had the most recent birthday.
Samples are weighted by gender, age, race, education, region, and phone lines. Demographic weighting targets are based on the March 2010 Current Population Survey figures for the aged 18 and older non-institutionalized population living in continental U.S. telephone households. All reported margins of sampling error include the computed design effects for weighting and sample design.
In addition to sampling error, question wording and practical difficulties in conducting surveys can introduce error or bias into the findings of public opinion polls.
View methodology, full question results, and trend data.

For more details on Gallup's polling methodology, visit www.gallup.com.