PRINCETON, NJ -- A new Gallup poll shows that 67% of Americans feel now is a "good time" to buy a house -- similar to the 72% of April 2010 and the 71% of April 2009. The findings, from a Gallup poll conducted Jan. 7-9, 2011, suggest Americans are holding on to perceptions of a buyer's market despite the challenges of securing financing and observers' concerns about the potential for a housing "double-dip."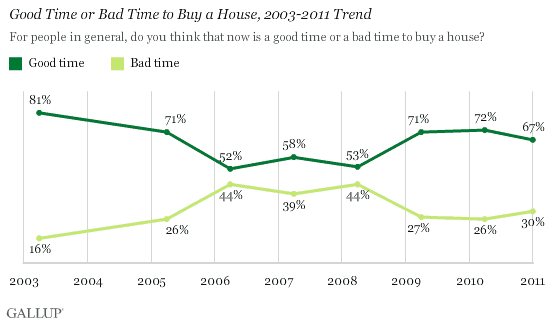 Overall, there is good reason for most Americans to think now is a good time to buy a house. Interest rates remain near historic lows. Home prices are down sharply, providing many incredible buys. There is a huge supply of unsold homes and more to come as home foreclosures hit record highs -- suggesting that the bargains could get even better as the year unfolds.
It should be noted that today's perceptions that now is a good time to buy a house are based on significantly different housing market conditions than prevailed in 2003-2005. During that prior period, the timing was good to buy a home because 70% of Americans thought home prices were going higher, the housing finance system made financing relatively easy, and one could routinely sell one's current home at a good profit.
In retrospect, the sharp decline in housing price expectations from 2007 to 2008 may have been a good indication that many Americans saw the now-infamous housing bubble forming in their local markets before many observers recognized it on the national scene. In this regard, Americans' subdued expectations on whether local-market housing prices will increase this year might indicate that housing still has a way to go before it recovers.
A Broken Housing Finance Market Provides Careful Buying Opportunities
Today, the housing finance system is broken and works in favor of cash buyers and buyers with perfect credit. The collapse and government takeover of Fannie Mae and Freddie Mac created a government-run housing finance system dominated by these two fully federalized agencies, together with the FHA/VA. The current housing market is thus effectively limited to potential buyers who can meet the loan qualifications of these housing finance entities or who have enough money to buy without a loan. Further, even qualified buyers are often limited by the need to find a buyer who can meet the same conditions to purchase their current home. As a result, although many feel this is a good time to buy, relatively few can take advantage of the situation.
However, this new Gallup poll also suggests that even Americans who can take advantage of current housing conditions to buy a home at a great price should be careful. One doesn't need to believe national housing prices will fall another 20% or anticipate another sharp housing decline -- a so-called housing double-dip -- to feel it necessary to exercise caution when buying in today's housing market. One in four Americans say they expect home prices in their communities to decline in 2011. And in a separate question, Gallup finds an even greater 42% who are worried that their own house will lose value -- another troubling sign for potential buyers and for the housing outlook overall.
Given these uncertainties, potential home buyers might want to avoid thinking about a home purchase right now as an investment. Because both the U.S. housing finance system and, most likely, the structure of the housing market are likely to change significantly during the years ahead, it may at best be a "good time" for Americans to buy a home as a place to live.
Survey Methods
Results for this Gallup poll are based on telephone interviews conducted Jan. 7-9, 2011, with a random sample of 1,018 adults, aged 18 and older, living in the continental U.S., selected using random-digit-dial sampling.
For results based on the total sample of national adults, one can say with 95% confidence that the maximum margin of sampling error is ±4 percentage points.
Interviews are conducted with respondents on landline telephones (for respondents with a landline telephone) and cellular phones (for respondents who are cell phone-only). Each sample includes a minimum quota of 150 cell phone-only respondents and 850 landline respondents, with additional minimum quotas among landline respondents for gender within region. Landline respondents are chosen at random within each household on the basis of which member had the most recent birthday.
Samples are weighted by gender, age, race, education, region, and phone lines. Demographic weighting targets are based on the March 2010 Current Population Survey figures for the aged 18 and older non-institutionalized population living in continental U.S. telephone households. All reported margins of sampling error include the computed design effects for weighting and sample design.
In addition to sampling error, question wording and practical difficulties in conducting surveys can introduce error or bias into the findings of public opinion polls.
View methodology, full question results, and trend data.

For more details on Gallup's polling methodology, visit www.gallup.com.