PRINCETON, NJ -- A slight majority of Americans for the first time blame President Obama either a great deal (24%) or a moderate amount (29%) for the nation's economic problems. However, Americans continue to blame former President George W. Bush more. Nearly 7 in 10 blame Bush a great deal (36%) or a moderate amount (33%).
Gallup found a substantially wider gap in public perceptions of how much responsibility Bush and Obama each bore for the economy when it first asked the question in July 2009, the sixth month of Obama's presidency. That narrowed by March 2010, caused mainly by a jump in the percentage blaming Obama a great deal or moderate amount, and has since changed relatively little. However, the results from a new Sept. 15-18 USA Today/Gallup poll are the first showing a majority of Americans, 53%, assigning significant blame to Obama. Forty-seven percent still say he is "not much" (27%) or "not at all" (20%) to blame.
Democrats Less Willing to Blame Their Own Party's President
Americans are more likely to blame Bush than Obama mainly because a much higher percentage of Republicans assign a high degree of responsibility to Bush compared with the percentage of Democrats blaming Obama, 50% vs. 25%. At the same time, partisans are equally likely to say the president of the opposing party bears significant blame: 83% of Republicans blame Obama and 86% of Democrats blame Bush.
Independents blame both presidents about equally: 60% blame Obama a great deal or a moderate amount, and 67% say this about Bush. In 2009, the figures were 37% and 81%, respectively.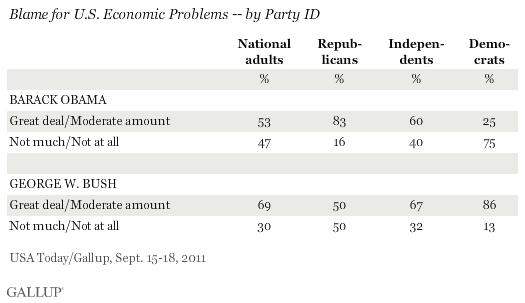 Bottom Line
Former President Bush continues to take a harder hit than President Obama in public perceptions of who is responsible for the nation's ongoing economic problems. However, that is largely because Republicans are more willing to blame Bush than Democrats are to blame Obama. Because most Republicans and Democrats are going to vote for their own party's presidential candidate in 2012, this imbalance won't help Obama much electorally.
More importantly, about 6 in 10 political independents believe both presidents bear considerable blame. That is not good news for Obama. In his re-election campaign, he will likely try to convince independents that although the economy hasn't markedly improved on his watch, his policies prevented the bad economic situation he inherited from Bush from becoming even worse.
Other Gallup polling confirms that the economy is going to be a treacherous issue for Obama to navigate in the coming year. At 26%, his most recent approval rating on the economy, from August, is his lowest to date, and Americans' economic confidence remains weakened compared with earlier this year, after the bruising debt ceiling debate over the summer. The public may not see Obama as culpable for the economy to the same degree as Bush, but that won't be sufficient protection from voters' wrath if the majority -- including 60% of independents -- nevertheless considers him highly responsible.
Survey Methods
Results for this USA Today/Gallup poll are based on telephone interviews conducted Sept. 15-18, 2011, with a random sample of 1,004 adults, aged 18 and older, living in all 50 U.S. states and the District of Columbia.
For results based on the total sample of national adults, one can say with 95% confidence that the maximum margin of sampling error is ±4 percentage points.
Interviews are conducted with respondents on landline telephones and cellular phones, with interviews conducted in Spanish for respondents who are primarily Spanish-speaking. Each sample includes a minimum quota of 400 cell phone respondents and 600 landline respondents per 1,000 national adults, with additional minimum quotas among landline respondents by region. Landline telephone numbers are chosen at random among listed telephone numbers. Cell phone numbers are selected using random-digit-dial methods. Landline respondents are chosen at random within each household on the basis of which member had the most recent birthday.
Samples are weighted by gender, age, race, Hispanic ethnicity, education, region, adults in the household, and phone status (cell phone only/landline only/both, cell phone mostly, and having an unlisted landline number). Demographic weighting targets are based on the March 2010 Current Population Survey figures for the aged 18 and older non-institutionalized population living in U.S. telephone households. All reported margins of sampling error include the computed design effects for weighting and sample design.
In addition to sampling error, question wording and practical difficulties in conducting surveys can introduce error or bias into the findings of public opinion polls.
View methodology, full question results, and trend data.

For more details on Gallup's polling methodology, visit www.gallup.com.