BRUSSELS -- Italy's new government will need to restore Italians' confidence in their country's leadership as it steers the nation through its current debt crisis. Gallup surveys before Prime Minister Silvio Berlusconi stepped down Saturday showed disapproval of the country's leadership hit an all-time high of 66% in March.
These data suggest Italians' disillusionment with their political leadership is not limited to their former prime minister, of whom 61% disapproved before he resigned. Italy's new prime minister, economist Mario Monti, formed a new government Wednesday.
Unstable economic conditions likely explain much of Italians' frustration with their previous government, but they also see corruption rising within its ranks. Eighty-five percent of Italians in 2011 say corruption is widespread in their government, up from 73% in 2009.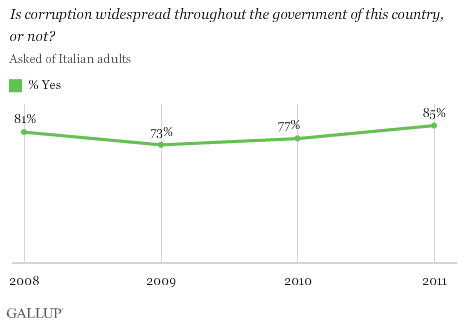 Bottom Line
Italians' political disillusionment is linked to larger structural and economic problems that have left the country crippled by debt and a candidate for an international bailout. Italy's debt-to-GDP ratio of 120% is surpassed only by Greece's. But Gallup's data show Italy's current problems are not only economic; the new government will also have to strengthen the belief that it can be effective in restoring economic growth and meeting the Italian people's long-term interests.
For complete data sets or custom research from the more than 150 countries Gallup continually surveys, please contact SocialandEconomicAnalysis@gallup.com or call 202.715.3030.
Survey Methods
Results are based on telephone interviews with approximately 1,000 Italians, aged 15 and older, conducted in June 2008, May 2009, May 2010, and March 2011. For results based on the total sample of national adults, one can say with 95% confidence that the maximum margin of sampling error is between ±3.4 and ±4.5 percentage points. In addition to sampling error, question wording and practical difficulties in conducting surveys can introduce error or bias into the findings of public opinion polls.
For more complete methodology and specific survey dates, please review Gallup's Country Data Set details.