PRINCETON, NJ -- Democrats have lost their solid political party affiliation advantage in 18 states since 2008, while Republicans have gained a solid advantage in 6 states. A total of 17 states were either solidly Republican or leaning Republican in their residents' party affiliation in 2011, up from 10 in 2010 and 5 in 2008. Meanwhile, 19 states including the District of Columbia showed a solid or leaning Democratic orientation, down from 23 in 2010 and 36 in 2008. The remaining 15 states were relatively balanced politically, with neither party having a clear advantage.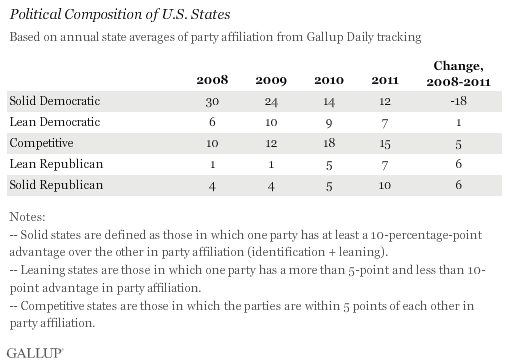 Gallup classifies each state as solid Democratic, leaning Democratic, competitive, leaning Republican, or solid Republican, based on the percentage of residents identifying with or leaning toward the Democratic versus Republican parties. The 2011 results are based on Gallup Daily tracking interviews with more than 350,000 U.S. adults, including interviews with 1,000 or more residents in each of the 50 states and 730 in the District of Columbia. Each state's sample is weighted to be representative of the state's adult population.
The findings make it clear that U.S. states have undergone a dramatic political transformation since 2008, the year President Obama was elected, moving from a Democratically dominant political environment to one of parity.
The greatest movement away from the Democratic Party came between 2009 and 2010, when the number of states with a Democratic advantage fell from 34 to 23.
The greatest movement toward the Republican Party came a year later, between 2010 and 2011, with a net gain of seven GOP states, including Indiana, North Dakota, South Carolina, Mississippi, Tennessee, Louisiana, Oklahoma, and Texas. New Hampshire moved from a leaning Republican to a competitive status in 2011. (The year-by-year classification of each state can be found on page 2 of this article.)
The full data for each state can be found on page 3 of this article.
D.C., Hawaii Most Democratic; Utah and Wyoming Most Republican
The states with the biggest Democratic advantages in 2011 were Hawaii, Rhode Island, and Massachusetts, along with the District of Columbia -- all having advantages of 20 percentage points or more, with New York just below that threshold. The states with the biggest Republican advantages were Utah and Wyoming, both of which have 30-point advantages for the GOP, with Idaho just shy of a 30-point Republican edge.
The list of the most Republican and most Democratic states has been fairly consistent from year to year. Since 2008, Utah, Wyoming, Idaho, and Alaska have been the four most Republican states, with Utah ranking first in 2008 and 2011, and Wyoming first in 2009 and 2010. Kansas, Nebraska, and Alabama have also ranked among the 10 most Republican states in each of the last four years.
The 10 most Democratic states have been quite stable, with a total of only 11 states making the list over the last four years. California was 10th in 2010 but did not make the list this year. Apart from the District of Columbia, whose Democratic advantage has consistently exceeded that for any state, the most Democratic state was Rhode Island in 2008-2009, Maryland in 2010, and Hawaii in 2011.
Gallup classifies 15 states as competitive, with the leading party having no more than a five-point advantage. The most competitive states in 2011 were Arkansas, Virginia, and North Carolina; in these, the parties were separated by less than one point.
These competitive states would be among the ones most "in play" in the 2012 presidential election, and include 10 of USA Today and Gallup's 12 swing states, with Michigan (+6.6 Democratic) and New Mexico (+5.5 Democratic) the other two.
While party affiliation is highly correlated with a state's voting patterns in statewide elections, it should be noted that these figures are based on the state's entire adult population, rather than the voting electorate. Differences in turnout by party supporters can give a party a greater or a lesser advantage than the party affiliation data might suggest.
Implications
In the last four years, the political leanings of Americans have increasingly moved toward the Republican Party after shifting decidedly Democratic between 2005 and 2008. In 2008, Democrats had one of the largest advantages in party affiliation they have had in the last 20 years, likely because of the unpopularity of President George W. Bush in the latter years of his presidency. Prior to that, the parties were more evenly balanced. So the movement away from the Democratic Party may just be a return to a more normal state of political affairs from an unusual situation, rather than a rejection of the Democrats per se.
The net result of the movement is that the nation looks to be essentially even in terms of its party loyalties headed into a presidential election year. Clearly, President Obama faces a much less favorable environment as he seeks a second term in office than he did when he was elected president.
Gallup's "State of the States" series reveals state-by-state differences on political, economic, and well-being measures Gallup tracks each day. New stories based on full-year 2011 data will be released throughout the month of February.
Survey Methods
Results are based on telephone interviews conducted as part of Gallup Daily tracking Jan. 1-Dec. 31, 2011, with a random sample of 353,492 adults, aged 18 and older, living in all 50 U.S. states and the District of Columbia.
For results based on the total sample of national adults, one can say with 95% confidence that the maximum margin of sampling error is ±1 percentage points.
Margins of error for individual states are no greater than ±4 percentage points, and are ±3 percentage points in most states. The margin of error for the District of Columbia is ±5 percentage points.
Interviews are conducted with respondents on landline telephones and cellular phones, with interviews conducted in Spanish for respondents who are primarily Spanish-speaking. Each sample includes a minimum quota of 400 cell phone respondents and 600 landline respondents per 1,000 national adults, with additional minimum quotas among landline respondents by region. Landline telephone numbers are chosen at random among listed telephone numbers. Cell phone numbers are selected using random-digit-dial methods. Landline respondents are chosen at random within each household on the basis of which member had the most recent birthday.
Samples are weighted by gender, age, race, Hispanic ethnicity, education, region, adults in the household, and phone status (cell phone only/landline only/both, cell phone mostly, and having an unlisted landline number). Demographic weighting targets are based on the March 2011 Current Population Survey figures for the aged 18 and older non-institutionalized population living in U.S. telephone households. All reported margins of sampling error include the computed design effects for weighting and sample design.
In addition to sampling error, question wording and practical difficulties in conducting surveys can introduce error or bias into the findings of public opinion polls.
For more details on Gallup's polling methodology, visit www.gallup.com.