WASHINGTON, D.C. -- Nearly four years after the recession ended, fewer Americans are watching what they spend. The percentage of Americans who say they are "spending less money" has fallen to 41%, down from a high of 57% in 2010. Meanwhile, 26% of Americans say they are spending more money than they used to, and 32% the same amount.
These data are from Gallup's annual Economy and Personal Finance survey, conducted April 4-14, 2013. The finding that 73% of Americans are either maintaining or decreasing the amount they spend is a potentially troubling sign, given that consumer spending contributes to about 70% of the economy.
Americans Who Are Spending Less Continue to Say It Is Their New Normal
Most Americans who are spending less see it as their new, normal behavior. The 41% who report they are spending less breaks down into 31% who say this will become a new, normal pattern for them, while 10% say it is only a temporary phenomenon.
The percentage of Americans who are spending less and say this is a new normal has remained relatively constant since 2009, with typically about a third of adults saying so. However, the percentage of Americans who report spending less for what they believe is a temporary basis has declined sharply over this time span. While it now represents one-tenth of the adult population, it was more than one-fifth in 2009, when the recession was in full force.
Conversely, Americans who now find themselves spending more money are more likely to see the situation as temporary (16%) rather than a new normal (10%), suggesting the increase in spending is not the result of increased earnings but rather due to more expenses.
Americans Nearing Retirement Most Likely to Be Cutting Back
U.S. stock market indexes have recorded new nominal highs several times this year, theoretically giving a boost to retirement portfolios along the way. However, individuals closest to retirement age appear to be taking little comfort in a booming market -- 46% of those aged 50 to 64 say they are spending less, the highest of any age group. While this is down markedly from 2010, when 60% in this age group reported spending less, it serves as a reminder that individuals on the cusp of retirement -- a large cohort, given the size of the baby boomer generation -- remain especially frugal even in the fourth year of the economic recovery. Twenty-three percent are spending more, while another 30% are spending the same.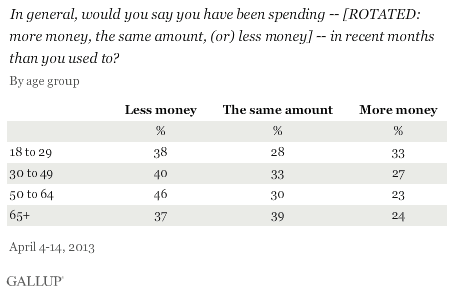 By contrast, 33% of those aged 18 to 29 say they are spending more money, higher than the percentage of all adults who say so. This might seem counterintuitive, given reports that the recession and ensuing sluggish recovery have been especially difficult on young adults, particularly in terms of employment. However, many young adults find themselves acquiring a new financial stature at this period in their lives: many do not have children or mortgages and thus have more disposable income, and their spending habits reflect this heightened purchasing power.
Implications
The U.S. economy has continued to face formidable challenges in the aftermath of the recent recession, including prolonged high unemployment and stagnant incomes for much of the country. At the same time, there are sure signs of economic recovery, such as the booming stock market and a declining unemployment rate.
In the midst of these economic forces, the decreasing percentage of Americans who report they are spending less money is a notable trend, and supports the increase in self-reported consumer spending Gallup has seen since late 2012. This suggests the possibility that an increasing percentage of adults have seen their personal financial situations stabilize or improve, providing the impetus for even more Americans to ease their recession-induced budget slashing in the future.
Survey Methods
Results for this Gallup poll are based on telephone interviews conducted April 4-14, 2013, on the Gallup Daily tracking survey, with a random sample of 2,017 adults, aged 18 and older, living in all 50 U.S. states and the District of Columbia.
For results based on the total sample of national adults, one can say with 95% confidence that the margin of sampling error is ±3 percentage points.
Interviews are conducted with respondents on landline telephones and cellular phones, with interviews conducted in Spanish for respondents who are primarily Spanish-speaking. Each sample of national adults includes a minimum quota of 50% cellphone respondents and 50% landline respondents, with additional minimum quotas by region. Landline telephone numbers are chosen at random among listed telephone numbers. Cellphone numbers are selected using random digit dial methods. Landline respondents are chosen at random within each household on the basis of which member had the most recent birthday.
Samples are weighted to correct for unequal selection probability, nonresponse, and double coverage of landline and cell users in the two sampling frames. They are also weighted to match the national demographics of gender, age, race, Hispanic ethnicity, education, region, population density, and phone status (cellphone only/landline only/both, cellphone mostly, and having an unlisted landline number). Demographic weighting targets are based on the March 2012 Current Population Survey figures for the aged 18 and older U.S. population. Phone status targets are based on the July-December 2011 National Health Interview Survey. Population density targets are based on the 2010 census. All reported margins of sampling error include the computed design effects for weighting.
In addition to sampling error, question wording and practical difficulties in conducting surveys can introduce error or bias into the findings of public opinion polls.
View methodology, full question results, and trend data.
For more details on Gallup's polling methodology, visit www.gallup.com.