WASHINGTON, D.C. -- Americans' confidence in newspapers fell slightly to 23% this year, from 25% in 2012 and 28% in 2011.
The percentage of Americans saying they have "a great deal" or "quite a lot" of confidence in newspapers has been generally trending downward since 1979, when it reached a high of 51%.
Newspapers rank near the bottom on a list of 16 societal institutions Gallup measured in a June 1-4 survey. Television news is tied with newspapers on the list, with 23% of Americans also expressing confidence in it. That is up slightly from the all-time low of 21% found last year. The only institutions television news and newspapers beat out this year are big business, organized labor, Health Maintenance Organizations (HMOs), and Congress.
Americans' confidence in television news was highest, at 46%, in 1993, when Gallup first asked about it. The question does not indicate the specific type of television news, meaning respondents could be thinking about anything ranging from cable news channels to local news when answering the survey.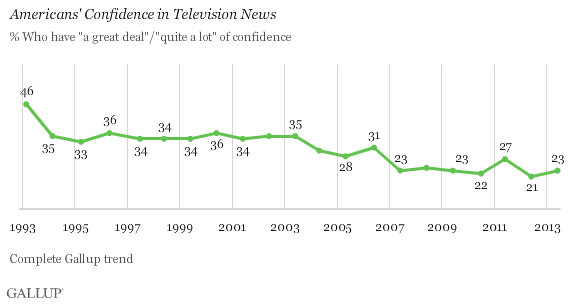 Conservatives' Confidence in Newspapers, TV News Drops
Conservatives' confidence in newspapers, at 15%, is down from 21% in 2012 and 2011. Moderates' confidence has been trending downward for the past two years, and is now at 25%. Liberals remain the most confident in newspapers -- although not by much -- with 31% putting a great deal or quite a lot of confidence in them this year.
Confidence in newspapers by party mirrors the ideological findings. Democrats are most confident, at 33%, while independents are less so, at 19%, and Republicans, at 16%, are least confident.
Conservatives' confidence in television news, at 18%, is tied for the lowest for the group on record and is down from 22% last year. Liberals' and moderates' confidence improved this year after tumbling in 2012. Now these groups express more confidence in television news than do conservatives; last year the groups had similar confidence. Last year's survey was conducted amid a heated re-election campaign for President Obama, which may be one reason liberals' and moderates' confidence dropped at that time.
Similarly, Democrats (34%) express more confidence in television news than do independents (17%) and Republicans (18%).
Confidence in News Institutions Low Across Groups
Overall, Americans in all key demographic and socioeconomic groups express low levels of confidence in news institutions. Negativity varies somewhat by age, education, and gender.
Two in 10 Americans aged 18 to 64 have high confidence in television news, compared with three in 10 seniors. But young adults have the most confidence in newspapers across age groups -- as was the case last year -- with three in 10 expressing a great deal or quite a lot of confidence.
Americans with higher levels of education -- college or beyond -- are less confident in TV news than those with only some or no college education. However, Americans of all educational backgrounds express similarly low confidence in newspapers.
Women also have slightly more confidence than men in both television news and newspapers.
Bottom Line
Americans' confidence in newspapers and television news has been slowly eroding for many years, worsening further since 2007. By that point, newspapers and television news had been struggling for years to figure out how to adjust their strategy for a growing Internet audience.
It was also around that time that social networking sites truly began to proliferate, causing news outlets and journalists to work to find their place on them and serving to expand the role of citizen media and user-generated content. Twitter had launched in 2006, and by 2007-2008 was growing its audience rapidly. Facebook had reached 30 million users by mid-2007 and more than 100 million by the end of 2008.
These and other social sites and the Internet in general, as well as the 24/7 television news cycle, have challenged traditional media outlets and brought new ones to the fore, creating an increasingly complex -- and sometimes messy -- news environment. While individual news consumers have better access to news and to journalists than ever before, the struggles of the news industry seem to be affecting Americans' confidence in it.
Additionally, the increasingly partisan nature of cable news in particular could be related to Americans' declining confidence in television news specifically, with confidence dropping among conservatives, moderates, and liberals since the early 2000s. Conservatives seem to be most critical not only of television news, but also of the mass media in general, according to a different Gallup survey.
Survey Methods
Results for this Gallup poll are based on telephone interviews conducted June 1-4, 2013, with a random sample of 1,529 adults, aged 18 and older, living in all 50 U.S. states and the District of Columbia.
For results based on the total sample of national adults, one can say with 95% confidence that the maximum margin of sampling error is ±3 percentage points.
Interviews are conducted with respondents on landline telephones and cellular phones, with interviews conducted in Spanish for respondents who are primarily Spanish-speaking. Each sample of national adults includes a minimum quota of 50% cellphone respondents and 50% landline respondents, with additional minimum quotas by region. Landline telephone numbers are chosen at random among listed telephone numbers. Cellphone numbers are selected using random digit dial methods. Landline respondents are chosen at random within each household on the basis of which member had the most recent birthday.
Samples are weighted to correct for unequal selection probability, nonresponse, and double coverage of landline and cell users in the two sampling frames. They are also weighted to match the national demographics of gender, age, race, Hispanic ethnicity, education, region, population density, and phone status (cellphone only/landline only/both, cellphone mostly, and having an unlisted landline number). Demographic weighting targets are based on the March 2012 Current Population Survey figures for the aged 18 and older U.S. population. Phone status targets are based on the July-December 2011 National Health Interview Survey. Population density targets are based on the 2010 census. All reported margins of sampling error include the computed design effects for weighting.
In addition to sampling error, question wording and practical difficulties in conducting surveys can introduce error or bias into the findings of public opinion polls.
For more details on Gallup's polling methodology, visit www.gallup.com.