WASHINGTON, D.C. -- First lady Michelle Obama's positive public image may be an asset as she advocates for major changes to nutrition labels and tries to help Democrats retain control of the Senate in the coming midterm elections. Sixty-six percent of Americans have a favorable opinion of the first lady, unchanged from a year and a half ago and on par with her ratings since her husband's inauguration in January 2009.
As first lady, her favorables have remained close to that pre-inaugural level, even as the president's favorable rating has declined. As such, she remains more popular than her husband, who managed a 52% favorable rating in Gallup's most recent survey. The first lady has focused on her "Let's Move" campaign to fight childhood obesity, and on supporting military families -- issues that may engender public support and help her rise above the partisan politics that have worn on the president's rating.
First ladies are typically viewed more positively than presidents, likely because their roles are often more ceremonial and invite less criticism compared with the president's active political and policymaking role. Laura Bush and Barbara Bush were each viewed more favorably than their husbands while they were in the White House. The recent exception is Hillary Clinton, whose favorable ratings were generally lower than Bill Clinton's until the Monica Lewinsky scandal.
Michelle Obama has a more positive image than her husband does across all partisan and gender groups, but does particularly well on a relative basis among Republicans. This suggests she could be an important campaign resource for the Democratic Party this year as it fights to keep control of the U.S. Senate in the coming midterm elections.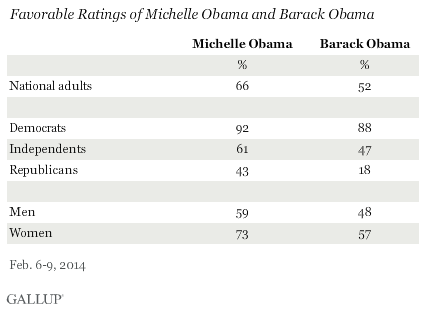 Michelle Obama's Image Better Than Hillary Clinton's as First Lady
Michelle Obama's 66% average favorability rating exceeds Hillary Clinton's 56% average rating during Clinton's time as first lady, but trails those of Laura Bush and Barbara Bush (73% and 77%, respectively). Clinton's role in trying to pass a controversial national healthcare reform law may have contributed to her comparatively lower ratings, while the rally effect after 9/11 may have given Laura Bush's ratings a boost. Gallup began measuring favorability in its current format in 1992, so only the last four first ladies' ratings can be compared in this way.
As the Obama administration seeks to encourage young Americans to sign up for health insurance and apply for financial aid, and the Democratic Party tries to maintain control of the Senate, the first lady's lately unshakeable positive public image could be an asset to each in the coming months.
Survey Methods
Results for this Gallup poll are based on telephone interviews conducted Feb. 6-9, 2014, with a random sample of 1,023 adults, aged 18 and older, living in all 50 U.S. states and the District of Columbia.
For results based on the total sample of national adults, the margin of sampling error is ±4 percentage points at the 95% confidence level.
Interviews are conducted with respondents on landline telephones and cellular phones, with interviews conducted in Spanish for respondents who are primarily Spanish-speaking. Each sample of national adults includes a minimum quota of 50% cellphone respondents and 50% landline respondents, with additional minimum quotas by time zone within region. Landline and cellular telephone numbers are selected using random-digit-dial methods. Landline respondents are chosen at random within each household on the basis of which member had the most recent birthday.
Samples are weighted to correct for unequal selection probability, nonresponse, and double coverage of landline and cell users in the two sampling frames. They are also weighted to match the national demographics of gender, age, race, Hispanic ethnicity, education, region, population density, and phone status (cellphone only/landline only/both, and cellphone mostly). Demographic weighting targets are based on the most recent Current Population Survey figures for the aged 18 and older U.S. population. Phone status targets are based on the most recent National Health Interview Survey. Population density targets are based on the most recent U.S. census. All reported margins of sampling error include the computed design effects for weighting.
In addition to sampling error, question wording and practical difficulties in conducting surveys can introduce error or bias into the findings of public opinion polls.
View survey methodology, complete question responses, and trends.
For more details on Gallup's polling methodology, visit www.gallup.com.