Based on nonretirees
Major source
Minor source
Not a source
No opinion

%

%

%

%

2018 Apr 2-11
30
54
14
2
2017 Apr 5-9
34
45
19
2
2016 Apr 6-10
29
50
20
1
2015 Apr 9-12
36
48
14
3
2014 Apr 3-6
31
51
16
3
2013 Apr 4-14
30
51
17
1
2012 Apr 9-12
33
45
21
2
2011 Apr 7-11
31
47
20
2
2010 Apr 8-11
34
46
20
*
2009 Apr 6-9
30
49
18
3
2008 Apr 6-9
31
53
15
1
2007 Apr 2-5
27
51
20
2
2006 Apr 10-13
25
51
22
2
2005 Apr 4-7
28
53
18
1
2004 Apr 5-8
25
56
18
1
2003 Apr 7-9
29
57
12
2
2002 Apr 8-11
27
56
15
2
2001 Apr 6-8
28
57
14
1
* Less than 0.5%
Gallup
Based on retirees
Major source
Minor source
Not a source
No opinion

%

%

%

%

2018 Apr 2-11
57
33
10
*
2017 Apr 5-9
55
34
10
1
2016 Apr 6-10
59
28
12
1
2015 Apr 9-12
59
31
9
1
2014 Apr 3-6
55
33
10
3
2013 Apr 4-14
61
28
9
2
2012 Apr 9-12
57
27
13
3
2011 Apr 7-11
57
33
9
2
2010 Apr 8-11
54
32
13
*
2009 Apr 6-9
57
31
10
2
2008 Apr 6-9
56
29
13
1
2007 Apr 2-5
54
34
10
2
2006 Apr 10-13
55
32
12
1
2005 Apr 4-7
58
30
11
1
2004 Apr 5-8
55
31
13
1
2003 Apr 7-9
50
35
13
2
2002 Apr 8-11
58
22
18
2
* Less than 0.5%
Gallup
Great deal
Fair amount
Only a little
Not at all
No opinion

%

%

%

%

%

2018 Mar 1-8
44
28
17
10
1
2017 Mar 1-5
45
25
20
10
*
2016 Mar 2-6
46
25
16
12
*
2015 Mar 5-8
46
29
14
11
1
2014 Mar 6-9 ^
46
29
18
6
1
2013 Mar 7-10
50
25
18
6
1
2012 Mar 8-11
48
30
14
7
1
2011 Mar 3-6
51
26
15
7
*
2010 Mar 4-7
53
26
14
7
1
2008 Mar 6-9
46
29
16
8
1
2007 Mar 11-14
49
27
16
7
1
2006 Mar 13-16
51
29
14
6
*
2005 Mar 7-10
48
24
20
7
1
^ Asked of a half sample; * Less than 0.5%
Gallup
Very satisfied
Somewhat satisfied
Somewhat dissatisfied
Very dissatified
No opinion

%

%

%

%

%

2018
11
32
25
25
7
2017
14
33
24
22
7
2016
8
32
28
27
5
2015
11
26
27
29
7
2014
12
30
26
25
6
2013
14
29
21
29
7
2012
9
25
28
32
7
2008
8
23
29
35
5
2007
9
23
34
29
5
2006
8
27
24
34
6
2005
8
23
29
36
4
2004
7
24
36
29
4
2003
8
27
31
29
5
2002
9
32
29
26
4
2001
6
32
32
25
5
Gallup
Based on nonretirees
Yes
No
Doesn't apply (vol.)
No opinion

%

%

%

%

2015 Jul-Aug
45
51
1
4
2010 Jul 8-11
36
60
1
2
2005 Jan 7-9
45
50
1
4
2001 Mar 26-28
52
41
2
5
2000 Aug 11-12
49
42
2
7
1994 Jan
47
52
--
1
1992 Mar
49
49
--
2
1991 Mar
49
48
--
3
1991 Mar
51
42
--
7
1990 Mar
48
47
--
5
1989 Dec
49
47
--
4
(vol.)=volunteered response
Gallup
Based on retirees
Continue to get full benefits
Will be cut in benefits
Doesn't apply (vol.)
No opinion

%

%

%

%

2015 Jul-Aug
49
43
2
7
2010 Jul 8-11
37
56
2
6
2005 Jan 7-9
57
32
4
7
(vol.)=volunteered response
Gallup
Crisis
Major problems
Minor problems
No problems
No opinion

%

%

%

%

%

2015 Jul-Aug
21
45
28
5
1
2010 Jul 8-11
26
51
20
1
1
2005 Feb 4-6
17
55
23
4
1
2005 Jan 7-9
18
53
24
3
2
2002 Sep 20-22
13
54
29
3
1
1998 Dec 4-6
15
55
23
5
2
Gallup
Raise taxes
Curb benefits
No opinion

%

%

%

2015 Jul-Aug
51
37
12
2010 Jul 8-11
49
40
11
2005 Apr 29-May 1
53
38
9
Gallup
Already creating crisis
Within 10 years
Within

10-20

years
More than 20 years
Not foreseeable future
No opinion

%

%

%

%

%

%

2011 Apr 20-23
34
33
19
4
7
2
Gallup
Yes, will
No, will not
No opinion

%

%

%

2010 Nov 19-21
75
22
3
2010 Sep 13-16
77
18
4
Gallup
Good idea
Bad idea
No opinion

%

%

%

Increasing the age at which people are eligible to receive full benefits
2010 Jul 8-11
35%
63
1
2005 Feb 4-6
35%
63
2
Limiting benefits for wealthy retirees
2010 Jul 8-11
63%
35
2
2005 Feb 4-6
68%
29
3
Further reducing the benefits a person would receive if they retire early
2010 Jul 8-11
44%
53
3
2005 Feb 4-6
40%
57
3
Increasing Social Security taxes for all workers
2010 Jul 8-11
34%
64
2
2005 Feb 4-6
37%
60
3
Requiring higher income workers to pay Soc Sec taxes on all their wages
2010 Jul 8-11
67%
30
3
2005 Feb 4-6
67%
30
3
Reducing retirement benefits for people who are currently under age 55
2010 Jul 8-11
39%
57
4
2005 Feb 4-6
29%
67
4
Gallup
Based on nonretired adults
Enough planning
Some, but not enough
No planning at all
No opinion

%

%

%

%

2005 Nov 11-13
32
52
15
1
2005 Feb 4-6
32
53
14
1
Gallup
Approve
Disapprove
No opinion

%

%

%

2005 Jul 22-24
29
62
9
2005 Mar 18-20
40
53
7
2005 Feb 4-6
44
50
6
Gallup
Favor
Oppose
No opinion

%

%

%

2005 Jun 24-26
44
53
3
2005 Apr 29-May 1
44
52
4
2005 Apr 1-2 ^
39
56
5
2005 Mar 18-20 ^
45
47
8
2004 Dec 17-19 ^
48
48
4
^ Asked of a half sample
Gallup
Democratic Party
Republican Party
Both equally (vol.)
Neither (vol.)
No opinion

%

%

%

%

%

2005 Jun 24-26
47
34
3
13
3
2005 Apr 29-May 1
46
36
3
12
3
2005 Feb 25-27
47
37
2
9
5
(vol.)=volunteered response
Gallup
Next year or two
Next 10 years
Changes not needed
No opinion

%

%

%

%

2005 Apr 29-May 1
45%
36
16
3
2005 Feb 25-27 ^
38%
37
22
3
2005 Jan 7-9
49%
39
9
3
^ Asked of a half sample
Gallup
Favor
Oppose
No opinion

%

%

%

2005 Apr 29-May 1
38
54
8
Gallup
Yes, possible
No, not possible
No opinion

%

%

%

2005 Apr 29-May 1
35
62
3
Gallup
Good idea
Bad idea
No opinion

%

%

%

2005 Apr 1-2
33
61
6
2005 Mar 18-20
33
59
8
2005 Feb 7-10
36
60
4
2005 Feb 4-6
40
55
5
2005 Jan 7-9
40
55
5
Gallup
Moving too slowly
Moving at appropriate pace
Too fast (vol.)
No opinion

%

%

%

%

2005 Apr 1-2
61
29
7
3
Gallup
Investing in stocks and bonds
Relying on system
No opinion

%

%

%

2005 Feb 25-27
46
50
4
^ Asked of a half sample
Gallup
Yes, will
No, will not
No opinion

%

%

%

2005 Feb 4-6
64
30
6
Gallup
Higher
About the same
Lower
No opinion

%

%

%

%

2005 Feb 4-6
30
27
37
6
Gallup
Subscribe to receive weekly Gallup News alerts.
Never miss our latest insights.
Recommended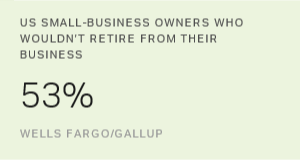 Three-quarters of U.S. small-business owners believe they will have enough money to live comfortably if they retire, although half would continue working even if money were no object.
Less than a third of non-retired investors have thought a lot about when they should retire, which is critical to preparing for a worry-free retirement.
In the U.S., more nonretirees than a year ago expect to live comfortably in retirement, and they worry less about retirement than they did in 2016.