Story Highlights
67% confident in government terrorism protection
Among highest percentage to worry about being terror victim
Fewer fear a terror attack will happen in next few weeks
WASHINGTON, D.C. -- Two in three Americans say they have a "great deal" or a "fair amount" of confidence in the U.S. government's ability to protect citizens from terror attacks. While this is still a sizable majority, the 67% who are confident is the lowest level that Gallup has measured since it first asked the question after the 9/11 terror attacks.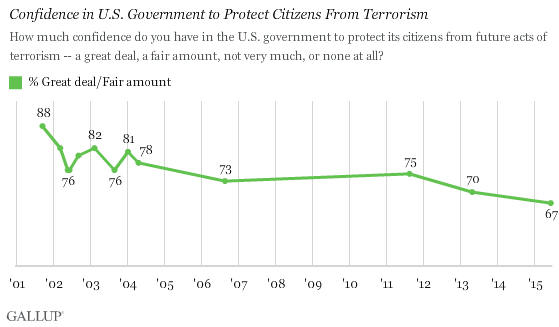 In 2001, amid the rally in support for government leaders and institutions after the 9/11 terror attacks, 88% of Americans said they had a "great deal" or a "fair amount" of confidence in the U.S. government to protect citizens from future acts of terror. This reading is the highest percentage measured so far.
Confidence in the government remained high between 2001 and 2004, averaging 80% over this period. But on average, 71% have expressed confidence in the four times Gallup has polled on this question since 2004. This decline has come as Americans' trust in government more generally has hit new lows.
More Americans Worried About Becoming Victims of Terror
Slightly less than half of Americans, 49%, are at least somewhat worried that they or someone in their family will become a victim of terrorism. This is up from worry in recent years, and by one percentage point is the highest Gallup has found since February 2003. The last time concern about being a terror victim was significantly higher than this was in the initial weeks after 9/11, when the percentage of Americans who worried about becoming victims of terror reached as high as 59%. Gallup polled often on this topic in the months following the attacks, and by early 2002, 35% were worried about becoming a victim of terror.
The increase in the percentage of Americans who are concerned about being victims of terrorism is reflected in another recent Gallup question asked each March. This year's update showed a spike in the percentage of Americans who worry a great deal about the possibility of future terrorist attacks in the U.S., rising from 39% in 2014 to 51% this year. This increase is possibly attributable to the growing threat that Americans perceive from the Islamic State group, or ISIS, which now controls substantial parts of Iraq and beheaded three Americans in separate incidents last fall.
Although Americans' worry about terrorism is in the upper range of what Gallup has measured over the last 15 years, their expectations that a terror attack is likely to occur are not. Forty-five percent of Americans think it is very or somewhat likely there will be acts of terrorism in the U.S. in the next few weeks. In 2013, just over a week after the Boston Marathon bombings, 51% of Americans thought it was likely a terror attack would soon hit the country.
Gallup has previously found that the percentage of Americans who fear an attack is imminent has spiked either following attacks or in fear of retaliation, such as in 2003 after the beginning of the Iraq War and in early 2011 after the killing of Osama bin Laden.
Implications
Americans' confidence in the U.S. government to protect its citizens from terrorist events has dropped, which may reflect growing public concern about ISIS in the Middle East and North Africa. The group has killed several Americans, both soldiers and journalists, as well as foreign Christians and Iraqi soldiers. Its continued strength, despite military actions against it in Syria and Iraq, may be disconcerting to Americans.
This elevated public concern could pave the way for an expansion of government anti-terror programs, but lawmakers should be aware that the public still favors limits on such activity. Gallup recently found that 65% of Americans feel the government should take steps to prevent terrorism -- but not at the risk of trampling on civil liberties.
Survey Methods
Results for this Gallup poll are based on telephone interviews conducted June 2-7, 2015, with a random sample of 1,527 adults, aged 18 and older, living in all 50 U.S. states and the District of Columbia. For results based on the total sample of national adults, the margin of sampling error is ±3 percentage points at the 95% confidence level. All reported margins of sampling error include computed design effects for weighting.
Each sample of national adults includes a minimum quota of 50% cellphone respondents and 50% landline respondents, with additional minimum quotas by time zone within region. Landline and cellular telephone numbers are selected using random-digit-dial methods.
View complete question responses and trends.
Learn more about how Gallup Poll Social Series works.