This time of year marks the beginning of a season of grim anniversaries for the people of Moscow. In September 1999, more than 100 Muscovites died when terrorists blew up the 17-19 Ulitsa Guryanova apartments. In October 2002, more than 100 hostages in a Moscow theater were killed in a standoff between government forces and Chechen rebels. In December 2003, a suicide bomber blew herself up near Red Square, killing five. In late August 2004, a suicide bomber struck a Moscow subway station, killing 10 and injuring scores of others.
Russians met the devastation and destruction these events levied head-on, developing charities and foundations aimed at helping victims of these and other tragedies. A recent Gallup poll of Moscow* shows a large proportion of Muscovites donate financially to the poor and disadvantaged, but they are much less likely to volunteer their time.
Fewer Than 1 in 10 Muscovites Volunteer
When asked whether they have done any volunteer work for an organization or group in the last year, the vast majority of Muscovites (91%) say no. The percentage of people saying they've volunteered may be on the decline; a 2003 poll of Moscow showed 15% of residents had done volunteer work in the last 12 months.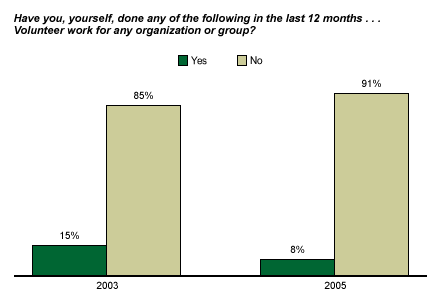 Two-Thirds of Muscovites Donate Money
Residents of Moscow seem to be far more generous with their money than they are with their time. Sixty-seven percent of Muscovites say they've given money in the last year to help poor or disadvantaged people.
There are other ways to help hardship victims besides giving money or time. For example, last year Muscovites and others around the globe donated blood and sent toys for the survivors of the Beslan massacre. Communism may be gone, but when it comes to sharing resources with those less fortunate, a strong communal spirit appears to have remained intact in Moscow.
*Results based on interviews with 1,008 Moscow residents, aged 18 and older, conducted in January and February 2005. For results based on this sample, one can say with 95% confidence that the margin of sampling error is ±3 percentage points.