Story Highlights
Percentage satisfied matches average for Obama's tenure
Forty-four percent of Americans very dissatisfied
Two in three Republicans say they are very dissatisfied
WASHINGTON, D.C. -- As President Barack Obama prepares to deliver his final State of the Union address, 23% of Americans are satisfied with the way things are going in the U.S. This percentage is lower than the 32% who were satisfied in January 2015, but it matches the average for Obama's time in office so far.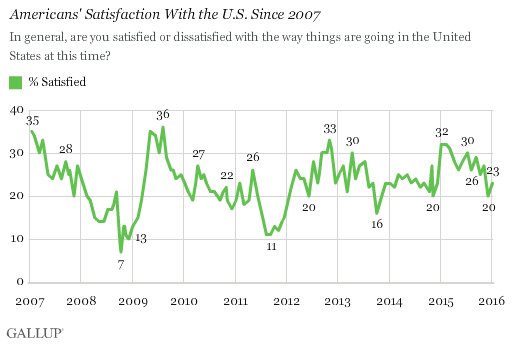 Obama took office at a time when Americans had a dismal view of the nation's direction, with 13% satisfied with the way things were going in January 2009. U.S adults' levels of satisfaction with the nation's direction improved considerably during Obama's first year as president, reaching 36% in August, the peak for his term to date. Historically speaking, satisfaction with the direction of the U.S. has been muted under Obama. The highest satisfaction rating during his administration of 36% nearly matches the historical average of 37% on this measure.
Satisfaction ratings since Obama's first year have generally ranged between 15% and 30%, with a few exceptions. Satisfaction bottomed out in the fall of 2011, ranging from 11% to 14% amid the fallout of the debt ceiling crisis during which Standard & Poor's downgraded the U.S. credit rating, resulting in volatility in the stock market. It exceeded 30% on only two occasions: during the 2012 election and in the first few months of 2015.
More broadly, the highest level of satisfaction Gallup has recorded since the inception of this measure in 1979 was 71% in February 1999. The lowest recorded was 7% in October 2008.
The latest results come from a Jan. 6-10 Gallup poll, which included a follow-up question asking respondents about the degree of their satisfaction or dissatisfaction. Few Americans reported being "very satisfied" (3%) with the direction of the country, while 20% said they were "somewhat satisfied." Meanwhile, 32% of Americans said they were "somewhat dissatisfied," with 44% saying "very dissatisfied."
Americans are about as likely now to say they are very satisfied or dissatisfied with the direction of the country as they have been in recent years. Since 2012, between 3% and 6% have said they were very satisfied, while 41% to 48% have said they were very dissatisfied.
The percentage of very dissatisfied Americans peaked at 56% and 57% during the fall of 2011, coinciding with the percentage very satisfied dipping to 1% and 2%, respectively. Before 2008, Americans were less likely to rate their dissatisfaction with country's direction in such extreme terms. From 1995 to 2008, they were more tempered in their dissatisfaction, with 12% to 43% saying they were very dissatisfied.
Two in Three Republicans Very Dissatisfied With U.S. Trajectory
All demographic groups are more dissatisfied than satisfied with the direction of the nation, but the degree of dissatisfaction varies. The greatest differences are by political party. Two in three Republicans (67%) say they are very dissatisfied with the way things are going, compared with 44% of independents and 21% of Democrats. Democrats are more likely to be somewhat dissatisfied than very dissatisfied, while the opposite is true for independents and especially Republicans.
More than half of Americans aged 55 and older are very dissatisfied (54%) with the direction of the U.S. -- almost twice the rate of those younger than 35. Meanwhile, half of whites say they are very dissatisfied, compared with 29% of nonwhites. These patterns likely reflect differences in political identification by age and race.
Bottom Line
As has been the case for his seven previous State of the Union addresses, Obama will deliver his final address to an American public that is mostly dissatisfied with the way things are going in the country. Though the current level of satisfaction is similar to where it was when President George W. Bush gave his final address, the measure had fallen quite drastically under the previous president, whereas it has been consistently muted under Obama.
With only one year remaining in Obama's term and many of the structural problems that have restrained public contentment in recent years still in place -- slow economic recovery, political gridlock and global unrest -- Americans' satisfaction is unlikely to break the 36% barrier before he leaves the White House. His final initiatives -- which are expected to include expanding gun control, closing Guantanamo Bay and limiting carbon dioxide emissions -- and his degree of success in achieving them could prove effective in boosting Americans' contentment with the state of the country. But some of these initiatives are divisive and could prove to be more of the president's personal initiatives than ones that will satisfy large numbers of Americans.
Historical data for this question are available in Gallup Analytics.
Survey Methods
Results for this Gallup poll are based on telephone interviews conducted Jan. 6-10, 2016, with a random sample of 1,012 adults, aged 18 and older, living in all 50 U.S. states and the District of Columbia. For results based on the total sample of national adults, the margin of sampling error is ±4 percentage points at the 95% confidence level. All reported margins of sampling error include computed design effects for weighting.
Each sample of national adults includes a minimum quota of 60% cellphone respondents and 40% landline respondents, with additional minimum quotas by time zone within region. Landline and cellular telephone numbers are selected using random-digit-dial methods.
View complete question responses and trends.
Learn more about how Gallup Poll Social Series works.