Story Highlights
More than six in 10 think Bush merits blame for economy's ills
Half of Americans point finger at Obama
Little change in these perceptions since 2011
PRINCETON, N.J. -- As Barack Obama's two-term presidency enters its final months, more Americans still blame George W. Bush than Obama for the nation's economic ills. When asked how much they blame each president for current economic problems, 64% of Americans say Bush deserves a "great deal" or "moderate amount" of blame, compared with 50% for Obama.
Both presidents receive slightly less blame in the June 14-23 Gallup poll than they did the last time Gallup asked this question in 2013, but the gap has held steady over the past three years, with Bush blamed more than Obama.
The overall percentage of Americans blaming Bush a great deal or moderate amount has consistently exceeded the percentage blaming Obama throughout Obama's presidency. However, it was much more lopsided in the first few years after Bush left office -- namely in Obama's honeymoon year (2009), and to a lesser extent in 2010. That, of course, was in the aftermath of the 2008 Wall Street financial crisis that occurred on Bush's watch, an event that 60% of Americans described at the time as the biggest economic crisis the U.S. had faced in their lifetime.
Currently, a quarter of Americans blame each president "a great deal" for current economic problems. But more blame Bush than Obama "a moderate amount," leading to the finding that more Americans overall assign significant responsibility to the former president. Just 35% blame Bush "not much" or "not at all," compared with 50% assigning little or no blame to Obama.
Amount Americans Blame Each President for Current Economic Problems
George W. Bush
Barack Obama

%

%

A great deal
27
25
A moderate amount
37
25
Not much
24
29
Not at all
11
21
No opinion
1
1
Gallup, June 14-23, 2016
Republicans More Likely to Blame Bush Than Democrats to Blame Obama
Americans' perspectives on each president's culpability for the current economy are largely rooted in their partisan orientation. More than four in five Democrats blame Bush a moderate amount or great deal, and a similar proportion of Republicans blame Obama to the same degree.
At the same time, Republicans are far more likely to blame Bush than Democrats are to blame Obama (44% vs. 19%, respectively). Political independents are more balanced in their finger-pointing but are still more likely to blame Bush (61%) than Obama (50%).
Amount Americans Blame Each President for Current Economic Problems, by Party ID
% A great deal/A moderate amount
Republicans
Independents
Democrats

%

%

%

George W. Bush
44
61
83
Barack Obama
83
50
19
Gallup, June 14-23, 2016
As president, Obama has not received stellar approval ratings on the economy. Since the end of his honeymoon period in 2009, more Americans have disapproved than approved of the job he is doing on the issue. However, the fact that Americans have consistently blamed Obama's predecessor more than they blame him for the country's economic problems may explain why his overall job approval rating has consistently exceeded his economic approval rating as well as Americans' general satisfaction with the country.
The following graph aligns the three ratings -- Obama's overall job approval rating, his approval rating on the economy and the percentage of Americans satisfied with the direction of the country -- from February 2009 through the most recent measure of Obama's economic approval rating in February 2016. It shows that his overall approval rating has consistently exceeded his economic rating and that both ratings have far exceeded Americans' broader satisfaction with the direction of the country.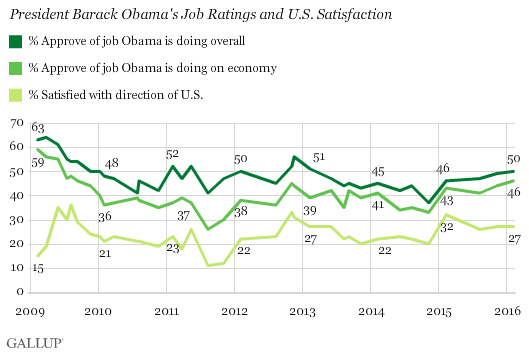 Bottom Line
Neither the passage of time nor Republicans' attempts to pin the nation's sluggish economic recovery on Obama's policies have erased many Americans' belief that the economic problems facing the country are rooted in George W. Bush's presidency. Although half of Americans think Obama is at least moderately to blame for current economic problems, they blame Bush more.
The broader finding -- that more than seven years after Bush left office, nearly two-thirds of Americans still think he deserves significant blame for economic issues -- speaks to the magnitude of the problems Obama inherited when he took office. Americans recognized them at the time and evidently haven't forgotten who was in charge when they occurred. This awareness has likely colored the entirety of Obama's presidency -- keeping his job approval ratings at arm's length from Americans' persistently negative economic confidence and resulting low satisfaction with the direction of the country. In turn, it will likely be a major factor in how his presidency is defined in the coming years.
Historical data are available in Gallup Analytics.
Survey Methods
Results for this Gallup poll are based on telephone interviews conducted June 14-23, 2016, with a random sample of 1,025 adults, aged 18 and older, living in all 50 U.S. states and the District of Columbia. For results based on the total sample of national adults, the margin of sampling error is ±4 percentage points at the 95% confidence level. All reported margins of sampling error include computed design effects for weighting.
Each sample of national adults includes a minimum quota of 60% cellphone respondents and 40% landline respondents, with additional minimum quotas by time zone within region. Landline and cellular telephone numbers are selected using random-digit-dial methods.
Learn more about how the Gallup Poll Social Series works.