Story Highlights
Best quarterly average in Obama's second term
Ties as fourth-best quarter in his presidency
One of four presidents above 50% approval in 31st quarter
PRINCETON, N.J. -- During his 31st quarter in office, President Barack Obama averaged 52.0% job approval, up one percentage point from the 30th quarter and the highest in his second term as president. His most recent quarterly average essentially ties a 51.9% average in his 16th quarter as the fourth-best of his entire presidency.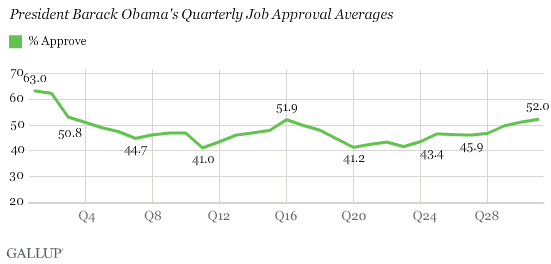 Since his first year in office, Obama's job approval ratings have mostly been below the majority level. The notable exception was slightly higher ratings in his 16th quarter in office, when he was re-elected and enjoyed a rally in support in subsequent weeks. It was not until his 30th quarter, from April 20 through July 19, that he again averaged above 50% job approval, reaching 50.9%, and improving further in the most recent quarter.
The upward momentum in Obama's approval ratings is continuing, as he has averaged 54% job approval so far in October.
Americans' evaluations of Obama have grown more positive as voters prepare to elect his successor next month. Neither of the major contenders -- Hillary Clinton nor Donald Trump -- is viewed favorably, and Americans may rate Obama more positively given the contrast.
The presidential election also helps focus Americans' attention on how the country is doing and on Obama's performance in office as they prepare to cast their votes.
Obama's job approval has improved about equally among Democrats and independents. In his 31st quarter in office, Obama's approval rating reached 90% among Democrats and 50% among independents -- both figures up two points from the previous quarter and up roughly seven points each over the past year.
Republicans' 12% approval of Obama is unchanged from the previous quarter and is up two points from one year ago.
Obama's Rating in 31st Quarter Most Similar to Reagan's
Of the six presidents who served 31 quarters in office, Obama is the fourth to have majority approval at that point in his presidency. Dwight Eisenhower and Bill Clinton were considerably more popular, with approval ratings near 60%. Harry Truman and George W. Bush were much less popular, with approval ratings near 30%. Ronald Reagan's 53.5% job approval during his 31st quarter in office is the closest to Obama's.
Average Presidential Job Approval Ratings During 31st Quarter in Office, Gallup Polls
Dates of 31st quarter
Average approval rating
Number of polls
Truman
Oct 20, 1952-Jan 19, 1953
32.0
1
Eisenhower
Jul 20-Oct 19, 1960
61.3
6
Reagan
Jul 20-Oct 19, 1988
53.5
2
Clinton
Jul 20-Oct 19, 2000
59.1
7
G.W. Bush
Jul 20-Oct 19, 2008
29.4
8
Obama
Jul 20-Oct 19, 2016
52.0
88
Gallup
Gallup has found a weak relationship between a two-term president's job approval rating and the outcome of the ensuing presidential election. However, like Reagan's, Obama's approval ratings have been on an upward trajectory in his final year. That may aid Hillary Clinton as she seeks to lead the Democrats to a third consecutive presidential election victory, as Reagan's improving ratings may have done for his Republican successor George H.W. Bush in 1988.
Implications
Obama has averaged 47.6% job approval throughout his presidency. Even if his approval ratings in his final quarter in office stay above 50%, his eight-year approval average will rank among the lowest of post-World War II presidents. This is largely because Republicans' extremely low ratings of him have suppressed his overall ratings. This reflects the highly polarized nature of the modern political environment. The gap in Republicans' and Democrats' ratings of Obama rank among the highest for any president in Gallup's polling history.
But like Eisenhower, Clinton and Reagan, Obama is on pace to leave office with relatively solid approval ratings. That may serve his legacy as Americans evaluate his presidency from a historical perspective. Generally speaking, Americans' historical assessments of presidents are more strongly related to presidents' final year approval ratings than to their overall term averages.
These data are available in Gallup Analytics.
Survey Methods
Results for this Gallup poll are based on telephone interviews conducted July 20-Oct. 19, 2016, on the Gallup U.S. Daily survey, with a random sample of 44,728 adults, aged 18 and older, living in all 50 U.S. states and the District of Columbia. For results based on the total sample of national adults, the margin of sampling error is ±1 percentage point at the 95% confidence level. All reported margins of sampling error include computed design effects for weighting.
Each sample of national adults includes a minimum quota of 60% cellphone respondents and 40% landline respondents, with additional minimum quotas by time zone within region. Landline and cellular telephone numbers are selected using random-digit-dial methods.
Learn more about how the Gallup U.S. Daily works.