Story Highlights
15% in U.S. mention economic issues as top problem
Percentage has not been lower since 13% reading in 1999
Government dissatisfaction remains top specific problem
WASHINGTON, D.C. -- Americans' concerns about the U.S. economy are, by one measure, the lowest in 18 years. Fifteen percent of Americans mention an economic issue when asked to name the most important problem facing the country. The percentage mentioning the economy has been lower only once in Gallup's 25-year trend -- 13% in 1999 during the dot-com boom. It was similar, at 16%, in late 2006 and early 2007, before the recession and during the Iraq War.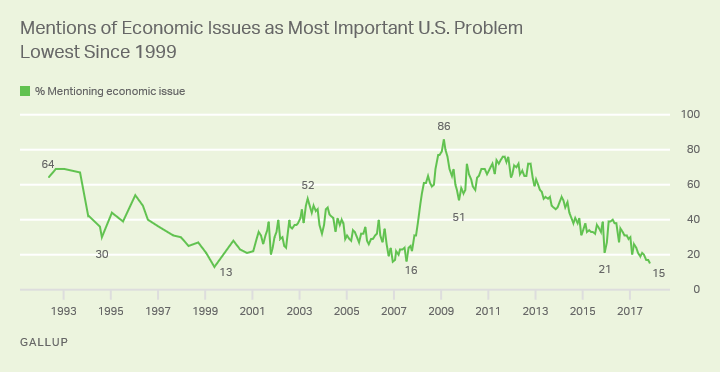 Gallup began asking Americans to name the most important problem facing the country, using an open-ended question format, in 1939. Since 1992, it has computed a summary measure designed to assess economic concerns -- the percentage of Americans mentioning an economic issue as the most important problem.
Economic mentions peaked at 86% in February 2009, as the Great Recession continued and newly inaugurated President Barack Obama dealt with the fallout of the 2008 financial crisis. The economy remained a top concern for several more years, with at least half of Americans mentioning an economic issue as the most important problem through August 2013.
Other recent periods of heightened economic concern include 1992, when the 1990-1991 recession made the economy a major issue in the presidential election campaign, and mid-2003 as unemployment rose.
The current results are based on a Nov. 2-8 Gallup poll. Among the specific economic issues Americans mention today are the economy in general (4%), unemployment (4%), taxes (2%) and the federal budget deficit (2%), among others.
Government Dissatisfaction Remains Top Problem
As Americans continue to shift their attention away from economic matters, their opinions about the most important problem facing the U.S. increasingly center on non-economic issues, chiefly what they perceive as poor government. Twenty-three percent now mention dissatisfaction with government, significantly more than mention any other issue.
Race relations and racism, healthcare, unifying the country, immigration, guns and terrorism are all mentioned by at least 5% of Americans. The top-ranking issues have been consistent in recent months, although slightly more mention guns and terrorism, and fewer mention immigration, than did in September.
Recent trend
September 2017
October 2017
November 2017

%

%

%

Dissatisfaction with government
18
20
23
Race relations/Racism
12
14
10
Healthcare
6
7
9
Unifying the country
8
11
7
Immigration
11
5
6
Guns/Gun control
*
4
5
Terrorism
1
2
5
Lack of respect for each other
2
4
4
Ethical/Moral decline
4
3
4
Crime/Violence
3
4
4
Economy in general
6
5
4
Unemployment/Jobs
4
5
4
Situation with North Korea
6
5
3
Education
2
1
3
Poverty/Hunger/Homelessness
2
3
3
National security
2
2
3
Issues mentioned by at least 3% of Americans in November 2017: * Less than 0.5%
Gallup
Dissatisfaction with government has been the top problem, or tied for the top, every month this year. The current 23% naming the issue is in the upper range of measurements in 2017, trailing only the 25% from June.
All major party groups have the government at the top of their list of most important problems, including 31% of Democrats, 21% of independents and 18% of Republicans. The reasons for their dissatisfaction vary, though. Democrats overwhelmingly mention "Donald Trump" as a problematic aspect of government, while Republicans' concerns center on "the Democrats," "liberals" and government not getting anything done. Independents also commonly mention Trump, as well as "partisanship" and government inaction.
Bottom Line
With low unemployment, sustained economic growth, and historically high stock values, it is understandable that Americans are less concerned about the economy than they have been in many years. This is also reflected in Gallup's measure of economic confidence, with ratings of current economic conditions now the most positive they have been since the recession.
Yet Americans' satisfaction with the state of the nation remains low: Only one in four say they are satisfied. By comparison, 51% were satisfied in 1999, the only time fewer Americans mentioned economic matters as the most important problem facing the country. Their top concerns about the country today -- mismanaged or ineffective government, racism, healthcare, unifying the country, immigration, guns and terrorism -- give clues as to what may be keeping their satisfaction down.
Survey Methods
Results for this Gallup poll are based on telephone interviews conducted Nov. 2-8, 2017, with a random sample of 1,028 adults, aged 18 and older, living in all 50 U.S. states and the District of Columbia. For results based on the total sample of national adults, the margin of sampling error is ±4 percentage points at the 95% confidence level. All reported margins of sampling error include computed design effects for weighting.
Each sample of national adults includes a minimum quota of 70% cellphone respondents and 30% landline respondents, with additional minimum quotas by time zone within region. Landline and cellular telephone numbers are selected using random-digit-dial methods.
View survey methodology, complete question responses and trends.
Learn more about how the Gallup Poll Social Series works.