GALLUP NEWS SERVICE
PRINCETON, NJ -- A recent USA Today/Gallup survey finds Republican enthusiasm for the 2006 congressional elections waning at the same time that Democratic enthusiasm is at a record high. That disparity could have significant implications for voter turnout in the fall, therefore accentuating the relatively weak support seen for Republican candidates with the general electorate. In other words, the Democrats' greater enthusiasm makes a shift in power in Congress from Republican to Democratic control even more possible, given that turnout in midterm elections is usually a critical factor in the ultimate outcome.
According to the survey, conducted April 7-9, 2006, Democrats lead Republicans by 10 percentage points, 52% to 42%, among all registered voters as the party they are more likely to support in their local congressional race. Typically Republicans can count on higher turnout from their members to significantly contract Democrats' lead among all voters, but whether that happens in 2006 is currently in doubt.
When asked how they feel about voting in this year's congressional elections compared to previous years, the plurality of Republicans, 47%, now say they are less enthusiastic; only 33% say they are more enthusiastic. This is a sharp change from January, when the Republican numbers were nearly reversed; 47% were more enthusiastic and 32% less enthusiastic. Over the same period Democrats' enthusiasm has held constant, with 48% saying they are more enthusiastic and slightly fewer saying less enthusiastic.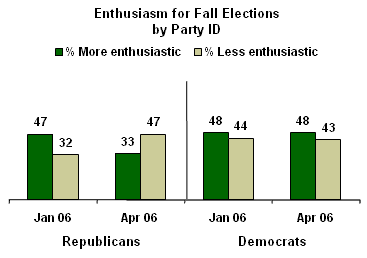 Since these elections are about the performance of Congress, it would make sense to see Republicans' anemic enthusiasm for the elections matched by a shortfall of support for Republican candidates. However, that is not the case. Republican voters are as likely to say they will vote for the Republican candidate in their district as Democrats are to say they will vote for the Democrat.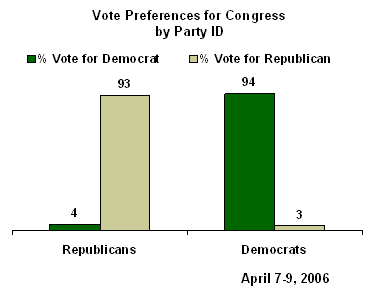 Bush to Blame?
Rather than reflecting specific displeasure with Congress, analysis of the Gallup data suggests that Republicans' lackluster enthusiasm about the fall elections may instead be due to discouragement with President George W. Bush.
Bush's approval rating among members of his own party is now just 74%, a record low for his administration. By comparison, the average approval rating for Bush among Republicans for his entire presidency is 91%, and was much closer to this level in early January, when 85% of Republicans approved.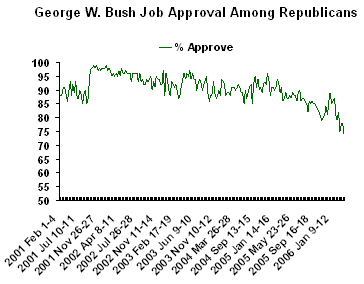 Thus, since early January, Republicans' enthusiasm about voting in this fall's elections has declined by 14 percentage points at the same time that their approval of Bush declined 11 points.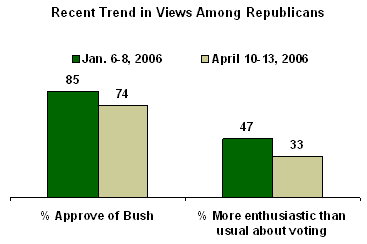 In 2002, just prior to that year's midterm elections, 91% of Republicans approved of the job Bush was doing and 42% said they felt more enthusiastic than usual about voting. While it is a lower percentage of Republicans saying they were enthusiastic than the 47% seen this past January when Bush's approval was only 85%, it is still much higher than the current 33%.
Another Troubling Indicator for GOP's Chances This Fall
Bush's 74% approval rating among Republicans is particularly ominous for the party in that it is identical to the rating President Bill Clinton received from Democrats on the eve of the 1994 elections in which Clinton's party lost control of the U.S. House of Representatives. While it was not a record low for Clinton among members of his own party (that was 63% in 1993), Democratic ratings of Clinton in the fall of 1994 were among the lowest of his presidency.
Clinton's average approval rating from Democrats throughout his presidency was 82% -- lower than Bush's average because Clinton did not experience a sustained rally in public approval such as Bush received after 9/11.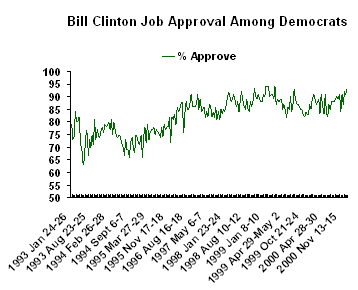 Bottom Line

It is not clear whether there is a direct causal relationship between the job approval ratings a sitting president receives from members of his own party and the level of enthusiasm those partisans have for voting in a midterm election, but recent historical evidence suggests that the two are linked.
Perhaps lower approval of the president causes partisans to lose confidence in the ability of the president's party to be successful in the fall election, and thus leads to reduced enthusiasm for voting. Perhaps media speculation about the president's difficulties fuels this reaction. At the same time, sensing the possibility of victory, Democratic enthusiasm may be sparked.
Also, as Managing Editor Jeff Jones reported in his April 18 analysis (see related link), in the past three midterm elections there has not been a direct relationship between enthusiasm for voting and voter's likelihood of turning out (as determined by their "likely voter" score). Rather, higher enthusiasm among Republicans or Democrats is associated with a larger number of people identifying as members of that party, and vice versa.
Whatever the case, it appears that Bush will be an important factor in this fall's elections. Whether his lower approval ratings continue or if they increase could determine how many seats his party keeps.
Survey Methods
These results are based on telephone interviews with a randomly selected national sample of 1,004 adults, aged 18 and older, conducted April 7-9, 2006. For results based on this sample, one can say with 95% confidence that the maximum error attributable to sampling and other random effects is ±3 percentage points. In addition to sampling error, question wording and practical difficulties in conducting surveys can introduce error or bias into the findings of public opinion polls.
Thinking for a moment about the elections for Congress next year,
4. If the elections for Congress were being held today, which party's candidate would you vote for in your Congressional district -- [ROTATED: the Democratic Party's candidate or the Republican Party's candidate]?
4A. As of today, do you lean more toward -- [ROTATE: the Democratic Party's candidate or the Republican Party's candidate]?



Democratic
candidate

Republican
candidate

Undecided/
other

Registered Voters

%

%

%

2006 Apr 7-9

52

42

6

2006 Mar 10-12

55

39

7

2006 Feb 28-Mar 1

53

39

7

2006 Feb 9-12

50

43

8

2006 Jan 6-8

49

43

8

2005 Oct 21-23

50

43

7

2005 Aug 28-30

53

41

6

National Adults

2006 Apr 7-9

53

40

7

2006 Mar 10-12

54

38

8

2006 Feb 28-Mar 1

52

39

10

2006 Feb 9-12

49

42

9

2006 Jan 6-8

49

42

9

2005 Oct 21-23

50

42

8

2005 Aug 28-30

52

41

7
5. Compared to previous elections, are you more enthusiastic about voting than usual, or less enthusiastic?

Trend for Mid-Term Elections
More
enthusiastic

Less
enthusiastic


SAME
(vol.)

No
opinion

National Adults

%

%

%

%

2006 Apr 7-9

40

46

12

2

2006 Jan 6-8

45

39

14

1

2002 Oct 31-Nov 3

38

45

14

3

1998 Oct 29-Nov 1

37

46

14

3

1998 Oct 23-25

35

47

16

2

1998 Oct 9-12

35

47

16

2

1998 Aug 21-23

38

41

17

4

1998 Apr 17-19

30

48

19

3

1994 Nov 2-6

38

48

13

2

1994 Oct 7-9

34

46

18

2

Republicans/Republican Leaners

2006 Apr 7-9

33

47

18

2

2006 Jan 6-8

47

32

20

1

2002 Oct 31-Nov 3

42

42

15

1

1998 Oct 29-Nov 1

39

46

14

1

1998 Oct 23-25

44

39

16

1

1998 Oct 9-12

45

36

17

2

1998 Aug 21-23

42

39

17

2

1998 Apr 17-19

31

48

19

2

1994 Nov 2-6

44

44

11

1

1994 Oct 7-9

40

42

18

*

Democrats/Democratic Leaners

2006 Apr 7-9

48

43

8

1

2006 Jan 6-8

48

44

7

1

2002 Oct 31-Nov 3

38

46

13

3

1998 Oct 29-Nov 1

39

44

15

2

1998 Oct 23-25

32

51

16

1

1998 Oct 9-12

41

45

13

1

1998 Aug 21-23

37

41

18

4

1998 Apr 17-19

31

48

19

2

1994 Nov 2-6

35

50

14

1

1994 Oct 7-9

29

50

18

3

Registered Voters

2006 Apr 7-9

42

44

13

1

2006 Jan 6-8

46

37

15

1

2002 Oct 31-Nov 3

41

42

15

2

1998 Oct 29-Nov 1

41

43

15

1

1998 Oct 23-25

37

44

18

1

1998 Oct 9-12

45

38

16

1

1998 Aug 21-23

39

39

19

3

1998 Apr 17-19

31

47

20

2

1994 Nov 2-6

40

45

14

1

1994 Oct 7-9

34

44

20

2

* Less than 0.5%