WASHINGTON, D.C. -- Americans' job approval rating of the U.S. Congress is 18%, up slightly from two previous readings of 15%.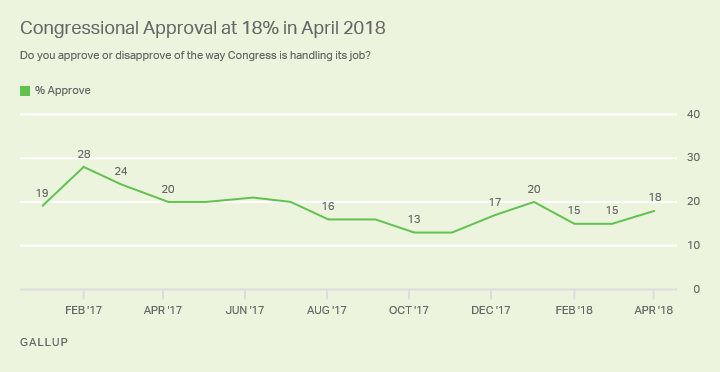 The latest findings are based on a Gallup poll conducted April 2-11, as Congress returned from its spring-break recess on April 9.
Background: The latest measurement of congressional approval matches the average for ratings Congress has received since January 2017, when the current 115th Congress convened. Approval for this Congress was highest from February to July of last year, ranging from 20% to 28%. Since then, approval of the legislative body has been below 20% in eight of the past nine monthly readings, with the exception being the 20% rating in January 2018 after Congress passed federal income tax cuts.
Republicans remain most approving of Congress among political party groups. More than a quarter of Republicans (26%), whose party controls both chambers, approve of the job Congress is doing -- a higher rating than independents (19%) and Democrats (10%) give the institution.
Survey Methods
Results for this Gallup poll are based on telephone interviews conducted April 2-11, 2018, with a random sample of 1,015 adults, aged 18 and older, living in all 50 U.S. states and the District of Columbia. For results based on the total sample of national adults, the margin of sampling error is ±4 percentage points at the 95% confidence level. All reported margins of sampling error include computed design effects for weighting.
Each sample of national adults includes a minimum quota of 70% cellphone respondents and 30% landline respondents, with additional minimum quotas by time zone within region. Landline and cellular telephone numbers are selected using random-digit-dial methods.
View survey methodology, complete question responses and trends.
Learn more about how the Gallup Poll Social Series works.