GALLUP NEWS SERVICE
States like these, and their terrorist allies, constitute an axis of evil, arming to threaten the peace of the world. By seeking weapons of mass destruction, these regimes pose a grave and growing danger. They could provide these arms to terrorists, giving them the means to match their hatred. They could attack our allies or attempt to blackmail the United States. In any of these cases, the price of indifference would be catastrophic.
— President George W. Bush, State of the Union Address, Jan. 29, 2002.
PRINCETON, NJ -- President George W. Bush may be struggling to rally Americans around his Iraq War policies, but he has evidently been more successful at influencing public opinion about the United States' enemies in the world, more generally. Bush used his first State of the Union address following the 9/11 attacks as a bully pulpit to identify North Korea, Iran, and Iraq as an "axis of evil" threatening world peace. Gallup polling since 2005 has found a majority of Americans naming one of these three as the country they consider to be the United States' "greatest enemy."
Today, 26% cite Iran as the top enemy, 21% name Iraq, and 18% identify North Korea as the United States' greatest enemy. This is according to Gallup's 2007 update of its annual World Affairs poll, conducted Feb. 1-4, 2007.
The only other country named by more than a handful of respondents in the current poll is China at 11%. Saudi Arabia, Afghanistan, and Russia each garner 2 to 3%. Additionally, 2% of Americans believe the United States is its own worst enemy.
Trends in Perceived Enemies
Even before Bush linked Iraq with Iran and North Korea as part of the "axis of evil" in January of 2002, Iraq was identified most frequently by Americans as the United States' greatest enemy in the world. As of February 2001, 38% named Iraq, followed by China in distant second with 14%.
By 2005, two years after the United States succeeded in toppling Saddam Hussein, the percentage naming Iraq as the greatest enemy had fallen to 22%. In the two subsequent years of Gallup polling, it has remained around that level. The sectarian violence in Iraq and the ongoing U.S. military engagement there is undoubtedly what has kept Iraq among the top countries Americans perceive as the greatest enemy, even though the new Iraq government is ostensibly an ally of the United States.
Either Korea or North Korea was mentioned as the United States' greatest enemy by only 2% of Americans in 2001. In 2005, this figure had swelled to 22% and it has continued to remain high.
Similarly, relatively few Americans (8%) thought of Iran as the United States' top enemy in 2001. This was slightly higher (14%) in 2005, but then jumped to 31% in 2006. At 26%, the proportion of Americans tagging Iran as the top enemy today is substantial.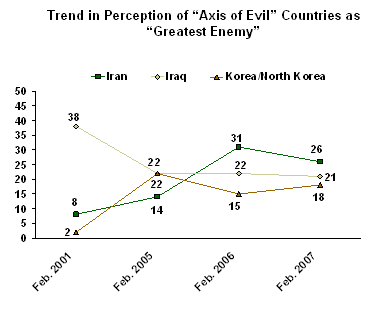 Republicans Mostly Struck by Iran as Foe
Americans' focus on Iraq, Iran, and North Korea as the United States' greatest enemies clearly aligns with the global perspective of President Bush. Despite this, the views of Republicans and Democrats are fairly similar. Six in ten Democrats pick one of these three countries as being the nation's greatest enemy; not far below the 75% of Republicans. Within this framework, however, Republicans put much more emphasis than Democrats do on Iran as the greatest enemy: 42% of Republicans name Iran, compared with just 17% of Democrats. Democrats are about as likely as Republicans to name Iraq (23% and 19%, respectively) and slightly more likely to name North Korea (20% vs. 14%).
Republicans and Democrats are similar in the percentages mentioning China (11% of Republicans and 12% of Democrats), as well as in mentioning Afghanistan (1% and 3%).
Perceived Greatest Enemy of the U.S.
by Party Identification
Feb. 1-4, 2007

Republicans/
Lean Republican

Democrats/
Lean Democratic

 

 

Iran

42

17

Iraq

19

23

Korea/North Korea

14

20

China

11

12

Russia

2

1

Saudi Arabia

1

5

Afghanistan

1

3

United States

0

2
Survey Methods
Results are based on telephone interviews with 1,007 national adults, aged 18 and older, conducted Feb. 1-4, 2007. For results based on the total sample of national adults, one can say with 95% confidence that the maximum margin of sampling error is ±3 percentage points. In addition to sampling error, question wording and practical difficulties in conducting surveys can introduce error or bias into the findings of public opinion polls.
25. What one country anywhere in the world do you consider to be the United States' greatest enemy today? [Open-ended]
2007
Feb 1-4

2006
Feb 6-9

2005
Feb 7-10

2001
Feb 1-4

 

 

 

 

Iran

26

31

14

8

Iraq

21

22

22

38

North Korea/Korea (non-specific)

18

15

22

2

China

11

10

10

14

Saudi Arabia

3

1

2

4

Afghanistan

2

3

3

*

United States itself

2

1

2

1

Russia

2

1

2

6

Syria

*

1

2

--

France

*

1

2

--

Japan

*

*

*

1

Cuba

--

*

*

2

The Palestinian Authority

--

*

*

1

Libya

--

--

*

4

 

 

 

 

None

1

1

2

2

Other

6

6

8

6

No opinion

7

7

9

11

* = Less than 0.5%