GALLUP NEWS SERVICE
PRINCETON, NJ -- The Vietnamese economy has enjoyed an average GDP growth rate of 7% over the past decade. Since 1993, the number of Vietnamese living in poverty has been cut by half, a remarkable feat for a country of 80 million. But its leaders have ambitious plans to slash that number much further, bringing the country closer to joining the developed world. The recently launched National Targeted Program on Poverty Reduction seeks to halve again the number of truly impoverished Vietnamese by 2010.
Such an achievement would ideally elevate not just the standard of living, but also the health and well-being of the Vietnamese population. Overall, Vietnamese are generally optimistic about their quality of life, but satisfaction levels remain somewhat uneven.
The strong economy of the last decade has certainly raised the standard of living in the country; three-quarters of Vietnamese (74%) now say they are satisfied with their current standard of living, and a similar percentage (77%) feel their standard of living is improving. About three-fourths (74%) of Vietnamese also say they are satisfied with efforts to deal with the poor. However, fewer people (57%) are pleased with the efforts made to increase the number and quality of jobs in the country.
When it comes to their own emotional well-being, the Vietnamese are markedly less upbeat. Just over half say they'd like to have more days just like the previous one (54%) and that they experienced a lot of enjoyment that day (54%). About two-thirds (68%) said they smiled or laughed a lot that day. All of these figures are significantly lower than average for populations in Southeast Asia.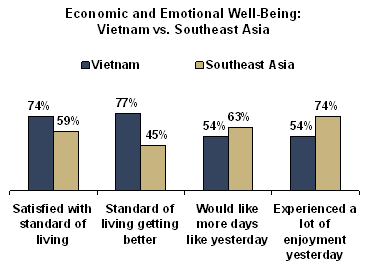 Finally, a relatively solid 79% of Vietnamese express satisfaction with their own personal health. However, significantly fewer (54%) report satisfaction with the availability of quality, affordable healthcare in the country.
Survey Methods
These results are based on face-to-face interviews with a randomly selected national sample of 1,023 Vietnamese, aged 15 and older, conducted March 1-28, 2006. For results based on this sample, one can say with 95% confidence that the approximate error attributable to sampling and other random effects is ±3 percentage points for a percentage at 50%. In addition to sampling error, question wording and practical difficulties in conducting surveys can introduce error or bias into the findings of public opinion polls.