GALLUP NEWS SERVICE
PRINCETON, NJ -- The countries of Central Asia (Kyrgyzstan, Tajikistan, Kazakhstan, Uzbekistan, and Turkmenistan) have all been conducting sweeping reforms in the 15 years since the collapse of the Soviet directive-administrative system. However, the nature and implementation of those reforms has varied widely across the region.
Kyrgyzstan's reform process has been hampered by constant political battles, and the country has seen a drop in economic indicators in recent years. Since President Askar Akayev was removed from power in the "Tulip Revolution" of March 2005, the country's political instability has been evident in a number of large street protests. The most recent of these came in April 2007, during a nine-day conflict between the government and opposition protesters. Police eventually restored order by using tear gas and stun grenades to disperse the crowds -- but will the order last?
One of the most important issues to populations throughout the region is the availability of jobs. An overwhelming majority of Kyrgyzstanis, 86%, say that now is not a good time in their area to find work. In neighboring countries, these numbers vary from 43% to 60%.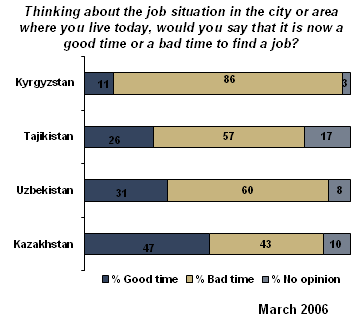 Less than one-third (28%) of Kyrgyzstanis say the economic situation in their city or village is satisfactory, while percentages are larger among people in adjacent countries like Tajikistan (54%) and Kazakhstan (62%). Similarly, majorities of residents in Tajikistan (58%) and Kazakhstan (61%) say economic conditions in their community are currently improving. Only about one-quarter of Kyrgyzstanis say the same.
Finally, just less than half of Kyrgyzstanis (48%) say they have confidence in their national government, a very low figure compared to others in the region; the next-lowest is 25 percentage points higher, at 73%, in Kazakhstan.
These results provide an answer as to why the opposition groups have repeatedly been able to draw thousands of Kyrgyzstanis to their demonstrations. Most of the population is not employed, and they await concrete steps from the country's leadership to give them some hope for progress.
Survey Methods
Results are based on face-to-face interviews conducted during March 2006 with a randomly selected sample of 1,000 Kyrgyzstani residents, aged 15 and older. For results based on this sample, one can say with 95% confidence that the maximum error attributable to sampling and other random effects is ±3 percentage points. In addition to sampling error, question wording and practical difficulties in conducting surveys can introduce error or bias into the findings of public opinion polls.