GALLUP NEWS SERVICE
WASHINGTON, D.C. -- Skepticism surrounding the results of Kazakhstan's recent parliamentary elections echoes concerns expr.essed by nearly half of the Kazakhstani people in a 2006 Gallup World Poll, which found that 43% of Kazakhstanis do not have confidence in the honesty of elections in their country, while 41% say they do.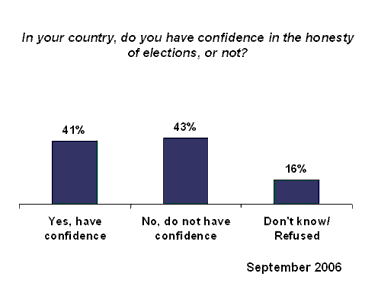 International observers and opposition party leaders have questioned the reported results of the Aug. 18 vote, which awarded Nursultan Nazarbayev and his ruling Nur Otan Party 88% of the vote, and in turn, every seat in the nation's parliament. The chair of an election observation group sent by the Organization for Security and Cooperation in Europe (OSCE) said afterward that he had never seen a democratic country in which just one political party had representatives in power. What's more, the group found voting irregularities in over 40% of the polling stations.
Despite the fact that much of the Kazakhstani public recognizes deficiencies in the current electoral process, there is strong consensus about the need for democratic elections in the country. Almost half of Kazakhstanis (45%) say they consider it "essential" to have a democratically elected government as an aspect of their lives, while 47% say it is something they consider "very important." Just 8% say that while such a government may be useful, they could live without it.
Perceptions of Corruption Are Widespread
Oil- and gas-rich Kazakhstan is the most economically prosperous nation in the former Soviet Central Asia region, and Nazarbayev has been pushing for his country to become chair of the OSCE in 2009. The group has wavered on a decision, citing concerns about government transparency and commitment to democracy.
According to the 2006 poll, two-thirds of Kazakhstanis (66%) think corruption is widespread within the country's government, and 69% say they are dissatisfied with the government's effort to control crime and corruption. And 58% of Kazakhstanis say the level of corruption in the country is higher than it was during the Soviet era, while only 6% say it is lower.
Still, though election observers criticized the lack of competitiveness evident in this month's vote, they also expressed confidence that Kazakhstan is moving in the right direction. That sentiment seems to be shared by many Kazakhstanis: When asked to rate their country's current status on an 11-point scale, just 35% choose one of the top four points. But when they are asked to predict where Kazakhstan will be in five years, a full 78% select one of those top four points.
Survey Methods  
Results are based on face-to-face interviews conducted in September 2006 with a nationally representative sample of 1,000 residents of Kazakhstan, aged 15 and older. For results based on the total sample of national adults, one can say with 95% confidence that the maximum margin of sampling error is ±3 percentage points. In addition to sampling error, question wording and practical difficulties in conducting surveys can introduce error or bias into the findings of public opinion polls.