GALLUP NEWS SERVICE
PRINCETON, NJ -- A recent Gallup Panel survey finds that American consumers are deeply suspicious of Chinese-made goods following a string of recalls of potentially unsafe products made in China, and that Americans could move away from buying Chinese products if they follow through on their stated intentions to adjust their purchasing habits. According to the survey, a solid majority of Americans report paying more attention to which countries produce the products they buy, say they are making an effort to avoid buying products made in China, and express a willingness to pay higher prices for similar goods made in the United States. The public estimates that close to half of imported food and manufactured goods from China violate U.S. health and safety standards. Even so, they tend to lay the blame for the recent problems with Chinese goods at the foot of U.S. businesses and U.S. safety inspectors rather than Chinese manufacturers or Chinese inspectors.
The Aug. 23-26 survey of 1,001 nationally representative Gallup Panel members finds 72% of Americans saying they are now paying more attention to which country produces the products they buy. Gallup asked this question  prior to any explicit mention in the survey of the recent reports of safety problems with Chinese-made products. But, the responses are likely a reflection of such reports, since 45% of respondents later said they were following news about unsafe Chinese products "very closely," with an additional 40% following it "somewhat closely" -- an overall high level of attention.
There are dramatic differences in reports of increased vigilance according to the amount of attention Americans are paying to the news about Chinese products.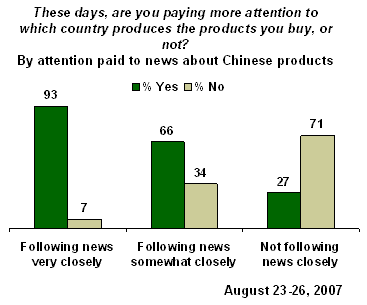 Chinese officials estimate that 1% or less of the products they ship to other countries fail to pass quality controls and meet international quality standards. But, Americans' perceptions are different. On average, Americans estimate that 45% of food products imported to the United States from China and 49% of Chinese manufactured goods violate U.S. standards for health and safety.
Americans' Estimate of the Percentage of Imported Chinese Goods that Violate U.S. Health and Safety Standards

Estimate

Food products

Manufactured goods

%

%

Less than 25%

21

18

25% to 49%

25

23

50% to 74%

28

31

75% or more

17

23

 

 

Don't know/refused

9

5

 

 

Mean estimate

45.0

48.9

Median estimate

46

50
Thus, it may not be surprising to find 65% of Americans saying that they are making an effort to avoid buying products made in China. Nearly the same percentage -- 64% -- indicates a willingness to pay up to twice as much for a product made in the United States as they would pay for a similar Chinese-made product. Those paying close attention to the news about this matter  report higher levels of Chinese product avoidance and a greater willingness to pay higher prices for U.S. products.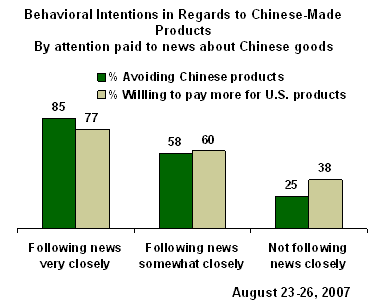 Survey respondents' stated behavioral intentions do not always match what they actually do in a particular situation. But, if a substantial percentage of Americans avoided buying Chinese products and opted to pay higher prices for similar American-made goods, it would mark a dramatic change in American buying habits since a large proportion of the products Americans buy are made in China.   
Interestingly, though, Americans are more likely to place blame for the safety problems with Chinese products on this side of the ocean, identifying U.S. safety inspectors and U.S. businesses that sell Chinese products as the primary culprits more often than Chinese manufacturers who make the products or Chinese safety inspectors.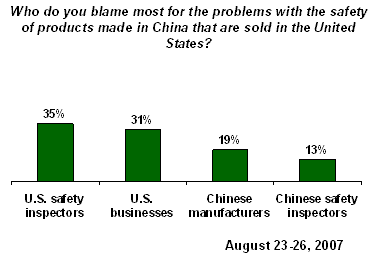 These results are generally similar regardless of the level of attention Americans pay to the news about Chinese products.
While Chinese officials have been quick to defend the safety of their products, in recent days they have taken steps to improve the quality and safety of goods they import to other parts of the world. Congress is also considering legislation to address the issue.
Survey Methods
Results for this Gallup Panel study are based on telephone interviews with 1,001 national adults, aged 18 and older, conducted August 23-26, 2007. Gallup panel members are recruited through random selection methods. The panel is weighted so that it is demographically representative of the U.S. adult population. For results based on these samples, one can say with 95% confidence that the maximum margin of sampling error is ±4 percentage points. In addition to sampling error, question wording and practical difficulties in conducting surveys can introduce error or bias into the findings of public opinion polls.
35. These days, are you paying more attention to which country produces the products you buy, or not?

Yes, paying
more attention


No, not

No
opinion

2007 Aug 23-26

72%

27

1
 

36. How closely are you following the news about products made in China that are sold in the United States -- very closely, somewhat closely, not too closely, or not at all?

                       

Very closely

Somewhat closely

Not too closely

Not
at all

No
opinion

2007 Aug 23-26

45%

40

10

5

*
 

37. Just your best guess, what percentage of food products imported to the United States from China violate U.S. standards for health and safety?

2007 Aug 23-26

%

Less than 25%

21

25% to 49%

25

50% to 74%

28

75% or more

17

 

Don't know/refused

9

 

Mean

45.0

Median

46
 

38. Just your best guess, what percentage of Chinese manufactured goods imported to the United States violate U.S. standards for health and safety?

2007 Aug 23-26

%

Less than 25%

18

25% to 49%

23

50% to 74%

31

75% or more

23

 

Don't know/refused

5

 

Mean

48.9

Median

50
Q.39-40 SPLIT SAMPLED
39. (Asked of a half sample) Are you, personally, making an effort to avoid buying products that are made in China, or not?
BASED ON --500-- NATIONAL ADULTS IN FORM A

Yes, making effort

No, not

No opinion

2007 Aug 23-26

65%

35

*
 

40. (Asked of a half sample) Would you, personally, be willing to pay up to twice as much for a product made in the United States than you would pay for the same product made in China?
BASED ON --501-- NATIONAL ADULTS IN FORM B

Yes, willing

No, not willing

No opinion

2007 Aug 23-26

64%

34

2
 

41. Who do you blame most for problems with the safety of products made in China that are sold in the United States -- [ROTATED: U.S. safety inspectors, Chinese safety inspectors, Chinese manufacturers who make the products, (or) U.S. businesses that sell the products]?

                       



U.S. safety inspectors


U.S. business that sell  the products

Chinese manufacturers who make the products


Chinese safety inspectors



No
opinion

2007 Aug 23-26

35%

31

19

13

2