GALLUP NEWS SERVICE
PRINCETON, NJ -- A Gallup Poll conducted last month shows that Americans rank their family and health as the two most important aspects of life, among nine that were measured. Their work, friends, money, and religion are viewed as roughly equal in importance, but considerably below the importance of family and health. Of somewhat less importance are leisure time and hobbies or recreational activities. Of least importance are community activities.
How Important Are Various Aspects of Life?
Dec. 5-8, 2002
While work (73%) and friends (70%) rank higher than money (67%) or religion (65%), based on the percentage of Americans who rank them as either extremely or very important, the last two reflect more intense feelings. Twenty-seven percent rank each of those items, money and religion, as "extremely" important. By comparison, only 21% and 24%, respectively, say work and friends are "extremely" important to them.
These ratings are very similar to those measured last year. (Health and money were not included on the list in 2001.)
There are very few differences in the importance given to these aspects of life between women and men, or among different age groups. One major exception is that women are more likely than men to give high ratings to religion. Also, the older women are, the higher they rate the importance of religion, a pattern that is not found among men.
Importance of Religion: By Age and Gender
(% Rating Religion "Extremely" or "Very" Important)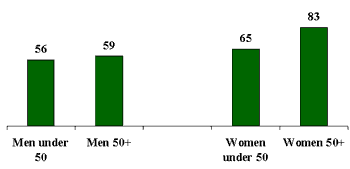 Dec. 5-8, 2002
Fifty-six percent of men under 50 say religion is "extremely" or "very" important to them, compared with 65% of women under 50 who give those ratings. Among men 50 and older, 59% give religion a high importance rating -- only three percentage points higher than the younger group of men. Among women 50 and older, however, 83% give religion a high importance rating, 18 percentage points more than the younger group of women, and 24 percentage points more than men in their age group.
On all other items, men and women give very similar importance ratings. However, there are differences among respondents by age group on their ratings of friends. About 8 in 10 people 50 and older rate friends as extremely or very important, compared with 67% of people in the 30-49 age group, and 59% of people under 30.
Importance of Friends: By Age
(% Rating Friends "Extremely" or "Very" Important)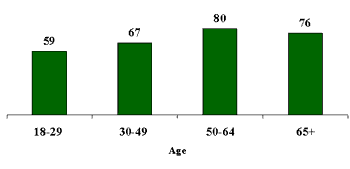 Dec. 5-8, 2002
The importance of work is about the same among all ages, except for the pre-retirement age group (50-64). Almost 8 in 10 (79%) of that group gives work a high importance rating, compared with about 7 in 10 among each of the other age groups.
Survey Methods
The latest results are based on telephone interviews with 1,001 national adults, aged 18+, conducted Dec. 5-8, 2002. For results based on the total sample of national adults, one can say with 95% confidence that the margin of sampling error is ±3 percentage points. In addition to sampling error, question wording and practical difficulties in conducting surveys can introduce error or bias into the findings of public opinion polls.
Please say, for each of the following, how important it is in your life. Would you say extremely important, very important, somewhat important, not too important, or not important at all. How about -- [RANDOM ORDER]?
A. Your family

Extremely important


Very impor-
tant


Some-
what
impor-
tant


Not too impor-
tant

Not important at all


No
opinion

2002 Dec 5-8

49%

47

3

*

*

1

2001 Dec 6-9

48%

48

2

1

1

*

* Less than 0.5%
B. Your friends

Extremely important


Very impor-
tant


Some-
what
impor-
tant


Not too impor-
tant

Not important at all


No
opinion

2002 Dec 5-8

24%

46

25

3

2

*

2001 Dec 6-9

20%

57

18

3

1

1
C. Your religion

Extremely important


Very impor-
tant


Some-
what
impor-
tant


Not too impor-
tant

Not important at all


No
opinion

2002 Dec 5-8

27%

38

19

8

8

*

2001 Dec 6-9

23%

41

22

7

7

*
D. Your hobbies or recreational activities

Extremely important


Very impor-
tant


Some-
what
impor-
tant


Not too impor-
tant

Not important at all


No
opinion

2002 Dec 5-8

11%

35

41

7

5

1

2001 Dec 6-9

10%

40

40

7

2

1
E. Your community activities

Extremely important


Very impor-
tant


Some-
what
impor-
tant


Not too impor-
tant

Not important at all


No
opinion

2002 Dec 5-8

6%

26

45

14

8

1

2001 Dec 6-9 ^

5%

24

45

17

8

1

^

WORDING: your political and community activities
F. Your leisure time

Extremely important


Very impor-
tant


Some-
what
impor-
tant


Not too impor-
tant

Not important at all


No
opinion

2002 Dec 5-8

15%

44

34

5

2

*

2001 Dec 6-9

14%

50

30

4

1

1
G. Your work

Extremely important


Very impor-
tant


Some-
what
impor-
tant


Not too impor-
tant

Not important at all


No
opinion

2002 Dec 5-8 ^

21%

52

25

2

*

0

2001 Dec 6-9

19%

55

23

2

1

*

^

BASED ON -- 622 -- ADULTS EMPLOYED FULL OR PART-TIME
H. Your money

Extremely important


Very impor-
tant


Some-
what
impor-
tant

Not too impor-
tant

Not important at all


No
opinion

2002 Dec 5-8

27%

40

28

3

1

1
I. Your health

Extremely important


Very impor-
tant


Some-
what
impor-
tant


Not too impor-
tant

Not important at all


No
opinion

2002 Dec 5-8

44%

46

9

1

*

*

* Less than 0.5%
SUMMARY TABLE: IMPORTANT ASPECTS OF LIFE

2002 Dec 5-8
(ranked on "extremely" or "very" important)


Extremely important


Very
important

Extremely/ Very
important

%

%

%

Your family

49

47

96

Your health

44

46

90

Your work

21

52

73

Your friends

24

46

70

Your money

27

40

67

Your religion

27

38

65

Your leisure time

15

44

59

Your hobbies or recreational activities

11

35

46

Your community activities

6

26

32