Last January, the Bush administration filed an amicus brief with the Supreme Court, advocating on behalf of white students suing the University of Michigan over its practice of giving preference to minorities in its admissions process. Despite the administration's position, Bush maintained his belief that, "A college education should teach respect and understanding and goodwill." American teens preparing to enter college are the most directly affected by universities' affirmative action policies, and are likely in the process of learning the importance of respect for racial, ethnic, and religious differences. Do U.S. teens feel that minority groups in this country are sufficiently respected?
The 2003 Gallup Youth Survey* asked teens (aged 13 to 17) whether a variety of minority groups receive too much, about the right amount, or too little respect. The groups included blacks, Hispanic Americans, Asian Americans, women, and homosexuals. This article, the first of two, focuses on their responses regarding racial and ethnic minorities.
Asian Americans
Sixty-one percent of U.S. teens said that the amount of respect granted to Asian Americans is "about right," 32% said it's too little, and 6% said it's too much. Views of the respect accorded to Asian Americans are similar by racial group. Sixty-five percent of whites and 55% of nonwhites said Asian Americans are respected about enough. Both groups -- 30% of whites, and 35% of nonwhites -- are much more likely to have said Asian Americans receive too little respect than to have said they receive too much (4% of whites and 8% of nonwhites.)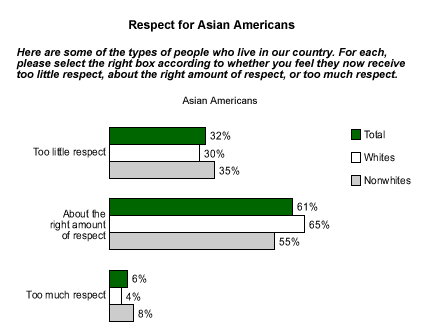 Hispanic Americans
According to Census figures released last January, Hispanics have replaced African Americans as the nation's largest minority group. While a bare majority, 52% of U.S. teens thought Hispanics get enough respect, 39% don't think enough respect is given to Hispanic Americans , and 7% think they get too much.
Nonwhite teens are slightly more pessimistic about the treatment of Hispanic Americans than they are about the treatment of Asian Americans. Forty-four percent of nonwhites think Hispanic Americans receive too little respect, as do 37% of white teens. Forty-six percent of nonwhites, and 55% of whites, said respect for Hispanic Americans is adequate. However, the percentage of teens who think Hispanic Americans are respected too much are very similar -- 6% of whites and 7% of nonwhites agreed.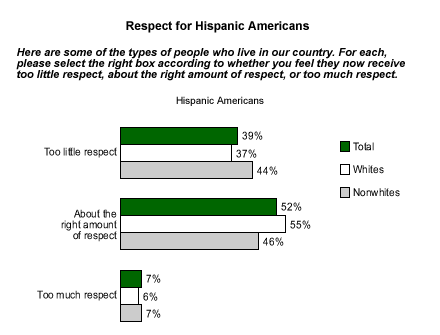 African Americans
More than two in five teens (43%) felt that African Americans receive too little respect, while 10% said they receive too much respect. Teens are less likely to have said blacks receive about the right amount of respect (45%) than they are to have said the same about the other two minority groups asked about.
Once again, the amount of respect teens think is due a minority seems to be related to whether or not they themselves are in a minority group. Exactly half of all nonwhite teens said blacks aren't respected enough, versus 40% of white teens. On the other hand, exactly half of white teens said blacks get about enough respect, as compared to 38% of nonwhites. This difference is largely attributable to the views of black teens, among whom two in three said blacks are accorded too little respect in the United States.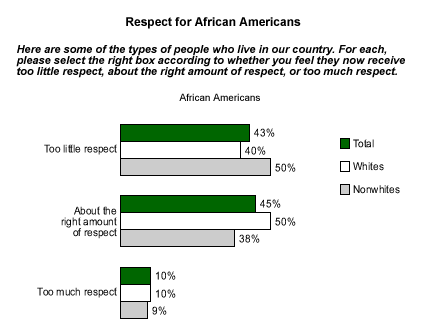 Part II of this series will focus on teen opinion on whether women and homosexuals receive enough respect in America.
*The Gallup Youth Survey is conducted via an Internet methodology provided by Knowledge Networks, using an online research panel that is designed to be representative of the entire U.S. population. The current questionnaire was completed by 1,200 respondents, aged 13 to 17, between Jan. 23-Feb. 10, 2003. For results based on the total sample, one can say with 95% confidence that the maximum margin of sampling error is ±3%. For a complete description of the sampling and weighting procedures used to conduct the survey, click here.