According to Gallup's annual Values & Beliefs survey*, Americans are markedly gloomy about the "overall state of moral values in the United States today," with 77% saying that state is "poor" or "only fair," compared to only 22% who say "good" or "excellent."
Interestingly, the May 2003 survey showed little difference in opinion between respondents of different political ideologies. People identifying themselves as "conservatives," "liberals," or "moderates" all responded in similar fashion. Furthermore, those who specifically said they consider themselves liberal on social issues answered this question similarly to those who identified themselves as social moderates or social conservatives, although self-described social conservatives were somewhat more negative.
Women, older people, and church-goers tend to be more pessimistic than other groups about the state of moral values in the United States, but the differences are not great. There is also close agreement between people with different levels of education, people of different races, and people living in different regions of the country.
Little Change From Year Ago
The public's perception of American moral values is statistically similar to that from a year ago at this time (May 2002).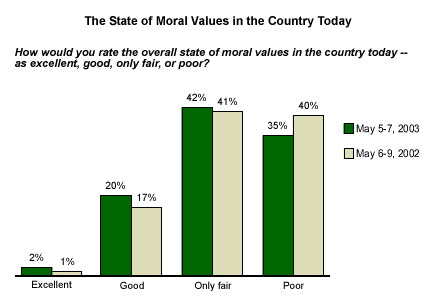 The state of ethics and morality in the United States has long been a concern for many Americans. While usually overshadowed by economic concerns and other pressing issues of the day, "ethics and morality" always places fairly high when Gallup asks Americans to name the most important problem facing the nation. When the question was asked last month, "ethics and morality" was statistically tied with terrorism, education, healthcare, fear of war, and dissatisfaction with government on the list of problems.
Looking Ahead
Do Americans think the present state of moral values will improve? The answer is a resounding no, as it was in the survey taken a year ago. Two in three Americans (67%) say the state of moral values in the country is getting worse, compared to 24% who say it is getting better. These percentages are identical to those obtained in last year's survey.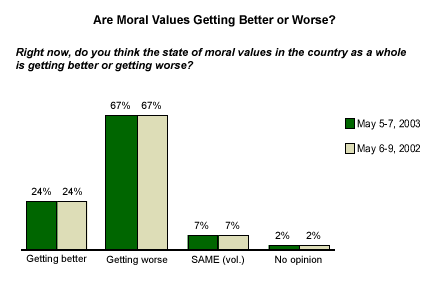 Only One in Eight Is "Super-Optimist"
The depth of discouragement over the state of moral values in America becomes even more apparent when the results of the two questions (one on the current situation and one on the future) are combined. Only one person in eight (13%) believes that the present state of moral values is "good" or "excellent," and also that moral values will improve in the years ahead.
Bottom Line
The fact that there has been little improvement over the past year in people's current future perceptions of morality in America should not be surprising, in view of certain events and developments of the last year. Immorality was splashed across the headlines as scandals rocked corporate boardrooms, Wall Street, accounting firms, the Catholic Church, and even Major League Baseball. Given all the high-profile malfeasance, it may surprise some that Americans' perceptions of the moral state of the country have not grown more negative since May 2002.
*Results are based on telephone interviews with 1,005 national adults, aged 18 and older, conducted May 5-7, 2003. For results based on the total sample of national adults, one can say with 95% confidence that the margin of sampling error is ±3%.