Gallup Student Poll
Explore Gallup's research.
Chronic absenteeism is a problem in America's schools. Use the Gallup Student Poll to increase engagement and lower absenteeism.
Transform your students and schools with proven methods from Gallup's history of education research.
Provide a more positive school culture by participating in the Gallup Student Poll.
Going back to school is better for students who know an adult at school cares about them.
Getting to do what they do best at school every day helps to engage students with school today and prepare them for the future.
Older students are much less engaged with school than are younger students.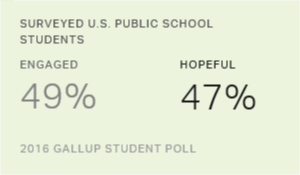 Engaged and hopeful students fare better in school and in life.
66% of superintendents say their district is very effective at providing a quality education.
In Australia, less than half of students (48%) in Years 5 through 12 who were surveyed have hope for the future, according to the 2016 Gallup Student Poll.
Schools can be incubators for future business builders.
The 2015 Gallup Student Poll suggests that real-world experience is lacking for many students, but it is more important than ever for a student's long-term success in post-high school work and life.
Assessing nearly 1 million students' school engagement and hope
Many students in the U.S. have positive ideas about their future, but they often have no clue regarding how to make the future they envision a reality.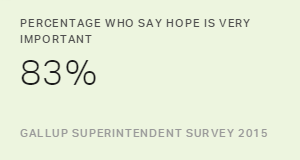 More than eight in 10 U.S. K-12 superintendents say student engagement with classwork, hope for the future and the percentage of students who graduate from high school are "very important" measures of a public school's effectiveness.
Nearly eight in 10 Americans say students' engagement with class work and their hopefulness about the future are very important measures of a school's success.
Asking one question can open a world of opportunity for students who are otherwise disengaged in school: What do you like to do every day?
I recently thought about the most inspirational teachers in my high school and college days -- Mr. Kotter and Mr. Keating. These two educators grabbed my attention and made me feel excited about the future. But sadly, I made it through high school and college with fictional characters as my greatest inspirations. It turns out I'm not alone.